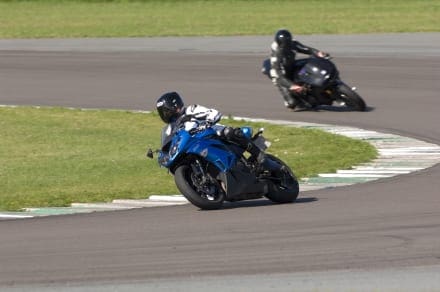 When we met up in Holyhead, and the prize Suzuki was revealed at 11pm the night before the race, you could have heard a pin drop. Moby's face dropped and I dropped back into the scenery and my sparce hotel room – general consensus; we are fucked. There was no way this could be race ready by tomorrow, there was so much to do, but hell we have to give it a go.
Early start and our camp was set up. Two vans provided the sides to the tarpaulin we borrowed from Mini Magazine's show cupboard. Initially packed to keep what we presumed would be rain off our shoulders but actually became a sunshade as the most perfect racing weather developed over a sun-baked Anglesey. Bikes unloaded and on display our 848, ZX-10R, R6, the ill-fated ZXR750 and my own true love, my ZX-6R. Behind this fan of beautiful machines was a somewhat lacking one, already up on paddock stands and under scrutiny, the Road Scalpel.
What happened from here on in was much of a blur. Like a penis chasing a vagina it was just one fucking thing after another. All is beautifully described in the current issue but from start to finish each member of the team just put the work in and ultimately got the bike together at the 11th hour. For me I had to recognise my limits, Moby was the man under the bike for 5 – 6 solid hours, and I had to keep him in coffee and bacon rolls (what bacon rolls? I never got a fucking bacon roll! – Moby). Additional duties included running around the other race teams with Beej blagging what we could. Al, Beaky, Rootsy and Moby were on point with the SV650, I continued my catering purchases  and Beej helped all round – including some crowd control.
As race time approached we had to get the boys track familiar. At points early on there were too many cooks so Al ducked out on the R6, did a 20 minute session and then pulled Rootsy, Beej and Beaky together to brief on the circuit. Sandwiched between race team warm ups and qualifying, all of which we missed, was normal track time and on a day like today we had to make the most of it. Even me.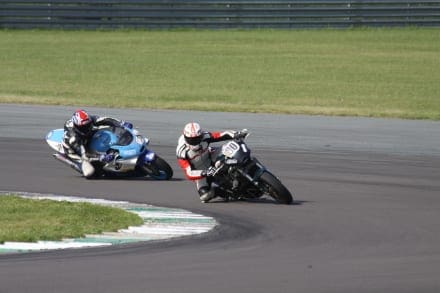 Article continues below...
Advert
I finally got my chance, fresh from Level 2 of CSS just two days before I was ready with the ZX-6R. I had looked at the track and discussed it with Al and was off to see for myself. I was nervy slow and un-ambitious in my first session, not only getting used to the track but also the views that just catch you, you almost freeze coming out of a fast right hand, faced with a track dropping away in front of you with a tight left at the bottom when suddenly – the blue sea, cliffs and a vista view. Just blew me away it really did. However when I went out again I was ready for it, concentrated on everything CSS has taught me and then it happened, scrape on the left side, composure old boy composure and concentrate, scrape on the right hand side. Both knees on the same lap first time ever unaided, not the most impressive kneedown for sure but two 5p size scratches on my Spyke sliders just filled me with absolute joy.

Enjoy more Fast Bikes reading in the monthly magazine.
Click here
to subscribe.