Words: Alan Cathcart
Pics: Paul Barshon / Mortons Archive
20 years ago in MotoGP's 2002 debut season, Suzuki was the leading member of the supporting cast to the Honda/Yamaha duopoly – a year that very much represented work-in-progress for the company's new V4 four-stroke GSV-R prototype. Now, for the second time in two decades, the Japanese company is walking away from GP racing at the end of this season, saying sayonara to the MotoGP paddock after the Valencia GP on November 6, officially ending any further factory involvement in road racing in any category, even endurance, where it is the reigning FIM World Champion, having won the title eight times in the past 12 years with the GSX-R1000.
After starting work on its first MotoGP contender very late in the day compared to its two main Japanese rivals – it did so only in the aftermath of regaining the 500GP world title in 2000 with its RGV500 two-stroke – Suzuki finally took the decision only in October 2001, just six months before the start of the 2002 Grand Prix season, to be there on the starting grid at Suzuka in April for the first-ever race under the new four-stroke formula. It then spent a development season doing all its testing in the open by actually going racing with its new bike, rather than spending a year in closed circuit R&D with occasional wild card race outings.
There was nearly an improbable victorious pay-off for that effrontery, too, with Suzuki factory tester Akira Ryo leading pre-season favourite Valentino Rossi's RC211V Honda throughout the wet Japanese GP aboard his Dunlop-shod GSV-R before narrowly losing out on victory in the closing laps to the reigning 500cc world champion, albeit still finishing second on the new V4 Suzuki. Fairy-tale stuff.
But Team Suzuki riders Kenny Roberts and Sete Gibernau found it less easy in successive races to bring the new bike into contention on a dry track, especially using the Dunlop tyres Suzuki switched to while all its Honda and Yamaha mounted four-stroke rivals remained on Michelins, as did the leading remaining 500cc two-strokes. Switching back to the French rubber helped eliminate one more variable in developing the new bike, even if it was only after mid-season that Michelin was able to supply Suzuki with the same top-level tyres as the other works teams. But constant hard graft saw the GSV-R gradually pick up the pace, even if the fact that Honda and Yamaha were also working equally hard to beat each other meant the prototype Suzuki remained a bit-part player in the hunt for top honours. Well, except for just one time, once again in the rain, at Estoril in September, where Sete Gibernau underlined the GSV-R's wet weather prowess by leading the Portuguese GP until five laps from the end when, under pressure from a closing Rossi, he slid off the track and into retirement. Pity – it seemed Suzuki had deserved at least one 2002 race victory to reward its bravery in taking on its rivals with an adolescent machine doing its growing up in public.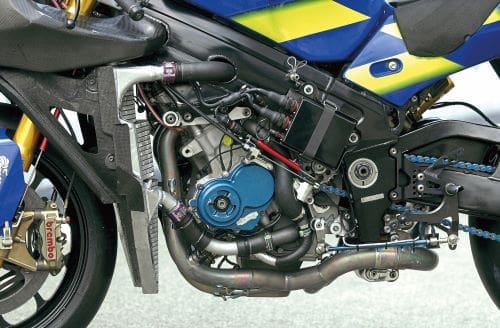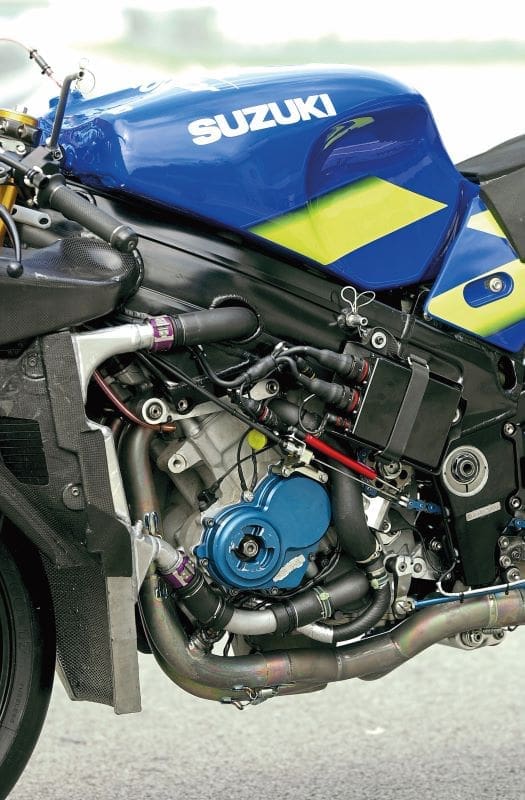 As it was, after Ryo's promising performance on debut, Team Suzuki visited the rostrum just once more in 2002 with the GSV-R, when Roberts finished third in Brazil, and although at the end of the season the 2000 World champion rejected several other offers in favour of signing a two-year contract to stay with Suzuki, his Spanish teammate decamped to a Honda seat for 2003. This led astute Team Suzuki boss Garry Taylor to invest in the future by replacing him with the brightest young talent on the MotoGP scene, 19-year-old Anglo-American John Hopkins, fresh from an impressive debut MotoGP season aboard the Red Bull Yamaha YZR500 two-stroke – but, before that, winner of the AMA Formula Xtreme and 750 Supersport titles in successive years on Suzuki four-strokes. "It's kinda like coming home but getting to sit with the grown-ups at dinner after growing up in the meantime!" said Hopper, as we each scooped up a plate of pasta during lunchbreak at Malaysia's Sepang circuit, where I'd been invited to join him and KR to ride the GSV-R in Suzuki's first November 2002 post-season test… alongside a certain company great named Kevin Schwantz!
I must admit I wasn't sure what to expect when I clambered aboard the four-stroke Suzuki GP racer in Sepang's pit lane after the Team Suzuki mechanic with the magic starter package had plugged it into the insert on the left flank of the GSV-R fairing and fired up the lusty-sounding V4. This was the first of the new generation of MotoGP racers I'd actually ridden, and while I had some prior experience of testing factory superbikes and 500GP bikes, the 210bhp-plus claimed power output of the GSV-R represented a new threshold in race engine performance for me back then – especially in a bike weighing just 146kg dry. Plus, having had a serious talking-to from KR Jr himself just before hopping aboard, when he warned me to watch out for the clutch operation and to take care when back-shifting under braking, I was pretty apprehensive as I clicked the one-up race-pattern gear lever into bottom and set off down pit lane – quite apart from having a race track still bearing damp patches after torrential overnight rain and offering such unlikely hazards as snakes and lizards crawling across the tarmac (which more than one rider had already found out the hard way don't give the greatest grip when you run them over!).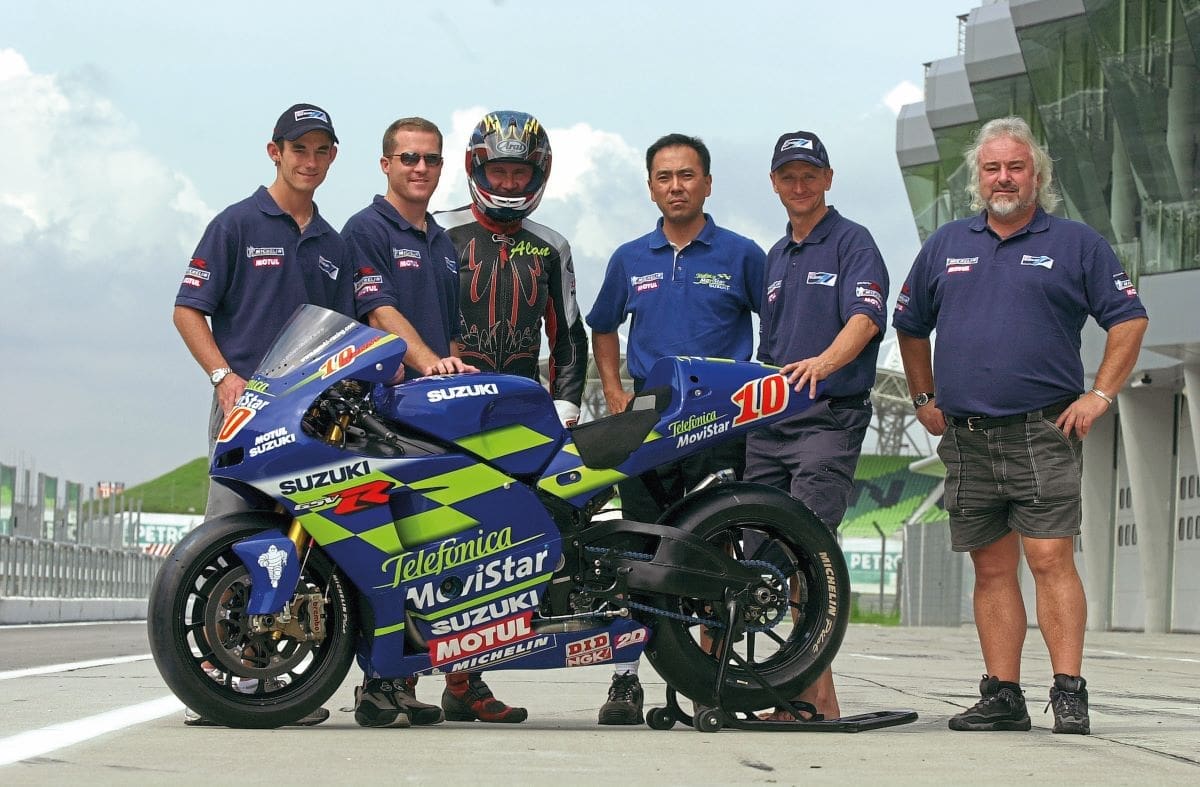 Still, I needn't have worried, for in a race-distance test session with a stop halfway through for a much-needed drink – Suzuki 'made' me ride the GSV-R in Malaysia's 32° heat and 85% humidity, which Kenny Roberts insisted was relatively balmy compared to the torrid 36° conditions he and his rivals had had to race in at Sepang a month previously! – I soon realised how effectively Suzuki project leader Yasuo Kamomiya and his team had worked in developing a bike which, by the end of its debut season, had proved it was rostrum-ready on a dry track. However, for the first couple of laps I focused not on the bike, but on working out where the worst of the damp patches were, rather than on what the Suzuki was like to ride. But then, as I gradually picked up the pace, I suddenly realised how 'normal' the GSV-R had been behaving, to the point that I hadn't felt daunted by its explosive performance. While not exactly cuddly, it wasn't at all the fire-breathing, wheel-locking megabike monster I was half expecting, but more like a direct step up from a superbike, just with a lot more power low down and undoubtedly more refined in the handling department. Here's why.
To produce that amount of power – at least 10% more than any superbike in a motorcycle weighing over 10% less – Suzuki hadn't needed to narrow the powerband and produce a peaky package which dictated revving the nuts off it to go anywhere fast. Quite the opposite, indeed, because if anything the GSV-R was too torquey and user-friendly low down, even if this did explain why it was evidently such a nice bike to ride in the rain, per Sete and Ryo-san.
According to Kamomiya, peak torque was delivered at 11,000rpm on a bike which produced max power at 14,000rpm, and had a soft rev limiter cutting in 300 revs higher – and Roberts told me he revved it all the way out in every gear, as confirmed by the row of shifter lights he had set up on the dash which began illuminating at 13,000 revs and flashed brightly at you at thirteen five to tell you to get ready to shift gear. But while there may have been fractionally more power available 1000 revs higher, I found that shifting up at 13,000rpm appeared to suit the Suzuki best when accelerating through the gears, because doing so put you back in the meaty part of the powerband on the closed-up set of gear ratios which Kenny employed, and revving it any higher was pretty counterproductive; the power curve seemed to flatten off and the bike stopped pulling as hard. Though the GSV-R seemed quite slim, but with good protection from the well-shaped screen and angled fairing wings embracing it, top speed down either of Sepang's two long straights – even using all the revs in fourth and fifth gear, and 13,000rpm in top – seemed not a lot better than a good factory one-litre V-twin Superbike, which the GSV-R actually even sounded like at peak revs, with its unsilenced growling exhaust note thundering in my ears.
But it was down low where the Suzuki really delivered. It accelerated far faster than any superbike yet built, and yet did so in a way that made it easy and rewarding to ride through slow bends and tight chicanes, like the first two turns at Sepang, which were the only times I needed to use bottom gear on the track. There, I could run the V4 engine as low as 7000rpm as I rode the slow rollercoaster dip in the middle of the left-hand second hairpin, then fed the power in smoothly and progressively as I hauled it back across the track to drive hard through the Turn 3 right sweeper while shifting up through the sweet-action gearbox, whose slick power-shifter was perfectly set up – none of the over-sensitive, harsher change action of so many factory Ducati V-twins down the years. Crack the throttle wide open in second gear exiting uphill out of Turn 4 at Sepang and the Suzuki again responded so silkily but with real menace, so that even if you trail braked into an apex with the throttle closed, there was no abrupt snatch when you got on the gas again as on some other flawed Japanese fuel-injection packages, like the R7 Yamaha superbikes. Was that why Yamaha initially opted to use carburettors on its YZR-M1 MotoGP racer?
Suzuki definitely had an edge on throttle response, since the GSV-R's pick-up exiting a turn was completely predictable but very strong, with acceleration that truly grabbed attention. I had to use a higher gear to surf the torque curve through a slower turn, and be ready to have the front wheel waving around my ears if I cracked the throttle hard open at 10,000rpm in any of the bottom three gears, but I was thankful that the rear Michelin stayed planted when I did so, even leaning over exiting a corner. I could see how the Suzuki V4 must have been a really effective wet weather tool, especially using the softer of the two engine maps stored in the on-board ECU, accessed via the switch on the left clip-on – an advantage, too, when the tyre went off towards the end of a dry race, and a less aggressive throttle response was needed.
But I did take good care to keep using some muscle to haul the Suzuki upright early on to use the fat part of the tyre to power out of a bend, after hearing from KR about the problems he'd been having with side grip under power on the GSV-R. And that was with the trick rear Michelin he'd been using rather than the more 'normal' one I was assigned for my ride, which did indeed begin sliding around when exiting right-handers three-quarters of the way through my race-distance test. When that began happening, hanging off the side of the Suzuki to push it upright sooner out of turns became necessary rather than just desirable – but thanks to what felt like a pretty well-mapped EFI system, the clean, smooth but ever so potent hit of power made this easy to handle even for someone of my then-limited experience in dealing with 200-plus horsepower levels. Nice.
Still, I couldn't help feeling the Suzuki's power was in the wrong place for a MotoGP contender; although it built power in a linear fashion, there was just too much of it down low, and probably at KR's race pace this must have made tyre choice a problem, as he'd have had to go for a harder compound to make it go the distance, which conversely would give less grip in the early stages of a race. But the Suzuki's power felt like it flattened out at higher revs, which might explain the apparent lack of explosive Honda-style top speed – it just seemed to stop pulling really hard over 13,000rpm. Less bottom end, snappier midrange engine acceleration and more power and revs up top, please, Kamomiya-san! Suzuki's winter development would surely be focused on moving the power up the rev scale in this way, perhaps with a shorter-stroke engine format that might deliver another 500-1000 more revs to improve top end power and, with it, top speed. But the engine basics were surely there already and simply needed refinement.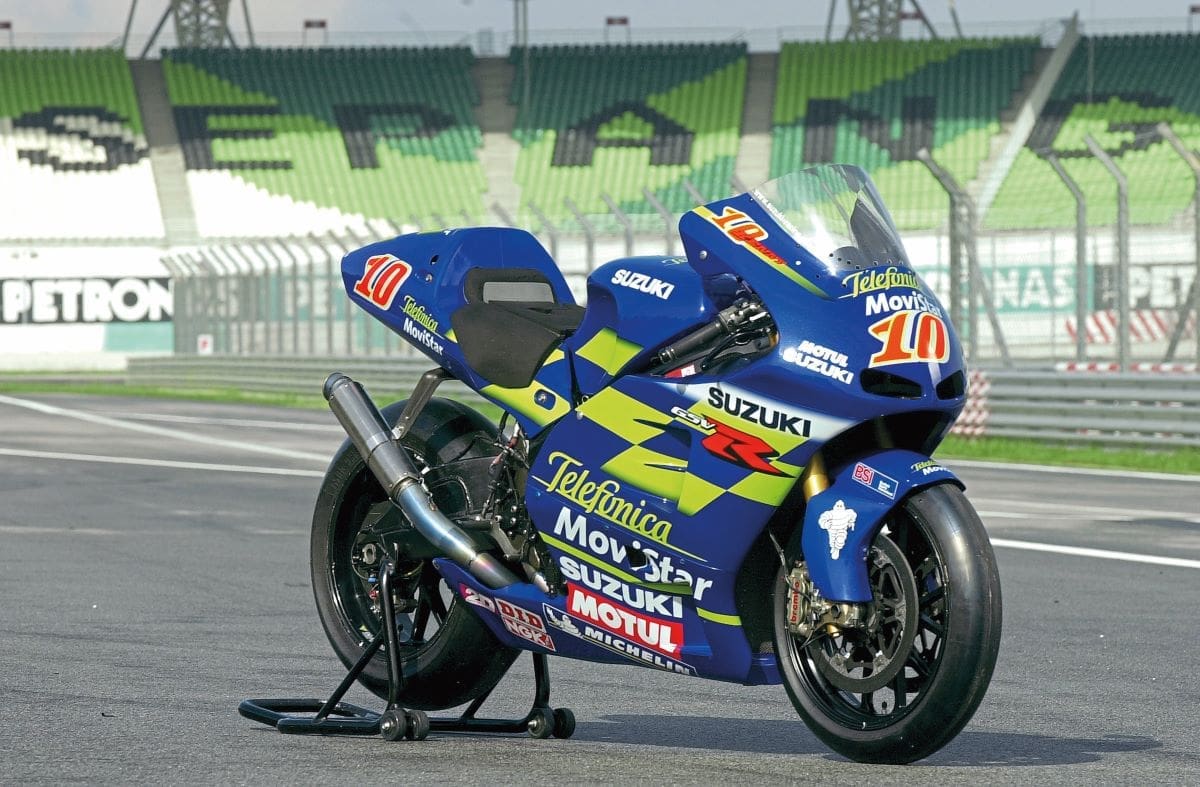 Same thing for the chassis, which I found had largely succeeded in replicating the sweet steering of the RGV500 two-stroke frame it was based on, but while also repeating its deficiencies! Like the stroker, the GSV-R changed direction well in tight turns, though perhaps because of the four-stroke engine's increased rotating crankshaft mass compared to its two-stroke predecessor, I had to work hard in lifting it up and over from side to side in any of Sepang's copious chicanes. It had a very balanced feel, despite the heavier engine and 25mm longer wheelbase than the RGV500, and the revised chassis geometry this brought with it, a fact further underlined by the Suzuki's stable high-speed handling. It didn't start leaping about when I ran over the car-induced ripples in the Sepang tarmac as I powered through the fast Esses and lined it up for the next slow right on to the start of the back straight – but nor did it push the front wheel hard on under power rounding the long, fast left before that. The Suzuki stayed truly planted and held the line I'd chosen for it when I did get back on the gas, even over bumps at high speed, where the Öhlins suspension and longer wheelbase combo really delivered.
However, not all was totally rosy because again, like the RGV500 its chassis was derived from, which I'd ridden at both Phillip Island and Estoril, the GSV-R was pretty unstable under hard braking, with notable weight transfer setting up a weave, and I had the back wheel repeatedly waving in the air as it cleared the deck and started street sweeping the tarmac while I (a) tried desperately to calm things down by shifting my body weight around and/or using the rear brake hard(er) to try to reverse the loads (not a recommended procedure on a high compression four-stroke), (b) hunted equally desperately for the line I'd chosen for the turn coming up, and (c) hoped and prayed, with the accent on the latter, that I really would get it stopped okay without attacking the kitty litter I seemed to be aiming straight at.
That was surely a direct consequence of the great braking delivered by the carbon/carbon Brembo front discs and their radial four-pot calipers, which represented one of the key differences between this V4 MotoGP bike and a good superbike that wouldn't have anything like such explosive stopping power. If I simultaneously started getting the rear wheel hopping because I was also using engine braking which the slipper clutch wasn't handling capably enough, then I could quite see this being a recipe for disaster, as Kenny Roberts told me he'd had to endure for most of the 2002 season until Suzuki went to the clutch design I was using.
As race experts Kevin Schwantz and John Hopkins both agreed later when we jointly marked the Suzuki's scorecard, the GSV-R's original sprag-style slipper clutch may have been less than perfect, but the new ramp-type one we tested which was introduced from Estoril on was beyond criticism – provided you rode the GSV-R like a four-stroke and blipped the throttle slightly between changes… yes, really, just like on a Manx Norton! That's second nature to the likes of Hopper or Kevin, who grew up racing engines with valves that go up and down rather than round and round, as well as to someone like me who'd spent a quarter century racing 'diesels', especially of the twin-cylinder persuasion. You just never dreamed of standing on the brakes and stomping the gear lever down three gears all at the same time as so many did on a two-stroke, but that's what reformed 500GP riders like Team Suzuki's 2002 duo wanted to do at first, and why a bike which, because of its chassis behaviour, was already flighty under braking, became such a swine until Suzuki remedied things. It was the way of the newly-evolving MotoGP four-stroke world, and I have to say I thought the GSV-R transmission package was one of its strong points, and that the reason the bike got flighty under heavy braking was chassis rather than engine-related.
I tried riding it Kenny's way for a few laps, stuffing it down through the gears without using the clutch and relying instead on the engine management gizmo that chief mechanic Bob Toomey and his colleagues had dreamed up to help him, namely the self-blipping downshift mechanism. Using this on a motor as unmistakeably four-stroke as the gutsy-sounding growly Suzuki seemed at first like cruel and unusual punishment to the gearbox, especially changing down into second gear or especially hitting bottom once per lap at Sepang, when it seemed that I had to force the gear home against its will – but after a while I realised that Toomey & Co. had also set the electronics up so that you needed to sort of preload the shift mechanism with your toe, which made the shift action less harsh, presumably because you were making it anticipate the change and setting the engine management's autoblip in motion. Weird – but back then, wonderful. Today, we take it for granted that we can shift gear either way without using the clutch, all thanks to electronics unavailable 20 years ago.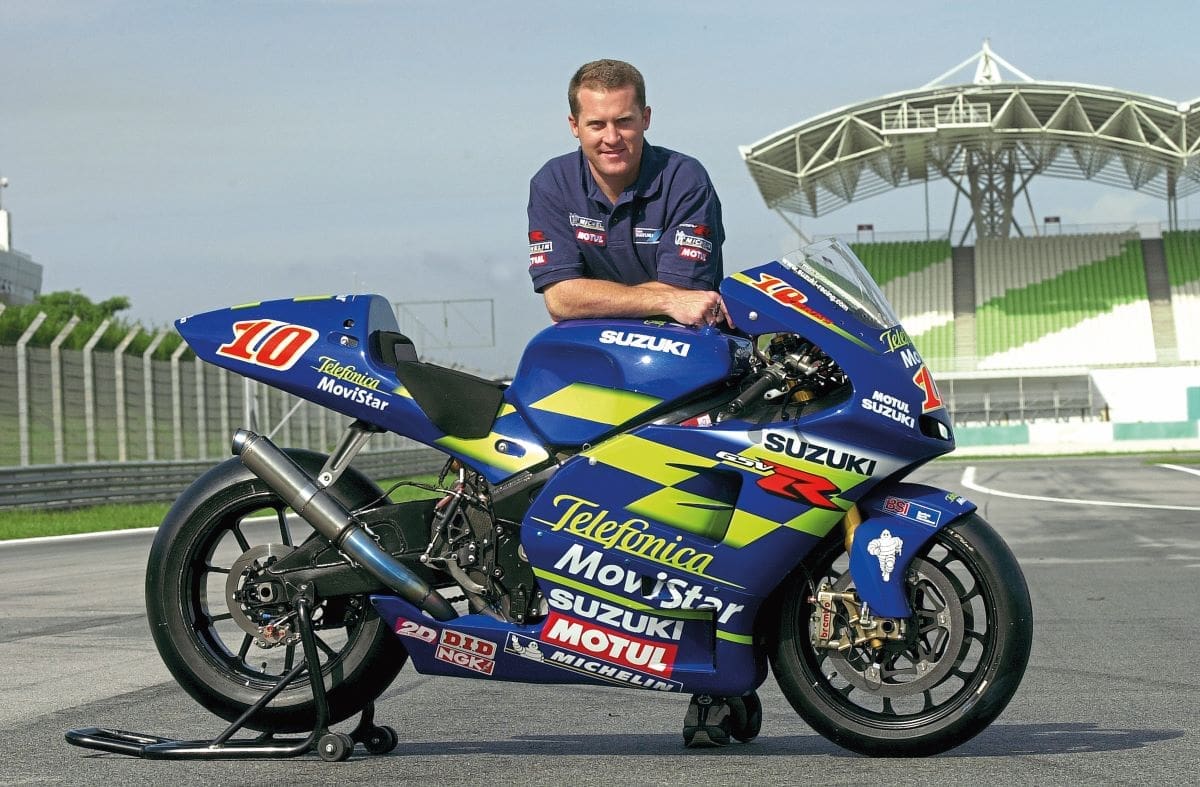 This was pretty important then because of the GSV-R Suzuki's lack of top end speed in its 2002 guise, making it the slowest of the then-new MotoGP contenders. This meant that KR Jr had to go big on keeping up turn speed by staying on the power as long as possible and braking later than anyone else, so as to max out turn speed and maintain hard-earned momentum. If you couldn't trail brake into the apex because your rear wheel was hopping about under engine braking or, more likely, you'd braked so hard that the resultant massive weight transfer had upset the bike's stability, then Houston, we gotta problem, and that was another thing for sure that Suzuki would be working on for 2003, having already made a significant improvement, said KR, with the new clutch design that had allowed him to register his best three places of the season (fourth, third and sixth) in the next three races after they introduced it in Portugal, en route to ninth place in the final World Championship points table.
But the 990cc GSV-R struggled to ever become a true contender in MotoGP racing, and it wasn't until the switch to 800cc bikes in 2007 that Suzuki ever made it to the top of the rostrum, when Aussie Chris Vermeulen took the firm's first GP victory since the advent of the four-stroke category in the French GP at Le Mans, en route to sixth overall in the World Championship, with John Hopkins two better on fourth with four podium finishes.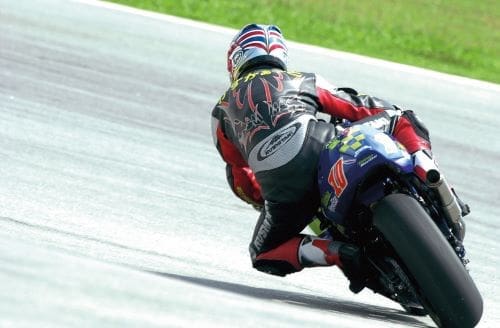 That was Suzuki's high point in MotoGP racing until the company pulled out at the end of 2011, citing the need to reduce costs amid the global economic downturn, with the impending change to a 1000cc capacity ceiling for MotoGP for 2012. But for 2015 the company returned with the GSX-RR, now fitted with an inline four-cylinder motor replacing the earlier V4, on which Joan Mir finally won Suzuki's first-ever MotoGP World Riders title in 2020, with Suzuki also winning the manufacturer's title, also for the first time ever.
Now the company is pulling out again for what are claimed to be budgetary reasons – but will we see Suzuki back on the grids again four years from now, just like the last time? Let's hope it'll be sooner rather than later!
Tech Data
Suzuki GSV-R
Engine
Water-cooled DOHC 60-degree V4 16-valve four-stroke with gear camshaft drive and single gear-driven counterbalancer
Dimensions: Not disclosed
Capacity: 990 cc
Output: Over 210bhp at 14,000 rpm
Compression ratio: 14.5:1
Fuel/ignition system: Keihin electronic fuel injection and engine management system, with Keihin FCR throttle bodies with twin injectors per cylinder and Mitsubishi ECU
Gearbox: Six-speed with straight-cut primary gears
Clutch: Multiplate dry ramp-type slipper clutch
Chassis: Twin-spar frame fabricated from aluminium extrusions
Suspension: Front: Fully adjustable 42mm TIN-coated Öhlins inverted telescopic fork. Rear: Aluminium swingarm fabricated from alloy pressings with fully adjustable Öhlins shock and rising rate link
Head angle: 24 degrees
Wheelbase: 1420mm
Trail: Variable
Weight: 146kg with oil/water, no fuel
Weight distribution: 51/48%
Brakes (as tested): Front: 2 x 320mm Mitsubishi carbon discs with four-piston four-pad radially-mounted Brembo calipers. Rear: 1 x 220mm Suzuki steel disc with two-piston Brembo caliper
Wheels/tyres: Front: 12/60-17 Michelin on 3.50in forged magnesium wheel. Rear: 19/67-420 (16.5in) Michelin on 6.25in forged magnesium wheel
Top speed: 194mph / 312km/h (Mugello 2002)
Year of construction: 2002
Owner: Suzuki Motor Corporation, Hamamatsu, Japan

Enjoy more Fast Bikes reading in the monthly magazine.
Click here
to subscribe.