The silly season just gets sillier. We're barely into the 2010 campaign and already there's murmurings of next season's movements, sparked by the fact that the 'Alien's' contracts expire this year: Rossi, Stoner, Lorenzo and Pedrosa are all looking at fresh deals.
Despite FB spreading the rumours six months ago, the hottest topic of current conversation is all about Casey Stoner and his move to Honda. You don't need to be a media centre cling-on to figure that it's a real possibility, especially after Livio Suppo (the man who brought Casey to Ducati) moved to Honda. Ducati are obviously gonna offer big bucks to keep him red. It'll happen, won't it?
The more user-friendly Desmo is helping every other rider, bar Casey. It's now Honda's RCV, the most changed and developed bike from race-to-race, that's looks to have the Ducati's evil traits of last year. Stoner should thrive on his return to the Big H.
He's probably the only rider that has the raw pace to change their fortune. The hot-and-cold Pedrosa has had too long on that bike with bugger-all success – time for a change. And Dovi hasn't showed the promise that got us all excited in his rookie year.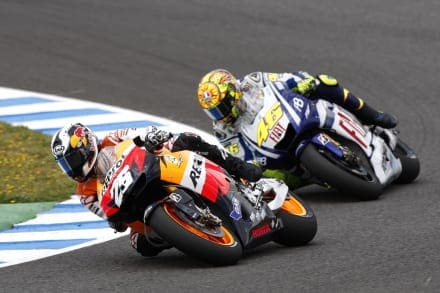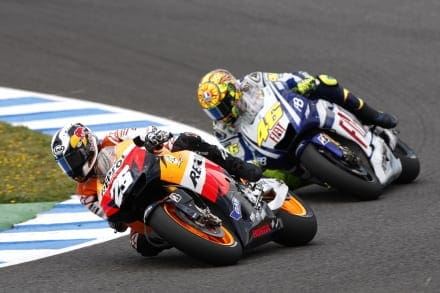 As for the Yamahas, who knows? There isn't enough room in that garage for the both of them. We'd all love to see Valentino on an Italian bike, but dare he risk finishing his career on a downer? Lorenzo should feature in Yamaha's long-term if Rossi does jump.
I love motocross. It's how I started riding bikes. But if you're a million-dollar sportsman getting paid to ride MotoGP bikes most weekends, caning an MX bike as part of your training regime doesn't sound too bright to us. These boys don't do a mediocre-paced ride.
Thankfully for Rossi after he 'hyper-extended' his shoulder on a mud-plugger, the Motegi round was cancelled due to the Volcano. He still suffered at Jerez though. Alvaro Bautista isn't so lucky – after breaking his collarbone, he reckons he'll be good-to-go for this weekend. Like he needs even more of a handicap.
Back on to this weekend's shenanigans, and Le Mans is the first circuit on this season's calendar to see the asymmetric Bridgestone slick. With nine rights and only a few lefties, the riders called for greater use of the multi-compound rubber so the harder option of the two available compounds will feature such tech.
After Jerez gave us the second closest finish in the 800cc era (Lorenzo, Pedrosa and Rossi were covered by 0.89 seconds) Le Mans looks like it could be another interesting weekend, especially if Rossi is fully-fit and can eradicate any of his antics of last year.
And finally, a special mention to Dani for saying 'fuck' live on the Beeb….
A-Force

Enjoy more Fast Bikes reading in the monthly magazine.
Click here
to subscribe.