You'd possibly be amazed to know how few motorcycle racers have a road licence for bikes, but then at the same time, it's not like they're not already getting enough two-wheel thrills! WSB star Frankie Chili famously never rode anything at all other than his race bike, not even a scooter! But it's always good to see when they do get involved, like Bradley Ray has, starting with his CBT…
Giving up his BSB big boy pants for a day, Bradley Ray (of Donington Park double BSB win fame), jumped on a wee GSX-R125 to start the licence process by passing his CBT.
"I was four when I first rode a motorbike", said (the new) Bradders, "I rode a minimoto in the garden and started racing at six and have been ever since. But getting my licence was something I've wanted to do. I wasn't too nervous, but felt a bit of pressure! Obviously I know how to ride a bike, but it's being able to ride a bike to their standard. It sounds silly, I'll go around a corner at 150mph, but when they got me to do a figure of eight, I've never concentrated so hard in my life. The bike was mega though, was a lot of fun blasting around the roads on it. I'm coming back for my full licence – I probably don't get as much chance as some to ride on the road with the racing, but when it's a nice, sunny day and I fancy going out on the bike and going for a ride, I can."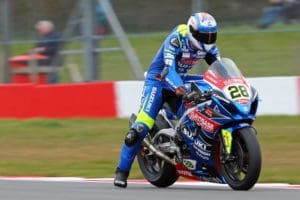 Good on you, Bradley, and the very best of luck for Chicken Run 2! 😉
The (£4,099) wee Gixer is a great little thing, which we reviewed comprehensively in our Oct '17 issue which you can find here if you'd like to check it out Suzuki GSX-R125 Review. As an FYI, the baby Gixer has £500 off the RRP until the end of July '18, and low rate 3% finance schemes, too. The 'GP' version is £4,199. Find more info on the bike here Suzuki UK GSX-R125 Page.
You can also watch our review with Bike World below, too.
FB

Enjoy more Fast Bikes reading in the monthly magazine.
Click here
to subscribe.