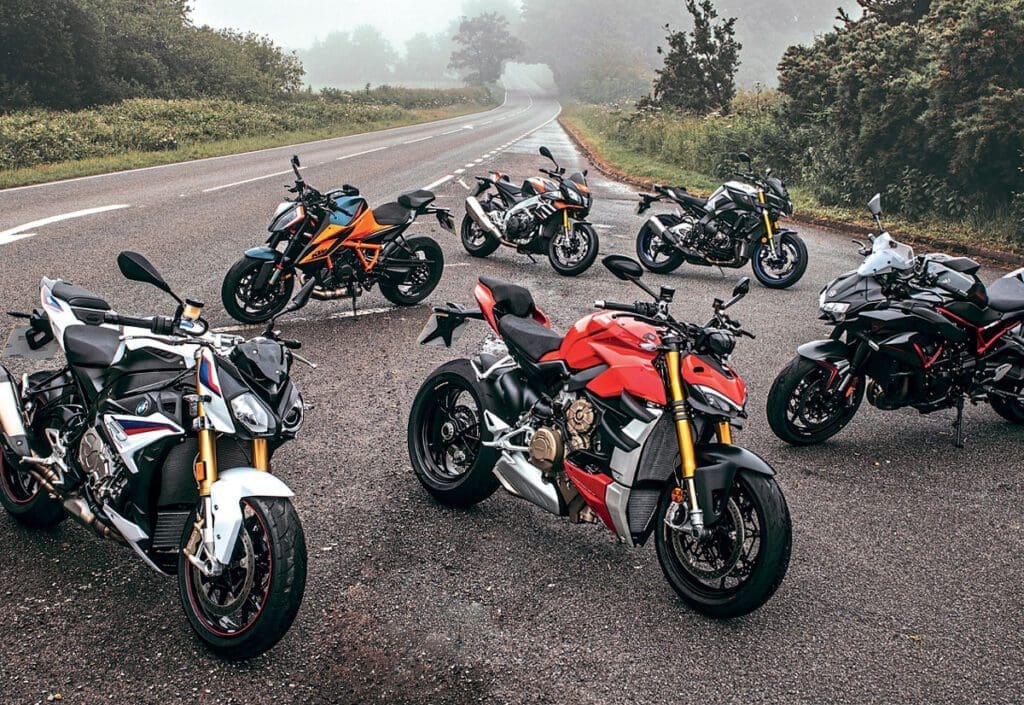 Supernakeds have hit astronomical heights lately with low weight, 200 horsepower beasts now nothing more than a regular occurrence. But how did the madness start? We asked our resident historian, Jonny Mac, to find out…
It's hard to pinpoint the exact moment when a 'supernaked' became an actual thing. After all, you'd hardly describe the Kawasaki KZ 1000 that took Eddie Lawson to the AMA Superbike title in 1981 as a Superbike in appearance by today's standards.
Completely devoid of a fairing or clip-ons, it was the ultimate Superbike of the day but undeniably a naked bike; a fast one. During the last 40 years, Superbikes grew bodywork, clip-ons and a status for being at the top of the food chain, while naked bikes got detuned, user-friendly engines and riding positions to match. They were the sensible option.
Fast forward to the present day, and now we have bikes without fairings that produce 200bhp, are fully loaded with state-of-the-art electronic rider aids, aero aids and going very, very fast on track is part of their design brief.
The supernaked is in almost every way exactly the same as a Superbike but without the riding position and subsequent handling benefits that comes with it. So, what makes a 'supernaked' different from a 'naked' bike? It's fairly simple: power.
As soon as you start trading in power levels comparable to Superbikes, stuff like trick electronics, quality suspension and big price tags all just happen anyway by default. If a naked bike has a power output within, say, 10% of a Superbike of the same era, you have a supernaked.
So, just what was the first supernaked? Aprilia made a strong case with their original Tuono that came out in 2002, based on their RSV Mille which had debuted four years earlier. It shared the same frame, suspension, fuel injection and crucially all but the same power output, 123bhp vs the Mille's 128bhp.
The supernaked had arrived, or had it? Ducati might dispute the claim by pointing to their 2001 Monster S4 which had the same engine from the iconic 916 with similar power, but the truth is that's all it got from the 916; the reality is that even though the addition of the liquid-cooled 916 engine was a significant upgrade to the Monster that had used the old air-cooled 900 engine forever, it was actually more of a pimped-up ST4 than a naked 916.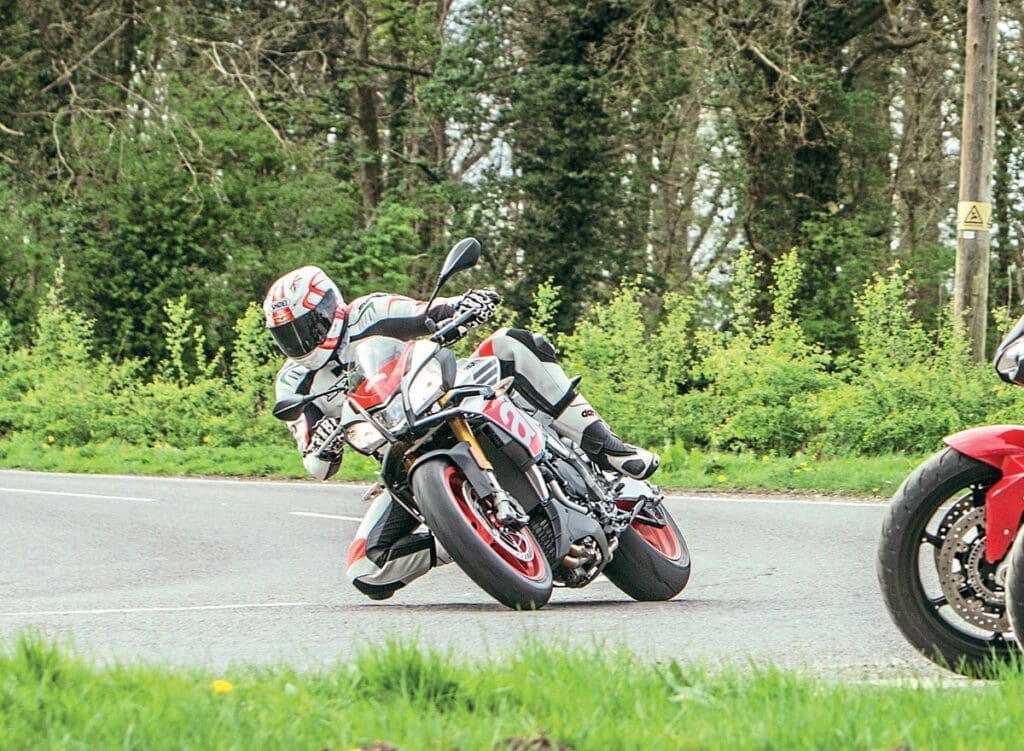 Ducati stuck with the formula of adding more power to the Monster to match their Superbike counterparts with the S4R getting the 996 motor in 2004, and the S4RS getting the 998 motor in 2006, but there was no lineage to the Superbikes of the time; that came in 2009.
The Ducati Streetfighter 1098 was launched as a naked 1098 Superbike, and it served up 155bhp to the 1098's 160bhp in a frame that was a slightly modified 1098 frame to alter the geometry slightly.
The Streetfighter was 17kg lighter than the outgoing Monster S4RS and nearly 30bhp more powerful. Crucially it was also significantly more powerful than the Aprilia Tuono which made it the first bike to take Aprilia's formula of Superbike chassis and power and move it on. That said, there's no getting away from the chronology; Aprilia were first to come up with the idea of a supernaked – maybe by design, maybe by accident.
In 1998, the RSV Mille was Aprilia's first four-stroke bike and their first Superbike. As two-stroke bikes started slipping away in popularity, they spent big to get into the four-stroke Superbike market which was huge at the time.
To help accelerate this rebranding, they entered the Mille into the 1999 WSB Championship with Peter Goddard, then followed up with more big spending in 2000 by getting Troy Corser off the dominant Ducati and on to their totally unspectacular Mille. It was a massive scoop, and it would have cost them big bucks. They expanded to a two-bike team in 2001, adding MotoGP refugee Regis Laconi to the team, then Noriyuki Haga had a go on it in 2002.
Finally, Aprilia decided to go all in, and signed the 2002 WSB Champion Colin Edwards and went to MotoGP with him where they stayed until the end of 2004. They didn't hold back on their effort to enter the four-stroke market, it would have been a violently expensive six-year period for the marketing department, so it doesn't take a huge stretch of the imagination to believe that by 2001, the R&D funds to develop a naked bike weren't exactly plentiful, so the cheapest way to create a naked bike and double their four-stroke range and thus double their chances of selling units was to just take the bodywork off a Mille and call it a naked bike.
It is possible that the Tuono was much more calculated and Aprilia knew all along that the market was ready for a naked Superbike. However, the idea that a lack of budget or time for Aprilia to develop a naked bike for their range is much more romantic.
Either way, the Tuono arrived in 2002 and was an instant hit in dealers' showrooms, a fact that didn't go unnoticed by other manufacturers, even if it's taken some of them until now to adopt the basic principle of serving up Superbike power and handling but with a greater degree of rider comfort; some still haven't.
Ducati dipped their toe into the supernaked class in 2009 with the first incarnation of the Streetfighter, but just four years later in 2013 decided it wasn't for them and discontinued it until its return in 2020 as a V4.
In 2013 KTM binned their RC8 Superbike and replaced it with the 1290 SuperDuke R, which like Triumph's Speed Triple RS is to them, is the most powerful bike in their line-up. Both KTM and Triumph have turned their backs on selling sportsbikes, yet are heavily committed to the MotoGP paddock (KTM especially). Maybe they have decided that high levels of interest in watching sportsbikes going fast against a background of declining sales of sportsbikes doesn't necessarily mean people aren't interested in the experience of a sportsbike any more and they have decided that the opportunity is to make really fast bikes that aren't sportbikes.
It took BMW the same amount of time after entering the Superbike class to come up with their supernaked as Aprilia took to produce theirs; four years. Although it could be argued that calling the S1000R Sport a supernaked is a bit of a stretch given that it is around 30bhp down on the bike from which it gets its frame, suspension, wheels, engine and electronics from… the S 1000 RR.
Therefore, allow me to add a caveat to the rule that in order to be classed as a supernaked bike, it must have at least comparable power to a Superbike. The caveat being that if it's got 160bhp, it qualifies, although BMW do also take the piss a bit with the definition of a 'naked' bike by basically making the S1000R fully faired except for just replacing the top fairing and screen of the S1000RR with a fly screen. And that's the thing, just like the genre of bike has evolved since the Tuono, so has the idea of what constitutes a supernaked.
The Ducati Streetfighter V4, Aprilia Tuono V4 1100 and KTM 1290 SuperDuke R have all moved the game on to a point that bikes like the Yamaha MT-10 and Kawasaki Z-H2 are on the fringes.
The MT-10 doesn't have anything from the R1 except for the engine which has had 40bhp knocked out of it. On track, it is by far the slowest, mostly due to its cheap suspension and poor ground clearance. However, it does make 160bhp and wheelies off the throttle in fourth gear, so is hard to ignore.
The Z-H2 is how I always imagined Wile E Coyote felt in the cartoons sitting on top of an ACME Rocket; it's relentless, but it is also nearly 50kg heavier than a 1290 SuperDuke R, so as per the basic laws of physics, always going to be playing catch-up.
History lesson over, and quick roundup of the current supernaked offerings done, what does all this mean? Frankly, who cares? All that matters is that either by accident or design, we are not for the first time living in an era when there are bikes on the market that we literally would never have imagined in our wildest dreams less than a decade ago, yet they are right here, right now.
Also, not for the first time we're left wondering what next and where do we go from here? The most expensive supernaked is currently the Ducati Streetfighter V4S by some margin, yet it is £5000 cheaper than the Panigale V4S, £2000 cheaper than a Yamaha R1M and Aprilia RSV4 Factory, £3500 cheaper than a Fireblade SP and the same money as a Kawasaki ZX-10R SE, yet it gives nothing away in terms of power or spec and in 95% of scenarios will be faster and easier to ride.
It and the other standard-setters in the shape of the Aprilia Tuono V4 1100 Factory and KTM 1290 SuperDuke R are now so good that they are blurring the line between the elite Superbikes and everyday naked bikes. Instead of being decent spin-offs of the main event, they are the main event, especially in the case of KTM.
The official line delivered by KTM's CEO Stefan Pierer when their RC8 Superbike was discontinued in 2013 was: "If your Superbike is reaching 200 horsepower or more, it's impossible to argue that it belongs on the street. It really doesn't, any more", yet the incoming 1290 SuperDuke R was more powerful and lighter than the outgoing RC8. On the surface this does seem like a contradiction; however it's more likely that back then, he was making the statement with one eye on the future, or in other words… now.
It's possible that he had seen the start of a general shift away from sportsbikes towards naked and adventure bikes and placed all his chips on those two sectors, but used a moral and PR friendly "200bhp is too much and can't be justified" stance.
As it turns out, he probably made the right call as since then sportsbike sales have generally been pretty steady while naked bike sales have boomed, with five naked bikes selling for every one sportsbike in the UK in 2020.
In 2013, just as KTM were fully committing to the SuperDuke R, poor old Ducati went the other way and pulled the plug on their Streetfighter 1098 in favour of the Hypermotard being the next big thing.
The decision to jump on the Supermoto bandwagon instead of the emerging supernaked class doesn't rate as one of Ducati's greatest decisions, but there's no denying that the original Streetfighter was ahead of its time.
More plausible is that having just done away with their traditional tubular frame, Ducati knew that their then all new Panigale 1199's radical architecture just couldn't be transferred into other models in the same modular way.
The most recent arrival to the class is the Kawasaki Z-H2 in all its supercharged glory to sit at the top of their comprehensive range of naked bikes. If ever there is a manufacturer that is fully committed to the naked bike, it's the boys and girls in green, and it's not like they didn't already have a fast naked bike already.
The Z1000 R makes the best part of 150bhp so is hardly what you'd call dull, but something or someone at head office decided that wasn't enough, and a 200bhp fully loaded naked bike was needed; the Z-H2.
Speaking of ugly bikes, the Suzuki B-King won't go down in history as one of their best-looking or memorable creations, but you can't avoid the fact that there it was in 2007, comfortably the most powerful naked bike that money could buy. In fact, thanks to its Hayabusa engine detuned to a mere 160bhp, if it was on sale today, eight years after it was discontinued it would be more powerful than any of the naked offerings that Honda, Yamaha, Triumph, BMW and of course Suzuki themselves have today.
Whatever the false starts, accidental designs, change in buying habits or debates about the wisdom in having a 200bhp motorbike with or without fairing, we are where we are, which is a far, far more exciting place than we were, even just five years ago. It is thanks entirely to the decisions taken by most manufacturers to expand their ranges by adding stupidly powerful and stupidly high-tech naked bikes to their line-ups. While superbikes have incrementally nudged their way up to or close to the magic number of 200bhp over a period of more than 10 years, the supernakeds have relatively just rocked up, fully grown and ready to boogie.
Personally, I don't subscribe to the whole "200bhp is too much for the road" argument. For me it's much more about feeling in awe of the bike rather than what it is actually capable of. Of course, 200bhp is too much for the road, the truth is that it's too much for the track too unless you're using slicks, and even then the amount of time actually spent on the throttle stop is tiny, but that's irrelevant; motorbikes are all about how they make you feel.
The feeling of going as fast as you can in the full and certain knowledge that what's underneath you can go much faster is priceless, and the rise of the supernaked in the past few years makes getting that feeling easier, cheaper and in more comfort. Seriously, what's not to like?

Enjoy more Fast Bikes reading in the monthly magazine.
Click here
to subscribe.