To celebrate a new millennium, Honda thrust the Blade back into the superbike game…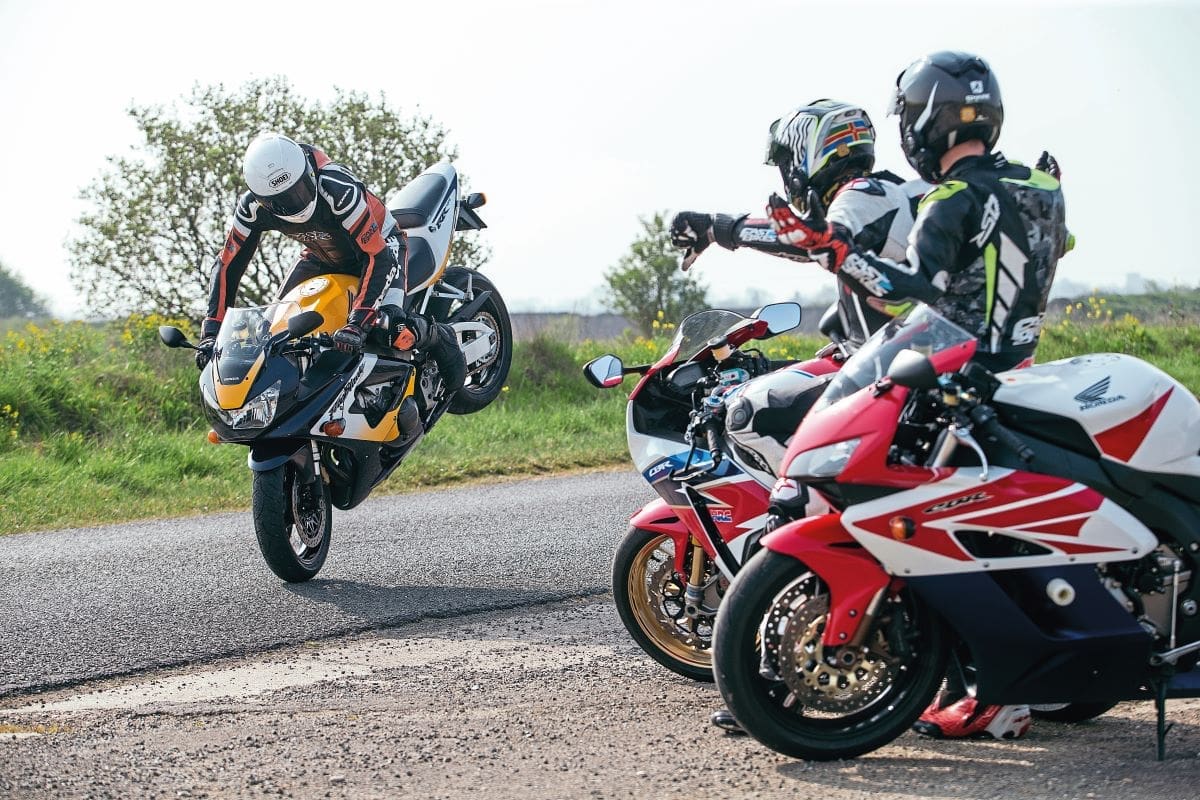 Words: Jon Urry  Pics: Mortons Archive
| | |
| --- | --- |
| Price guide: | £1800 – £5000 |
| Cheapest private: 36,223 miles, 2001 929 Blade in okay condition with a long MoT. | £1850 |
| Our choice private: 21,153 miles, just serviced 2000 Blade with a good service history. | £2500 |
| Cheapest dealer: 26,700 miles, 2002 954 model in white/blue in good condition. | £3500 |
| Our choice dealer: 14,660 miles, lovely low mileage 954 Blade in yellow and long MoT. | £3999 |
| Ex-demo: | n/a |
Running costs:
Service interval:
Minor:
Major:
Valve clearances:

4000
8000
16,000
Service costs:
Minor:
Major:

£210
£340
Valve clearances
£550
Right fairing
£324.50
RH Engine casing
£339.19
Brake lever
£53.44
The 1990s was a strange old period for Honda and its flagship sportsbike. Having broken the mould with the revolutionary 1992 FireBlade, the firm then got cold feet and spent the rest of the decade attempting to neuter its beast of a superbike. As rivals shed weight and gained performance, the Blade got lardy, ugly, and worse handing – what was going on within Honda? Luckily, help was at hand and as the new millennium approached, thankfully someone within the hierarchy green-lighted the Blade's R&D team (still headed by the father of the FireBlade, Tadao Baba) to give its litre sportsbike some balls again. The results speak for themselves…
A totally ground-up new model, the 2000 FireBlade was a proper game changer for Honda – which it had to be, because the 1998 Yamaha YZF-R1 was busy destroying all before it and waiting in the wings (not that Honda knew…) was the Suzuki GSX-R1000 K1. So, what makes the '929' Blade so revolutionary?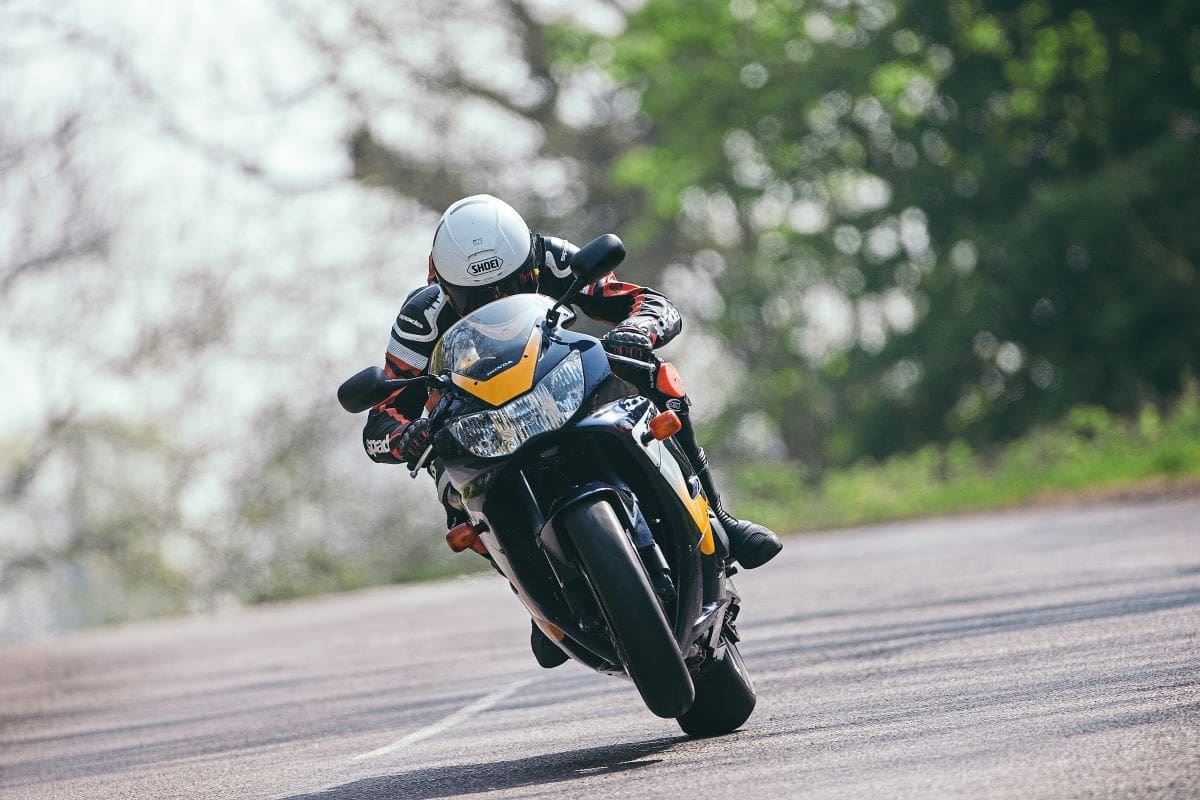 Built under the philosophy (the Japanese do love a good philosophy) of 'total control' (Suzuki's TL-S had already trademarked 'totally out of control'…), the new Blade copied the sportsbike ethos of a low kerb weight and maximum power but married it to a long swingarm, inverted forks, and even, shock horror, a 17-inch front wheel for the first time! The end result was a bike that matched (on paper; the dyno saw things differently with the Honda still 9bhp behind the Yamaha) the R1when it came to performance, yet did so with far more stability and a typical Honda nod towards road riders. Yep, this class-leading superbike still came with a hinged pillion seat with plenty of underseat storage.
The Blade made an instant impression (unlike the millennium bug) and although arguably not the most agile of the litre sportsbikes, it was the one that felt the most at home on UK roads… a feeling that was only enhanced when the 2002 model arrived, with its bigger-capacity 954 engine that delivered even more grunt. So, where does that leave these models of Blade two decades later? Really tempting used buys!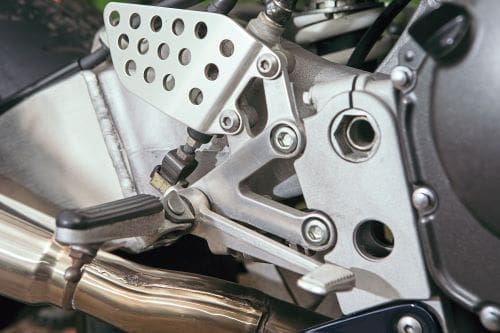 This generation of Blade, which only lasted four years before the underseat pipe model replaced it, is one of those machines that feels like a fitting end to an era – which is exactly what it is. The last of Baba's Blades, when you ride a 929 or 954 you can tell it's been honed and refined using all the knowledge of a team that has learned from its mistakes. How so? It all starts from the motor…
Although the fuel injection system is a bit jerky (Honda was still getting to grips with it and this is the first non-carbed Blade), the all-new engine is an absolute beauty that, as well as being quick-revving, has a real chunk of midrange – even more so if you buy the wonderful 954 model. Blisteringly fast when requested, the Blade also has enough grunt to allow you to short-shift through the gears while remaining remarkably refined and vibe-free.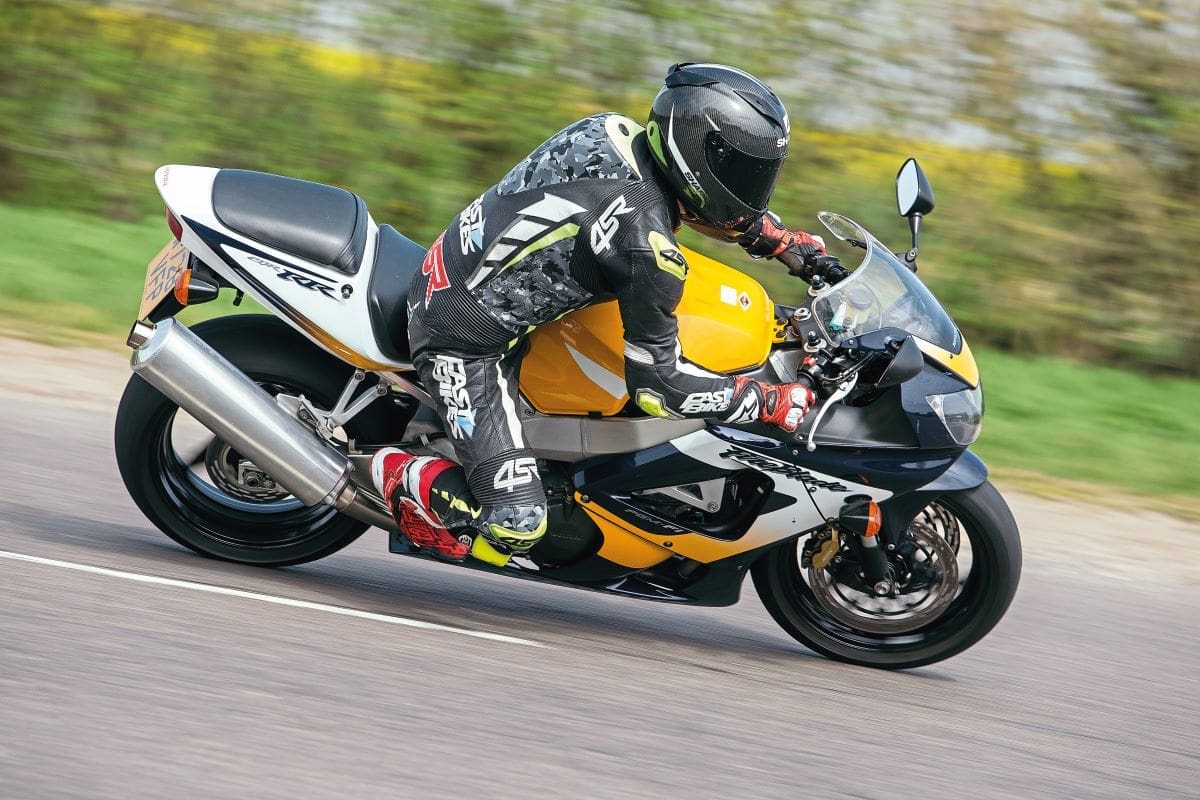 Making road riding effortless, it is hard to fault, and even the gearbox is nice and slick. It may ultimately not be able to match the R1's headline performance and has 10Nm less peak torque, but its torque curve is smoother and flatter than the Yamaha's and that makes the difference when you aren't flat-out on a track.
The same could be said of the Blade's chassis. The all-new frame, which features a GP-style swingarm mounted to the back of the motor for the first time, is impressively agile, yet not over-kill. Lacking a steering damper as standard (arguably, it could do with one on the UK's bumpy roads), it feels as fast-turning as you would hope for in a sportsbike – but backs it up with impressive stability and a feeling of control that the far flightier Yamaha and Suzuki lack. Just like the motor, it is happy to go head-to-head with the R1 or K1 on track should the gauntlet be thrown down, but if the demand is a gentle Sunday ride-out, that's also no issue. And the brakes are (well, should be…) stunning.
Have we sold you on a 929 or 954 Blade yet? Well, there is one final thing to consider: build quality.
A quick look down the used advertisements for 929 or 954 Blades reveals a far higher number that have gone over 20,000 or 30,000 miles than any rivals, yet the vast majority look far fresher than their odometers suggest. Why is this? As well as being a great bike to ride on the road, this generation of Blade has an impressively high standard of finish, something that certainly went downhill as the 2000s advanced and subsequent models were released.
This means that even a high-mileage bike – which can be yours for under £2000 in a private sale – should spruce up very well with a bit of elbow grease.
At these prices, there are very few better used sportsbike buys out there.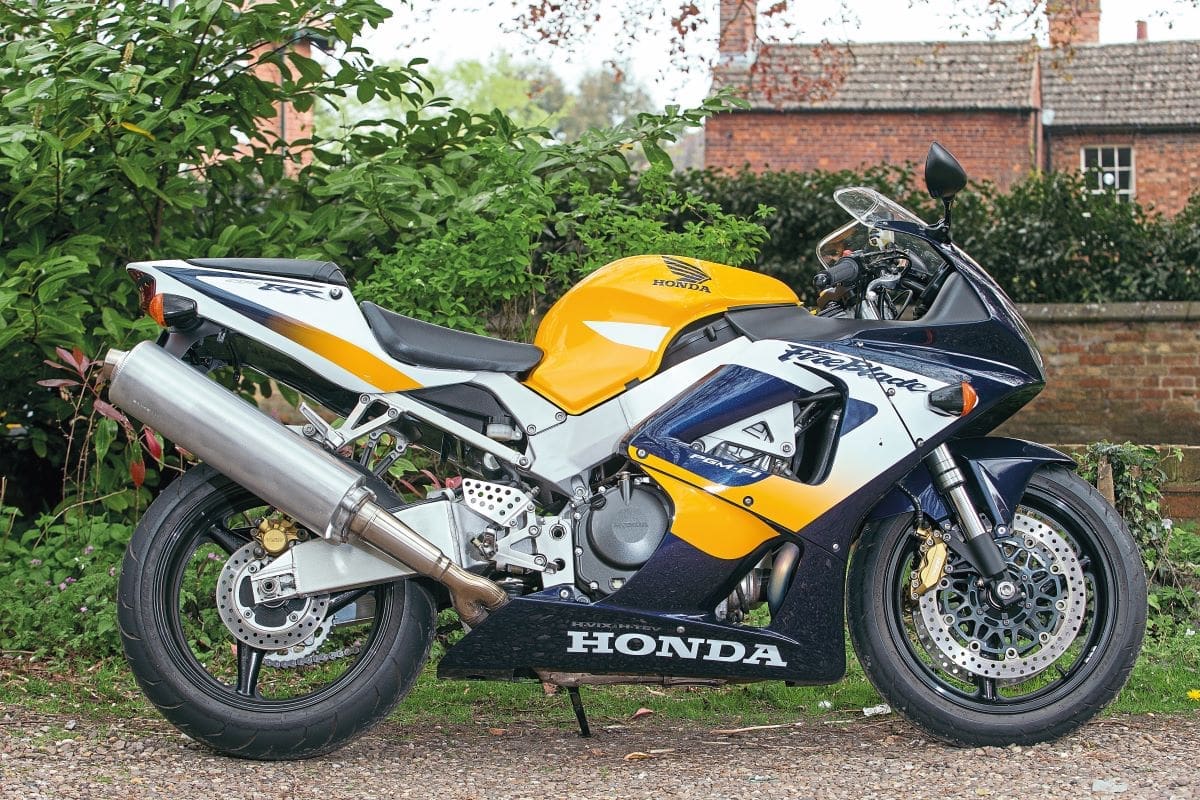 Suspension linkages
A real issue on older bikes, suspension linkages should be stripped and regreased every four years or so, but this nearly always gets skipped, leading to the bearings either seizing or running roughly. Strip them while they are still accessible, as seized ones are a total pig to remove and replace. It's a simple job if you can suspend the bike using something like an ABBA stand.
Brakes
This generation of Blade's brakes are actually pretty good, however, they do suffer from corrosion and wear issues. Check the brake discs have life left in them and invest in a new set of braided lines and fresh pads to restore their bite. Ideally, also strip the calipers down and clean them; an easy job, with rebuild kits only about £50 for both calipers.
Fuel filter
Even a regularly serviced bike can suffer from a partially blocked fuel filter as it is one of those items that seldom gets checked or changed. Debris collects in the tank (rust, dirty fuel and the like) and clogs up the 'T-bag' filter on the fuel pump, which sits within. Changing it isn't a drama and a new one is only £20, although you are advised to replace the seal as well, which is £30. While you are there, also inspect the fuel lines, which can start to harden and become brittle.
Engine
The Blade's engine is very solid, but it does require its valve clearances checked at 16,000 miles (they probably won't need adjusting) and gearboxes can start to wear with second gear the weak point. Check all is well on a test ride. Once back, give the sump plug area a good check; the plug itself can strip threads and round off as well as crack the sump if over-tightened. Look for signs of bodges to stop any leaks.
Bearings
The Blade is an older bike now so you have to expect that the wheel bearings and head bearings will require replacing fairly soon. None are a major drama to do, but check for any play or roughness in movement; if you detect some, haggle a discount to cover the effort of swapping them.
Accessories
The Blade tends to attract the kind of rider who doesn't tinker too much, however, race cans, crash protection, and taller screens are common. Watch out for crash bobbins as they mount directly to the frame and owners often under or over-tighten them (use a torque wrench to set them correctly). Ensure that any aftermarket can is either fairly quiet or can accept a baffle should you wish to do a trackday.
Electrics
A few Blades suffer from reg/rec or generator issues, which isn't a huge issue if you catch them before they do any damage to the wiring loom. If the battery keeps on going flat (presuming it is a fairly new one!), check that it's charging correctly using a multimeter. A new pattern reg/rec or generator is only about £100, so it's no drama. More annoying, however, is a dodgy alarm system, and by now most will probably be starting to play up. Ideally, look at getting it replaced or removed – they simply aren't worth the hassle on older bikes.
Suspension
Hardly a surprise but look for any weeping seals on the forks and check the shock's damping by bouncing the back end of the bike and seeing how it recovers. Always inspect the chrome on the forks for damage from stone chips, and also look at the lock-stops to see if they are marked, damaged, or even missing, as this indicates a crash.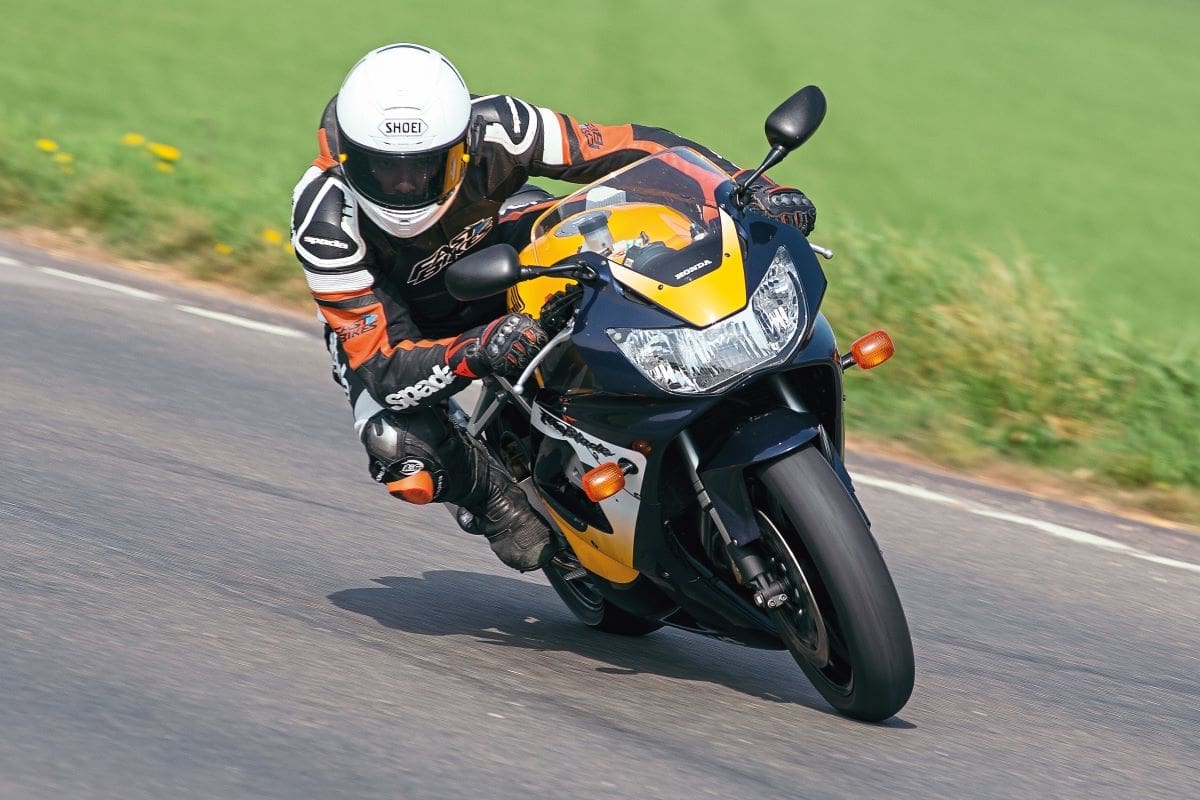 Tech Data
2000-2003
Honda CBR900RR FireBlade
Engine:
| | |
| --- | --- |
| Type | 929/954cc, liquid-cooled, 16v, inline four |
| Bore x stroke | 74/75mm x 54mm |
| Compression | 11.5:1 |
| Fuelling | Electronic fuel-injection |
| Tested power | 123/126bhp @ 11,000rpm |
| Tested torque | 90/95Nm @ 9200rpm |
Dimensions
| | |
| --- | --- |
| Wheelbase | 1400mm |
| Seat height | 815mm |
| Dry weight | 168kg |
| Fuel capacity | 18 litres |
Chassis:
| | |
| --- | --- |
| Frame | Aluminium twin spar |
| F suspension | 43mm inverted forks, fully adjustable |
| R suspension | Monoshock, fully adjustable |
| Front brakes | Four-piston calipers, 330mm discs |
| Rear brake | Single-piston caliper, 220mm disc |
Speed
| | |
| --- | --- |
| 0-60 | 3.3 sec |
| 0-100 | 6.3 sec |
| 0-150 | n/a |
| Stg ¼ mile | 11.01 @ 133mph |
| Standing mile | n/a |
| Top speed | 166mph |
Verdict: 8/10
Ideally, buy the 954 Blade, which has the better engine. However, getting the 929 and spending the saving on upgrading its suspension, fuelling, and brakes is a great option.
+ Great engine, sorted chassis, and cool looks
– There are a few rough edges that need refining
Also consider…
2001 Suzuki GSX-R1000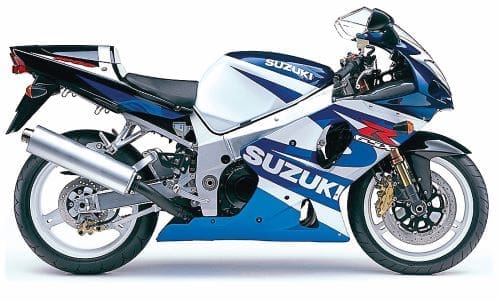 Private: £2800 Dealer: £3500
By all rights the K1 should be viewed as a modern classic – but it isn't and therefore prices are pleasingly low. Stacks of power, a roomy riding position, and bags of attitude.
Engine: 988cc, l/c, 16v, inline four
Power: 152bhp @ 10,700rpm
Torque: 111Nm @ 8000rpm
2003 Kawasaki ZX-9R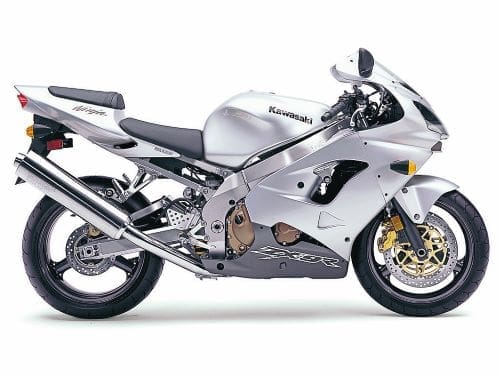 Private: £2500 Dealer: £3000
Out-classed and out-performed at the time, nowadays the ZX-9R makes for a bargain sportsbike that is a touch lardy but has a cracking motor and is fairly comfortable.
Engine: 899cc, l/c, 16v, inline four
Power: 137bhp @ 11,800rpm
Torque: 99Nm @ 7,900rpm
2002 Yamaha YZF-R1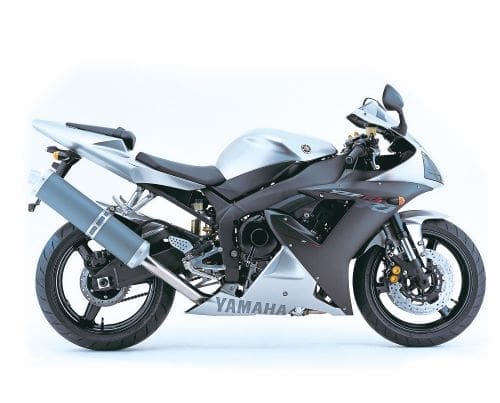 Private: £3300 Dealer: £3800
You could go for the more aggressive and raw first or second generation, but ideally get the first injected R1, which is an absolutely beautiful bike to ride.
Engine: 998cc, l/c, 20v, inline four
Power: 147bhp @ 11,300rpm
Torque: 107Nm @ 8400rpm

Enjoy more Fast Bikes reading in the monthly magazine.
Click here
to subscribe.