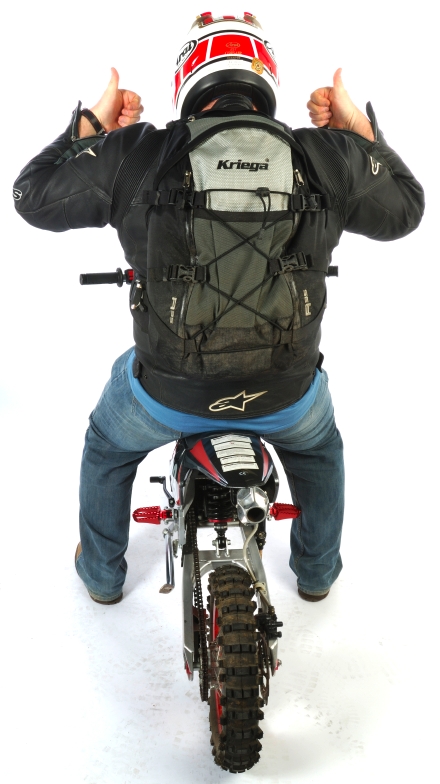 I've tried a few rucksacks in my time, some general purpose jobbies, some supposedly specifically designed for bikers. Most are shite.
However, Kriega's R35 is far from shite. I can honestly tell you that this is the best rucksack I've ever used on a bike, and when it gets really old and dies, I'll be begging for the same again. I carry a fair amount of crap around most of the time, and regularly get a couple of changes of clothes, spare visors, and various bits of bike in it with ease.
The zip-up chest fastener works beautifully, and the double front zipper pockets are also damn useful for keys, cards and coins. The 'sack is designed to take all the weight off your shoulders, and it really works too. You wouldn't believe it without trying one, but you do genuinely forget you're wearing it sometimes; it's that comfy.
Add in the fully waterproof inner sack, and you can be sure everything will be 100% dry after even the wettest journey. The 'sack is very rainproof without, but why risk it in a persistent downpour?
If you do need to pack a particularly large sack at some point, you can also clip on a fully waterproof Kriega US10 and you've got another 10 litres without having to shell out for another 'sack, or put up with a whopper when you rarely need the capacity. If any of you are as generously proportioned (fat) as me, Kriega offer a full fitting service, ensuring that the straps have got enough length for your girth too.
Article continues below...
Advert
Stick one on your Christmas list – they're bloody marvelous.
Moby
Web: kriega.com
Tel: 01829 741223
Kriega R35 –
Article continues below...
Advert

Enjoy more Fast Bikes reading in the monthly magazine.
Click here
to subscribe.