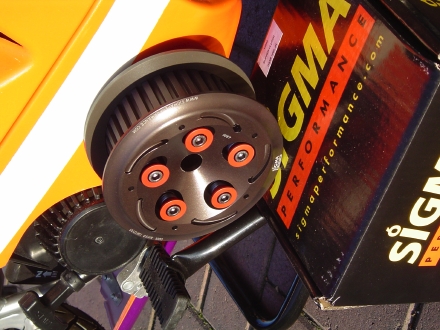 In the last five years slipper clutches have gone from exotic race bike bike addenda to road bike essential. Few new sportsbikes now go without one. That trend has impacted the aftermarket in two ways. On one hand, fewer new bikes need their clutch upgrading to the slippery variety. On the other, it becomes an even more obvious lack in older bikes – bikes like my GSX-R1000 K4. When I bought it, I knew that it would need a slipper clutch to become a great track bike, and that the absence of one would grate on me when virtually every new test bike I ride does have one.
Of course, throughout the whole race technology explosion in road bikes, that also made radial calipers essential, the real racers have been upgrading to aftermarket clutches regardless of what was in their bike as it rolled out of the factory. Sigma Performance have been in the slipper clutch market from the start, and you'll find more of their units in race bikes at all levels than anything else, including every R6 in British Supersport and Alastair's Daytona too. JHS Racing have used Sigma clutches for years and James swears by them.
Fitting is straightforward, but checking the clearances requires an expert eye or some very trick measuring equipment. Best to get it done by a pro unless you regularly fiddle inside engines.
The first five sessions after the Sigma clutch went in were all wet, which isn't an ideal test and that's why it's taken a while before I felt I could give you a full and fair test. Finally, it all fell into place on a No Limits trackday at Mallory Park recently. The bike was dialled in well and I was testing brake pads and discs, so the slipper clutch had its work cut out.
Under maximum braking, with the rear wheel skimming the floor and wagging gently, the Sigma unit hangs on to control of the engine braking where standard slipper clutches would throw their hands in the air and admit defeat. There's no chattering, no lurid slides, only consistent control.
Article continues below...
Advert
In spite of that, the most impressive phase is as you're coming off the brakes and turning in. Some slipper clutches can be clumsy as they re-engage, suddenly introducing a blob of engine braking that feels really unsettling. Sigma Performance use shallower ramp angles and ball bearing pivots for the smoothest possible action. It obviously works because I can run my K4 into corners a lot faster than I'm used to with road bikes, and brake deeper too. That's essential for fast times when racing, and you'll appreciate the benefits on trackdays too. Whether you need a slipper clutch on the road is debatable. Certainly, for the vast majority of riders it's unnecessary. We do appreciate them when we're going flat-out on roads we know, TT-style, and braking really hard. Either way, fitting a slipper clutch won't hurt even if you're just adding it for the bling value and so you can tell your mates how much more controlled it is turning into the pub car park.
The Sigma Performance slipper clutch is made from light alloy, and saves 30% from the weight of most standard units. As it's spinning weight connected to the engine, that saving can help boost acceleration. I can't say I felt the difference with a two week gap between tests, but every little bit helps.
If you think that a slipper clutch will help your bike, I can definitely recommend Sigma Performance.
Wilko
Article continues below...
Advert
Sigmaperformance.com
+44 1892 538802

Enjoy more Fast Bikes reading in the monthly magazine.
Click here
to subscribe.