OK, so it's still a bit cold, but it's definitely time to unwrap your bike and get back on it – assuming you've been protecting it from all the ice and salt, and not just riding everyday anyway. It may not be betty-inducing hot out, but there's only so long you can go without riding before the need will grab you by the danglies and force you to thumb the starter.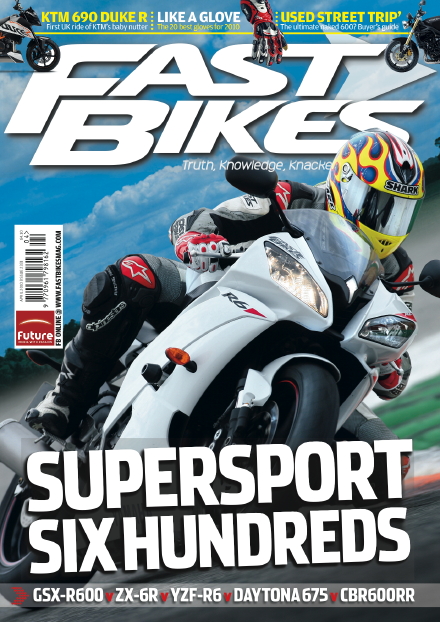 And we've got some great content to get you in the mood…
Get down the shops on Wednesday, and you'll even get a top quality free Fast Bikes neck tube, and a Demon Tweeks 2010 catalogue! Of course, if you'd remembered to get the missus to buy you a subscription for Christmas, the new issue would already be with you…
So what's in the issue then?
The Big Test
New YZF-R6 vs Rivals
With Yamaha's new R6 claiming some increased midrange in an attempt to reform the psycho track-lover into a class contender, we take all the 600s to Circuit Cartegena in Spain to thrash out some answers.
The Other Big Test
Hyperdrive
BMW's new K 1300 S rocket ship takes on the established ZZR1400, and archaic Hayabusa. Continents disappear beneath them…
First UK Ride
KTM 690 Duke R
First ride on UK roads of KTM's big single street mentalist.
Leftfield
KTM 525 XC Quad
KTM's road-legal quad makes light work of last month's snow – check it out, it's barking.
The Noughties
Was that it?
Rootsy takes a look at the decade that changed biking beyond our wildest dreams.
Dream Ride
My First World Superbike
BJ gets to ride a stack of WSB and WSS bikes at Portimao – his first time in the saddle of such sexual machinery – this is his story.
Cracking One-Off
Super-rare 1986 Suzuki GSX-R750R
Few bikes are in this condition after a year, let alone 24 of them. Super-rare 'Double R' slabside 750, plus every single model of GSX-R750 for your viewing pleasure.
Race Feature – MotoGP Meltdown?
WTF is going on in the MotoGP circus? Time for a rant…
Plus: Steve Parrish, your Letters, Riding, Technical & Legal Masterclasses, five pages of new products, and much more

Enjoy more Fast Bikes reading in the monthly magazine.
Click here
to subscribe.