I may be bias, but I honestly think the latest issue is an absolute blinder. With a full road and track test of the 1000cc contenders, fighting off ze German assault from BMW's S 1000 RR, and the most banzai 125cc sportsbikes fighting it out at the other end of the scale, there's something there for every sportsbike addict. We've also got a first ride of the new Z1000 on British roads, and on track at Silverstone, plus a KTM RC8 used buyer's guide. Aren't we good to you? At least FB still tests sportsbikes, eh?
There's also an exclusive interview with Stuart Higgs, BSB big cheese; a 'Suspension for Dummies' guide to all things damped and bouncy; an insider's view of the fantastic work done by the BSB medical teams; and an expose on the paradoxical truth that bikes are dramatically more hardcore than they've ever been, and yet they're also safer. Go figure.
Chuck in a 'Cracking' shoot with the Norton 961 SE Commando, a hilarious feature about racing's biggest cock ups, and all the regular invaluable information – and it adds up to a corking issue.
Incredibly, it doesn't stop there.
We also have a 36-page Track Guide for you, with 14 UK tracks reviewed and top tips for a flying lap from our BSB boy, Alastair. There's sections on getting the right kit, the right bike,t he right tyres, preparing your road bike for a trackday, preparing yourself for a trackday (whether it's your first or your hundredth), doing a foreign track assault, and a listing of every major UK trackday in 2010. You can't afford to miss it.
Enjoy the issue,
Moby
So what's in the mag then?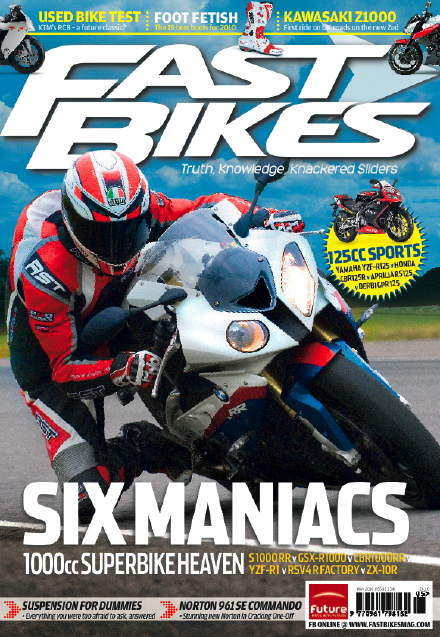 The Big Test
Six Maniacs – 1000cc Insanity
BMW's S 1000 RR takes on the CBR1000RR Fireblade, ZX-10R, YZF-R1, GSX-R1000 and RSV4 Factory in a full-on road and track shootout. This is big.
The Other Big Test
125cc Sportsbikes
New to biking? Don't know what to buy for a first bike? We have the answers. The iconic RS125 gets aggresive with Honda's CBR125R, Yamaha's YZF-R125 and Derbi's GPR 125. The smell of two-stroke will revive you better than a cold beer.
First UK Ride
Kawasaki Z1000
Launches are one thing, getting bikes on the UK's crappy Tarmac is another. Does the Z1000 stack up carving through Blighty's green and pleasant lands?
Leftfield
Victory Cory Ness
It's like a rapper's handbag.
10 minutes with…
Stuart Higgs
Exclusive interview with the BSB supremo.
The Knowledge
Suspension for Dummies
Don't know your compression from your rebound? You need to read this…
Bike Development
Faster & Safer? Yep, it's true…
More of everything doesn't mean the risks are higher.
Medical Heroes
Doctor, Doctor
Alastair's favourite people – the BSB medics.
Cracking One-Off
Norton 961 SE Commando
Race Feature
Racing Cock-ups
The hilarious consequences of being human, and in some cases superhuman. They all make mistakes, and someone is always watching.
Plus: Steve Parrish, your Letters, Riding, Technical & Legal Masterclasses, five pages of new products, and much more

Enjoy more Fast Bikes reading in the monthly magazine.
Click here
to subscribe.