Motorcycle crash protection is one of those areas that none of us particularly want on our pride and joy but is absolutely essential. Whether you are a track day fanatic or just fancy a blast after church on a Sunday the inevitable off or drop is always in the air. We live with it and the product is out there to deal with it.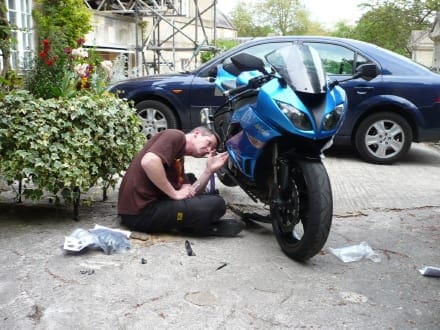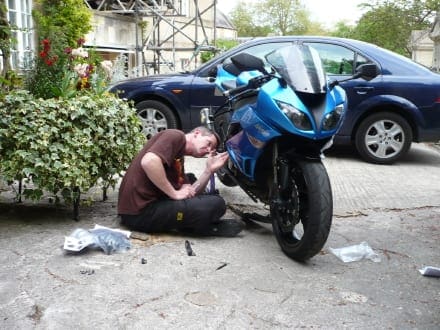 My ZX-6R is yet to hit the horizontal, and if that day comes I am not taking any chances. I was first introduced to GB Racing products via JHS Racing who told me what I needed for my 09' Kwak. My second introduction was Al's race bike at Thruxton, a 675 with its engine fully protected by the GB Racing fittings. So I ordered the full kit £177.14 (excluding the VAT) from GB Racing.
When on the site go straight to the bottom of the page and MD Graham Banks tells you exactly what you are getting. Secondary engine covers formed via long strips of glass fibred nylon, the weighting of 60% glass giving the durability and damage resistance that I am reassured to have, and trust I will never need.
I found it harder to put my new tax disc in its holder than fit the Clutch, Pulse and Alternator Covers. Remove four existing bolts, replace them with the supplied counterparts that are slightly longer, and that is it. You need to drop the lower fairing to put on the engine protection, also the upper on the right hand side needs to be loosened to get in the pulse cover but its no hardship.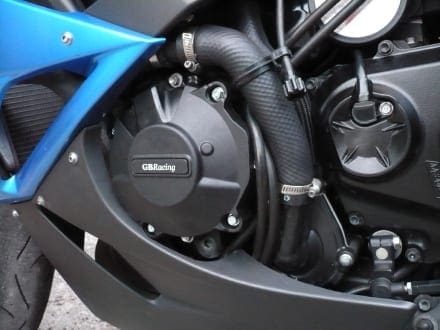 Each protective cover sits over the existing and fit perfectly. The overall effect is brilliant, you are sporting full engine protection but really have to look to see it – it could all be OE as is such a natural fit.
I fitted the Bobbins too for the overall GB Racing package. The only failing, which is a commentary on my skills not GB's, was the Shark Fin lower chain guard. I am fitting one of these to my ZXR400 first, will then decide on whether I want to drill into my 6's swingarm or not.
So, GB Racing Protection is not only FIM Approved, its also extremely visible in your BSB and WSB paddocks and now my garage. One day I may let you know how effective it is, forgive me for hoping that I won't though.
Charlie

Enjoy more Fast Bikes reading in the monthly magazine.
Click here
to subscribe.