Phoenix Distribution, the UK importer of Arai helmets, have teamed up with the Royal Air Forces Association to produce a one-off Arai RX-7 GP.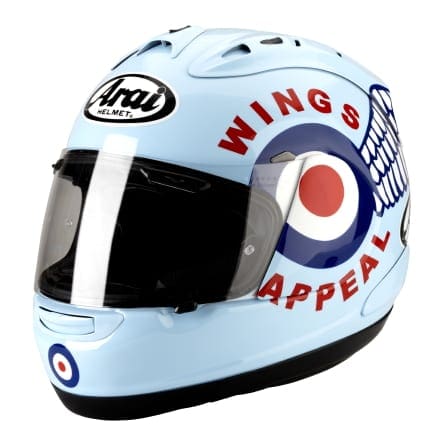 This RAF Association is commemorating 70 years since the Battle of Britain took place in the skies over southern England with the Wings Appeal; this was one of the most important moments in British history and proved a decisive turning point in the Second World War.
Win It! One lucky motorcyclist will have the opportunity to own this piece of Arai and RAF history – you can enter a competition to win the helmet up until Friday 19th November 2010 – for just £1. Simply text ARAI to 70099 to enter. In addition, this unique Arai RX-7 GP will be signed by Steve Plater and presented by Steve to the lucky winner on the main stage at November's International Bike Show at the NEC in Birmingham with various RAF Association personnel present. For those attending the forthcoming TT races, it will be available to view during the event fortnight on Arai's Race Service in the Grandstand area and then on display at other events throughout the year.
This unique RX-7 GP wears a duck-egg blue base colour – the exact same tone as used on the bottom of the RAF's Spitfires and Hurricanes in 1940 – as well as a pair of iconic red, white and blue roundels. The wings, as well as being a flying officer's badge of honour also signify the work that the RAF association does for the whole of the RAF family.
For more information on the RAF Association and the Wings appeal call 0116 266 5224 or visit RAFA
For more information on the Arai range call Phoenix on 01782 569800, or visit Why Arai
Comments
comments