Like all good postcards, this is arriving to you long after I have returned from my holiday destination. It sits on my virtual doormat as a reminder of four of the best days I have had in ages.
Never one to pass up on an opportunity Beej's five little words 'riding to Assen, wanna come?' were music to my ears. I had never ridden abroad, seen a race out of the UK, been to a tyre launch or visited a race team. The promise was I would fulfil all five in four days… Like I was going to say no, why would I?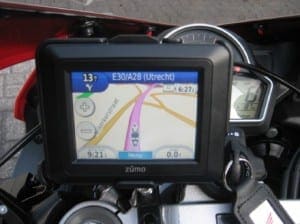 My only slight reticence was the fact that I was going to put 1,300 miles on my ZX-6R, which had only just eased over 5,000 miles and had pretty much been cradled by me since birth. But sod it, bikes are there to be ridden, so we set off early doors on Saturday and headed for the Chunnel. I was keen to go by boat for some reason but you cant knock the tunnel, it runs like clock work. 25 minutes of bag rearranging and you swap your Pie and Mash for a Baguette, Garlic butter and numerous disabled frogs who have given up their mobility for a taste sensation.
Bath to Folkestone was a breeze, we passed through England's counties in preparation for passing through Europe's countries. Beej and I sailed through England, France, Belgium and Holland all in one day. Having stepped onto foreign soil I said goodbye to Blighty, its corners and rolling hills and found myself riding on what seemed like a bloody billiard table. The long straight roads didn't give me any opportunity to bank the Kwakker over until I had seen my first windmill. By then it was too late my tyres had squared off, arse was in tatters and I was stiff as a board. This is not a long journey bike, as Beej appeared to be discovering on his 'Blade. We were literally begging the Garmin to find us some bendy bits.
We finally arrived in Gronigen, a small university town outside of Assen. Beej's hosts Pirelli checked him into his room and I strode confidently past the reception as if I had already checked in. Brilliantly, Beej was in a twin room so I illegally hijacked a bed and prepared for my three night stay as an uninvited guest.
Article continues below...
Advert
As I prepared to sneak out for a meal alone while Beej did his journo duty I was spotted, "What are you doing here?" I thought it was over before it had begun but Mr Pirelli could not have been more welcoming, invited me to dinner, bought me beer and gave me hospitality tickets at the circuit for the racing – lady luck had not just shone on me, she appeared to be practicing all sorts of carnal sexual acts upon me…
Will write again soon.
Charlie
Article continues below...
Advert

Enjoy more Fast Bikes reading in the monthly magazine.
Click here
to subscribe.