The UK's first ever No Budget CUP takes place at Anglesey on 12th September 2010. Here is a taster of what to expect…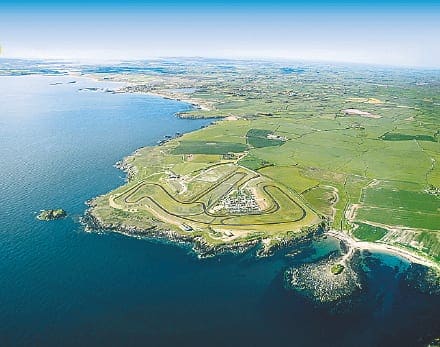 Anglesey Circuit Guide
All No Budget CUP race bikes are from the nineties, we don't allow tyre warmers or slicks and National and International race licence holders can only join in as pit crew. The NBC isn't for the super fast or super competitive. But it is perfect for race novices and riders who have more enthusiasm than spare cash.
The NBC is a return to the true spirit of club racing on a shoe string budget. Our teams get maximum track time for minimum money. The one day event has 1 hour qualifying before the 3 hour endurance race.
Teams that paid in full before 31st July 2010 get an extra 1 hour and 40 minutes FREE practice. Teams that paid later than 31st July can buy the extra practice time for £130.


Everything happens on one day, 12th Sept 2010 at Anglesey. We send you a schedule of the day in advance, but here is a heads up.
The circuit is open the night before. Campers can grab a race day breakfast at the on site café.
There are no permanent pit garages at Anglesey so bring a tent or awning for your team to use in pit lane. If this is your first race, remember to bring the essentials; refuelling system, fuel, tools, one piece or zip together leathers, EU approved helmet, back protector, pit board, spare wheels if you have any and the race bike!
You can only use one set of dry tyres and one set of wets during the NBC race. Your No Budget CUP race bike must ALWAYS run on Dunlop's control tyre, GP Racer D211 or Dunlop wets. This includes during the free practice, (whether you paid for it or not) and during the qualifying and the race.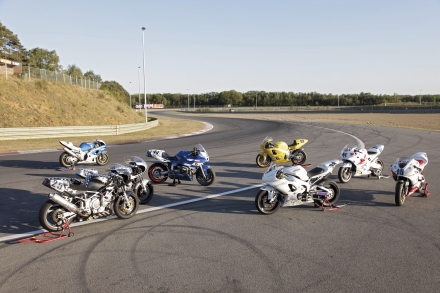 You can have Dunlop's wet tyres already prepared on spare wheels if you start the race on dry tyres and vice versa. If you get a puncture and can return safely to the pits, you must replace the punctured tyre with like for like on the same wheel.
Teams can buy their Dunlop control tyres on race day at a discount and have them fitted for free on site by Dunlop.
Front (Dry or Wet) £80 + VAT each
Rear (Dry or Wet) £105 + VAT each
Or you can pre order your tyres from Dunlop and pay for the delivery and fitting yourself.
Contact : [email protected]
On race day, the No Budget CUP registration is from 7am to 8am. You will need to bring some ID and proof that you have previously ridden a motorcycle; your driving licence with motorcycle entitlement, CBT certificate or proof that you have raced or been on track before.
If you don't already have an eligible ACU licence to compete in the No Budget CUP, we arrange that for you on the day at no extra cost.
Every rider must register on race day and attend the ACU briefing before they are allowed out on track. All NBC race bikes must pass the technical inspection and always use Dunlop GP Racer D211 or Dunlop wets.
The first 48 teams that pay are guaranteed to race. You can add your team photo and check your race number on our web site.
We give each team a set of stickers in the morning on race day. The stickers will have your team number on and you must display them on your bike as per our rules and regulations.
We have some great prizes to award podium finishers;
– 1st place is a set of Dunlop GP Racer D211
– 2 nd place is an Arai Chaser helmet
– 3rd place is an R&G goodie bag
All competing NBC teams get a welcome pack which includes a pair of Arai mechanic gloves, an Arai visor bag and a gift from Red Torpedo. And we have a few surprises too . . . The No Budget CUP is almost here . . .are you ready?
FOR FURTHER INFORMATION, PLEASE CONTACT:
Jane Omorogbe | No Budget Cup | Nijverheidsstraat 3 | 8020 Oostkamp – Belgium | email Jane Omorogbe

Enjoy more Fast Bikes reading in the monthly magazine.
Click here
to subscribe.