Another dawn in the Netherlands, another night of rest for me and more anguish from Beej. Apparently whoever's snoring is keeping him very awake indeed, and its not funny – Beej is about to partake in his first journey around Assen at speed for the launch of Pirelli's Diablo Rosso Corsa's.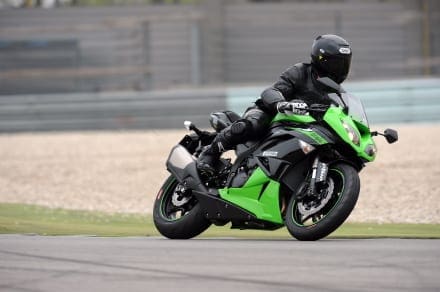 There I was on the bus to the circuit, thrown in with test riders from across the globe – quite envious of what they were about to partake in – riding the same circuit that 16hrs ago played host to Rea, Haslam and Toseland. I listened intently to the briefing with a guilt lined stomach as I could plainly see that Beej was wiping the sleepless night out of his eyes and he looked, as he later admitted, somewhat nervy.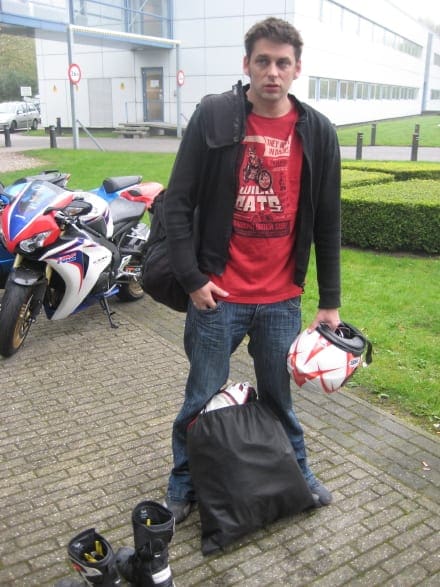 After the briefing we were lead out to the bikes, 1198s, RC8 Rs, R1s, S 1000 RRs, 'Blades, Ninjas – it was like walking into an open air showroom. Pirelli had done some serious blagging to show how serious their new tyre was and I was surrounded by the lucky buggers who were to ride them.
So out went groups one, two and three to scout and warm in the tyres for ten minutes per group. Beej was just heading out with group three while I snapped away happily with my camera. It was then I was told in no uncertain terms to 'stop fucking taking pictures and get your leathers on' (all in a German accent), it appeared I was going for a ride.
As Beej swooped into the pits I was preparing to go out. He can be forgiven for not noticing what I was about to do as the exhilaration of one of the fastest circuits on earth was pumping through his veins as it was about to mine. My weapon of choice had to be the ZX-6R; I needed the familiarity of the bike I owned for an experience that was taking me right out of my comfort zone. While awaiting the green flag I couldn't help but go through my track resume – Castle Coombe, Mallory Park, Silverstone's Stowe – to add to this Assen. Please please do not arse this one up.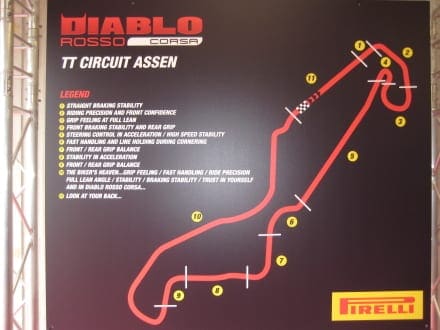 Away we went; I was at the back riding with a twitchy bum hole all the way round. It took about a lap and a half for the fist ex racing tester to pass me as if I was standing still, did I care? Not a jot. I was just having the time of my life and knew this may never happen again so make the most of it now – make it memorable dear boy and for all of the right reasons.
The ten minute session ended and I came in to pit with the sort of gratification that I would expect from waking up with Cheryl Cole. I had done what so many others have not – ridden Assen, and I had absolutely no right to have done so. I greeted Beej with a grin the size of the Forth Bridge and his mouth dropped quicker than Drogba in the penalty box – yes Beej, an utter bastard I am……
In truth I could have spent the day going out but felt that I had little more to gain and so much more to lose so left it to the professionals. These testers are not to be underestimated, it was a pleasure to share a track with them but would hinder them no longer – I merely decided to sit in a corner and grin the day away – whilst rushing my tits off via the greatest natural high I have ever had.
Charlie

Enjoy more Fast Bikes reading in the monthly magazine.
Click here
to subscribe.