I was shattered this morning, having celebrated my track experience of Assen Circuit with a little drinky last night, no head banging just a happy tired. Beej is not a happy tired, Beej needs sleep… I awoke in the small hours to hear, 'unbelievable… I can still fucking hear you!' coming from the bathroom where my buddy had taken his bed to get away from my outrageous snoring.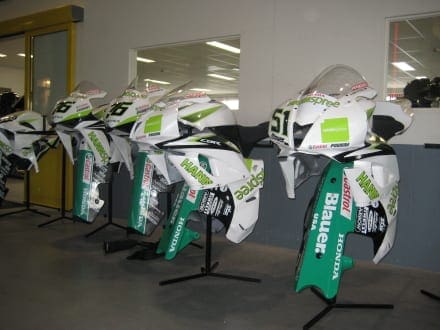 Heading back towards blighty today to stay nearer the Channel Tunnel for our booked crossing tomorrow morning, just one stop first – 30 miles north of Assen to Ten Kate, the racing headquarters that was still in the double win for Rea hangover not 48 hours before.
Now in the Netherlands there are many tourist attractions. Windmills coming out of their ears, tulip fields that stretch out toward the horizon and more dykes than Amsterdam can cope with. But I discovered the ultimate visit for any motorcycling enthusiast – the Ten Kate showroom.
It's so vast, so absolutely HUGE. The front of Ten Kate's building is that of an impressively large motorcycle showroom but look down the side and you can see what you are contending with. Walk in the front door and you find a field of bikes, wander upstairs and a warehouse of the latest, greatest bike gear awaits you. Rack upon rack of helmets, gloves, boots, protectors, touring gear, racing gear, two piece, Dainese, Alpinestars, Spidi, Berik.. Everything you could look for is there and its all the latest stock. For older stock they have a separate area as an outlet for gear that is no longer the latest release.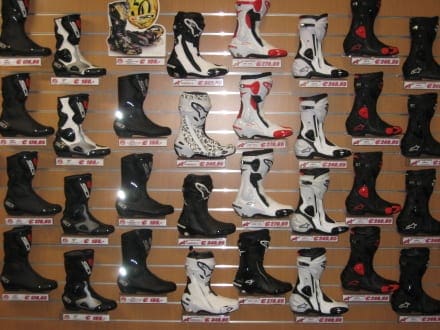 I was lucky to then head out the back which takes you into the picking area for parts, the general workshops that are absolutely spotless and then race team headquarters. An area big enough for five full arctic lorries complete with trailers, offices, race workshop and all of the spares necessary for what seemed like ten WSB series. I was just a kid in a sweetshop. Toseland's 2007 championship winning bike sits as decoration overlooking the trucks which at the time were being loaded for Monza. I was totally in awe.
Beej and I had eight hours at Ten Kate as they pimped Rootsy's Fireblade, my credit card burning a hole in my pocket as I wanted to purchase everything! If I am ever in need to change all my gear Ten Kate will be my destination.
Alas the UK beckoned and Beej and I headed back in the straight line to bag an early crossing. Unsurprisingly Beej ducked out of another fun filled night with me snoring away. On entry to Calais I felt like a movie star at one point as the flash of camera's reminded me that the long straight roads of Amsterdam and Belgium soon turn into the well policed roads of northern France. (Hope I got away with it.)
We will finally return to the West Country in the small hours of the morning. A long and tiring trip but four days that I can never ever forget. God bless Assen. See you next year – but maybe separate rooms next time, huh Beej?
Charlie

Enjoy more Fast Bikes reading in the monthly magazine.
Click here
to subscribe.