Some of you may be aware of a fictional  American TV show depicting the trials and tribulations of a Hell's Angels (HA) gang, called 'Sons of Anarchy'. If you're not, then consider it as 'The Sopranos' on motorcycles, and you get the general idea.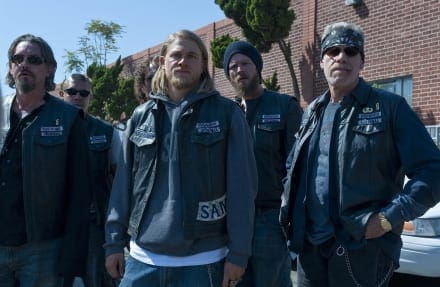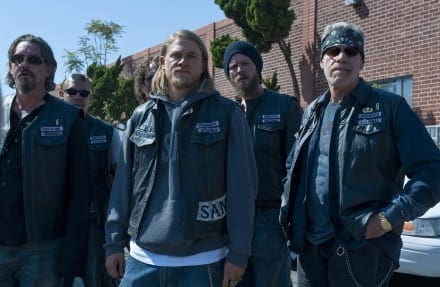 Season 2 is currently being released on DVD in the UK so if you are late to it, then you've got all of season one to blast through on a rainy day, and we'll be giving you the chance to win a copy or two of the second series soon, in case it rains again!
Watching the show reminded us that there are a lot of different biking lifestyles, many different levels but none so all encompassing as being HA or similar.
With the annual Bulldog Bash right around the corner, we tracked down 'Big Chris' – a member of the HA, and organiser of the Bash itself, to ask him a few questions about his chosen way of life.
Big Chris; Moby never knew he had a twin…
So, Chris, firstly how're the preparations for the 'Bash' going?
"Stressful! I've already been here for a week but everything's on course. We've downsized the dance tent this year but we have a second outside orbital stage which is almost as big, if not bigger, than the main one. We also have a fantastic American band called Attica 7 playing, who'll be going on to tour the UK for a week after they've played for us. Check out our website, the music video that comes up first is Attica 7, if you don't see them with us do try and catch them on one of their dates. Don't forget next year is our 25th Anniversary next year, too."
On to the Angels, just how deep in are you, and have you always been a biker?
"Being HA surrounds you all the time, but I was a biker first. Having said that, I have a car too because in this modern world even we need to be practical when taking the kids to school!
"My dad was a huge biker and even a despatch rider. He used to take me to see all the racing back then, I used to go watch Mike Hailwood and Barry Sheene in the late 1960s, early '70s; biking's been ingrained into me since being a child"
So when did the HA bug hit?
"A bit over ten years ago actually, it just drew me in. I just loved the camaraderie they had, it was like nothing else I'd experienced as a biker, and they really are like a massive family."
So we're guessing you ride a Hog?
"Actually I have a few bikes! I have a Honda Valkyrie and yes, a custom Harley Davidson too. I also just bought a crash-damaged Triumph Rocket III. I could never buy a new one outright, so I just fixed it with whatever I could get my hands on.
"The thing about Harley's though, is that they always hold their value really well. But the best part is that they're continually re-buildable and the second hand spares so cheap to find. Even for the older bikes. I also build bikes for a living and, for example, a rotor for some Kawasakis will cost over £350 new, but for a Harley a similar part is just £98! It's a massive difference in cost. Honda want £1,820 for an exhaust for my Valkyrie. I've bought multiple bikes for less! I ended up making my own for about £200.
"But a big part of the appeal with Harley's, as I said, is their modular build and the fact so many parts are interchangeable despite model, year, whatever; try swapping a CDI from one modern bike to another – you can't!"
Gotta say, Chris, for an HA member you're coming across as decent bloke which some may find surprising considering the press the club often gets.
"Oh, don't get me wrong, I love a good argument! I may even completely disagree with something I've already said just for fun. I just love the craic. All's well if we're just left alone; it's all about respect, given in equal. Respect us and we respect you, simple. As for bad press, it is really annoying so don't get me started. That poor fella who was shot a couple of years ago; we were the victims there, we'd done nothing wrong but the papers write what the hell they like."
So what about 'Sons of Anarchy', we're guessing it's your kind of show?
"Well, in some ways I guess it doesn't do us any favours; we're not gun-runners! But as a show, a soap-opera, it's entertaining stuff like 'The Sopranos' on Harleys. Looking at it from that perspective and remembering it's meant to entertain, it's pretty awesome."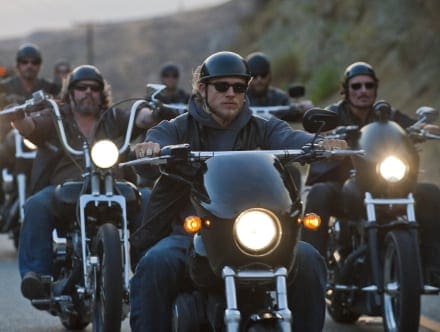 As bikers, we may never know exactly what it's like to belong to something as involving as the Hell's Angels. We do our thing; have our owners-clubs and ride-outs, meets and trackdays, but for most the lifestyle ends as soon as the bike's away and the kettle's on.
For us we're on the outside looking in at something almost alien to us, but as you can see with Big Chris, he's far more approachable than you'd initially credit him with being. So if you do fancy having a closer look at 'the other side', the Bulldog Bash is on this weekend, you may even have fun. And if you can't make that, then check out 'Sons of Anarchy' for some over-blown, gritty and exciting HA drama.
Sons of Anarchy: Season 2 is available on Blu-ray and DVD from Twentieth Century Fox Home Entertainment: Fox Tv DVDs

Enjoy more Fast Bikes reading in the monthly magazine.
Click here
to subscribe.