Having seen what Pip has been doing with his own 400 project I thought it was time I got back into the ZXR400. Its not like I have not being doing anything over the past months but the build up to a rolling frame had me staring in awe at was emerging as opposed to getting on with it.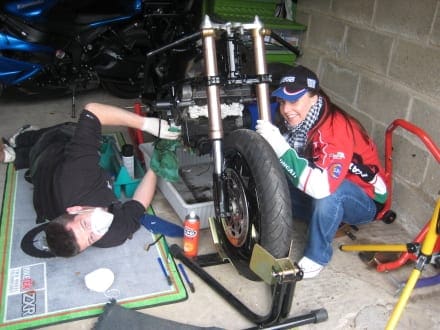 The next job was to get the engine clean. This had not been approached for over 19 years and you can see from the pictures the state of it. The mixture of oil, grease, dust and dirt had welded itself to the engine casings and there were times I wondered whether I would ever get it anywhere near clean again.
First thing I had to do was secure the engine. I got help to lift the engine clear of the pallet and put the original, and now redundant, front tire under the engine to steady it. This was then positioned onto the pallet and then the whole thing lifted into a large plastic container. (Which had had winter clothes in under the bed but would now save the garage floor). This proved to be the perfect cleaning station and I got to work.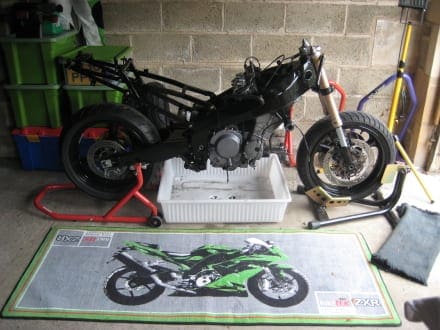 Wire brushes at the ready, cloths and in some areas scrapers were needed to remove the scum. I had started with Muc Off which couldn't handle it, tried some brake cleaner which wasn't the best idea as it would eat away at the gaskets, but finally settled on Gunk Engine degreaser. This was the best thing but I found it pretty pungent so wore a face mask to keep it off my lungs – don't want to limit the amount of cigs I smoke now do I?
Once all accessible areas were clean I grabbed the help of the brother in law to help lift the frame back over the engine and jack it back into position. This got tricky again as the powder coat has thickened the frame and even a few millimetres makes a hell of a difference. After the big squeeze I was able to line up the bolts remembering the R&G crash bungs as I went. Once these two main fixings were in place I could swing the engine back and get all areas tight and secure.
Article continues below...
Advert
With the bottom now accessible it was time to finish the big clean, more Gunk, more brushes and more blood sweat and tears. It was taking me so long that the Mrs decided to help full in the knowledge is was the only way she was going to see me. But finally it was done, and its looking like a motorbike again – and its pristine – don't even breath on it!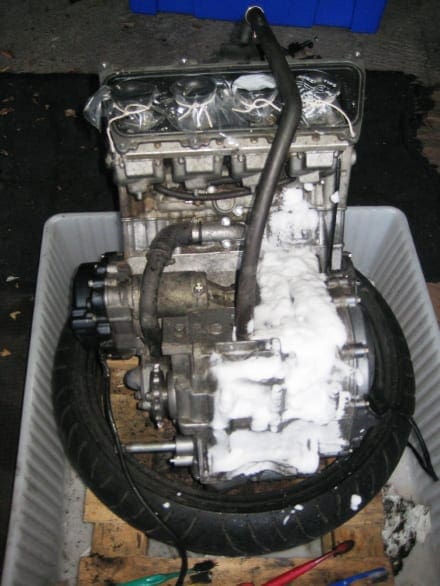 Article continues below...
Advert

Enjoy more Fast Bikes reading in the monthly magazine.
Click here
to subscribe.