The first No Budget Cup Endurance race was held on 12th September, and was a resounding success – so long as you weren't in the Team Fast Bikes squad.
Held at the amazing Anglesey track in Wales, 48 teams took to the grid to go at it hammer and tongs for three hours. A huge array of men, women and machinery took part, and after the Fast Bikes' trackday held in the morning enabled teams to tweak their machines, the Fast Bikes team were having problems of their own. With their number one machine, a 1990 Kawasaki ZXR750, going pop the day before the race, the team searched for a number two bike, and found one in the form of a Suzuki SV650 from JHS Racing. Needing a little love before it could go out on track, the team didn't get chance to test or qualify, and so started from the back of the grid.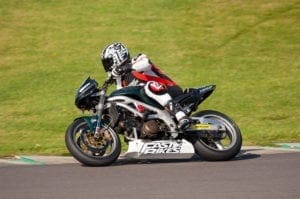 The action kicked off at 2pm, with Team Fossil sticking in an amazing 1:37.076 on their GSX-R750, to qualify them on pole. 47 places behind them, Team Fast Bikes got stuck in, suffered their fair share of ill fortune, but had an amazing time whizzing round the Welsh circuit all afternoon.
The action at the front was hot, with Team SP Racing's Fireblade and Team Fossil battling it out, with Team Mad SP Racing also in with a great shout. In the end, SP Racing won through, taking the lead with 14 laps to go, but being hunted down by the Fossils. Eventually, the Belgium team took the win by 16 seconds – a few more minutes and the result could have been very different. Quite some way behind, to the tune of 17 laps, came Team Fast Bikes, resolute to the end.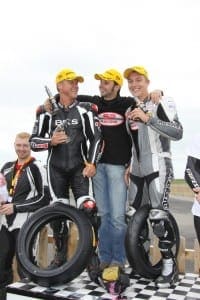 Getting 48 bikes on the grid was a resounding endorsement of the series format, and 2011's series is bound to be rosy. To find out more, or to even book up for the last round of the Belgium series at the end of the month, head to www.nobudgetcup.co.uk for more information. The full race report will be appearing in issue 242 of Fast Bikes, out in the shops on 20th October.
Article continues below...
Advert

Enjoy more Fast Bikes reading in the monthly magazine.
Click here
to subscribe.