This is the story of 2WheelSkool's No Budget Cup debut, in their own words. The team are Laurence Williams, Martin Tromans and Dean Martin.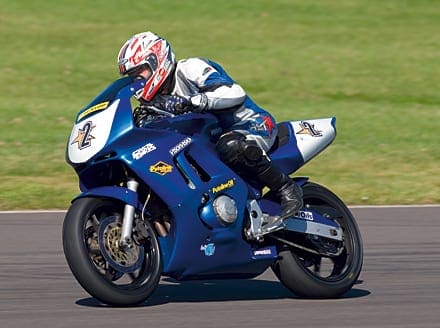 "What an event, aimed at novice racers, and a good 60% were. The Belgian-spawned endurance race hit the Welsh shore at Anglesey. Our problems began the night before as we noticed most of the other competitors were getting the excellent D209 control tyres fitted and going thru scrutinizing. We began to get an uneasy feeling we should be doing the same but as one of our riders had not yet arrived we were stuttering to make a decision. A pretty common theme that had been prevalent since registration 6 months before.
"It was getting dark, the Dunlop tyre crew wanted their tea and calculating it needed a good hour to remove the wheels, fit tyres, re fit the wheels and get thru scrutineering,  we were  forced into activity. Running around like headless chickens we begged, stole and borrowed paddock stands and spanners to achieve it. Our missing rider also had all the tools, fuel and stands! We made it, the last team to scrutineer on the Saturday evening and our third rider arrived just as the bike failed! The stop blocks were too worn and tank/handlebar thumb trapping was of the order. The scrutineers were brilliant and offered an easy and perfect solution of sticking tyre balance weights onto the blocks. However by now the tyre men had left so that was another thing we would have to do on race morning.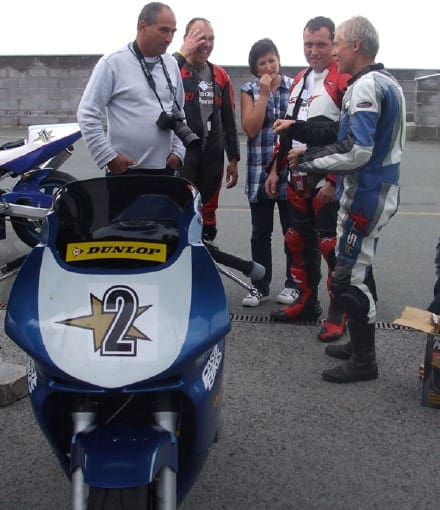 "So we were already the last to fit tyres and the last thru scrutineering and were beginning to wonder if this was an omen. That night we met in the bar and tried to decide on strategy, running order, pit management and refuelling etc… Not a lot was resolved and guess what we were the last to leave the bar!
"Race day, anxiety was high, confidence low and not having done this before there was just a hint of fear! The bike passed scrutineering, then we noticed gazebos springing up in the pit lane and realised you had to grab a space. For the first time we were not last and got a great spot at the beginning of the pits. Then the riders went off to attend one of the compulsory briefings. We were allowed to ride on the track day prior to qualifying and racing and here we scored our first bonus and advantage on the rest. We managed to get entered into two track categories so all three of us would get the chance to familiarise ourselves with the track before qualifying. Things were looking up!
"It did not last long though. The track sessions went ok but there was a general air of confusion in our pits and putting the bike on and off the paddock stands was a 5 minute struggle. Red bull and Ferrari should have a video of our pit stops as a training aid.
"Next was the Qualifying. After much discussion and permutations we found out it was best lap time, so we put Deano our quickest rider on first and then the idea  was for him to also go at the end to get a flying lap. However it did not quite work out that way. As he came past the start finish straight on lap 7 the gear linkage fell off. So we only managed to achieve 10 minutes of the hours qualifying session. We did have a bit of luck in that some of us had seen it fall and could see it laying in the grass on the infield part of the circuit. Had it happened anywhere else it would have been lost and day over. Deano did a great job in the limited time we had and at last we had made the right decision in putting him out first. We qualified 38 out of 48, not last for a change.
"At the end of qualifying we had another briefing to attend but one of our riders was missing again as he had shot off to see if he could source a linkage. So we were last to register 10 minutes past the briefing time!
"Our pits were a flurry of activity as we decided an hour before the race that the tyres would not last and we needed a new rear. Probably not the best decision we had made as we did not really understand graining and tyre wear too well, its just that the others were doing it and it made us look more professional.
"This took us to the Race start time, so we had had one 20 minute track session each and 10 minutes of qualifying. Not the best preparation. The Race began with a change to riding order, Deano was still involved in the tyre change so I kitted up and went first.
"At last we had done it arrived at the NBC, overcome a multitude of problems and started the race, I think all 48 riders did. The first few sessions went well, our pit stops were still dodgy, we could not decide on one stand, two stands, any amount of stands. Then there was the refuelling, our scientific approach was to do it every second change over.  There were a couple of red flags and from qualifying 38th we began to climb the order. I was on my second session about an hour and 10 into the race when all our lack of preparation, indecision and general don't really know what we are doing struck! I ran out of fuel. Not only that but I was as far away from the pits as you could get.
"The rest of the team initially thought I may have crashed out but the marshals reported a technical retirement to them so they thinned out assuming race over. I was sat in a marshal out post seething at our almost criminal negligence in managing to run out of fuel on track (I think we were the only team that did). Also the marshal stated unless the race was red flagged and I was collected, or I could get the bike running again and ride back to the pits, it was game over.
"So it looked like we were last again. Then a bike crashed very near to us so I pleaded with the Marshall to red flag it but he wouldn't and I assisted the rider to get going again. I suddenly realised my mistake as their was the source of fuel I needed so 20 minutes later when the next bike crashed and could not re enter the race I sprung. I nicked the Marshals cup a soup plastic beaker and began ferrying fuel out of the crashed bike to ours. The 200m walk over 2 tyre walls took its toll and by the time I arrived there was usually only a dribble left. After a few trips the bike did fire momentarily, so take the mountain to Mohammed, I thought.
"I pushed the bike around the tyre walls to the crashed one and managed to get about 5 cups full in. It fired and I roared off back towards the pits only to run out again about 300m short. I could see the team camper and the rest of the team chilling out in it. Frantically I waved and shouted till they spotted me. A quick sprint by Troggy back to the pits, which luckily we had not yet dismantled, a splash of fuel and we were back in the race. Deano and Troggy rode the last 40 minutes or so and we achieved our aim of completing the race and taking a chequered flag. That was the greatest feeling.
"We went to prize giving to congratulate the winners and lo and behold we were called up for a prize as we had finished 37th out of 37 finishers. Stone cold LAST!
"What a memorable event for lots of great reasons and lots of wrong ones too. Roll on next year when we will aim to come second to LAST!"
Loz Williams

Enjoy more Fast Bikes reading in the monthly magazine.
Click here
to subscribe.