The strangest thing happened the other day – I actually sold one of my bikes. Having seven lying around the place seemed a little excessive, and so I moved my GSX-R750 Slabside donor bike onto someone else who needed it more – FB reader Nigel Harte, who is building himself a very nice Slabby.
Unfortunately the ebb in bike numbers turned back into a flow in less than a week, as I spent the money from the Slabby on acquiring us another Kawasaki ZXR750 H1 so that we can hopefully end up with a properly functioning race bike for the No Budget Cup in 2011 – and have a load of spares handy for when the inevitable happens.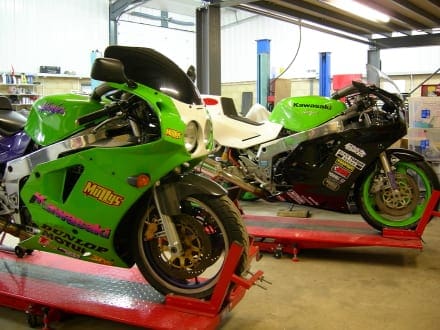 Having put a one-liner in the mag a few issues back begging for H1 spares, FB reader and motorcycle engineering under-graduate, Ian Stewart got in touch to say he had a whole H1 languishing unused and in the way at his folk's place. The money that had been widening my wallet after the Slabby deal simply passed into Ian's hands, and it was job done.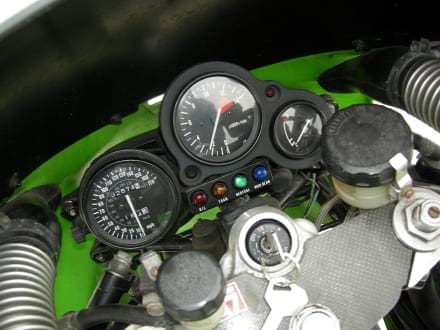 Ian hadn't used the bike for a couple of years, but he'd got it running before I picked it up, and while it's a bit fluffy, it sounds basically ok. I couldn't check the gearbox because the fluid level was so low in the clutch reservoir that it was sucking air – rather than pushing the slave cylinder. Once back at our workshop I bled the clutch up, and hey presto – it's fine, and we have a full compliment of gears in there, too.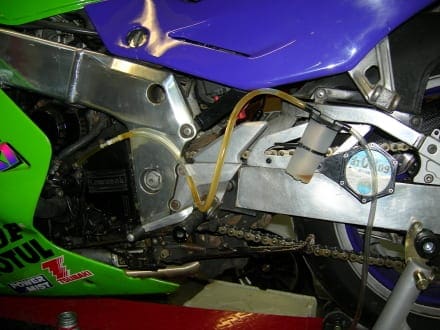 I'll probably do a complete engine transplant to our race bike to cure it of the gearbox and sprag clutch issues, then break the bike down for spares. It'll be invaluable to have a spare tank, wheels, subframes, radiators etc should we go cart-wheeling through a gravel trap during a race, or practice. I'll open up our original engine too, to see if we can fix the sprag clutch and gearbox, so that we have a spare functioning engine in case we suffer an 'electrical failure' (of the piston smashing through the block and cutting the loom in half type).
Moby
No Budget Cup Contacts:
Supporters of Team Fast Bikes & the NBC:
Dunlop
HPS
Bike Torque Racing
Wemoto
Skidmarx
ARD Racing
Venhill
HEL
Samco
Bikers Discount Store
Feridax
R&G Racing
StompGrips
Maxton Suspension
Scorpion Exhausts

Enjoy more Fast Bikes reading in the monthly magazine.
Click here
to subscribe.