Sometimes the planets align and you get the rarest of things – a perfect ride. This happened to me yesterday when my lovely old Ducati 900SS carried me on a little blast over Salisbury Plain to Stonehenge, and back again with an aural assault of 2-valve open-caned thunder.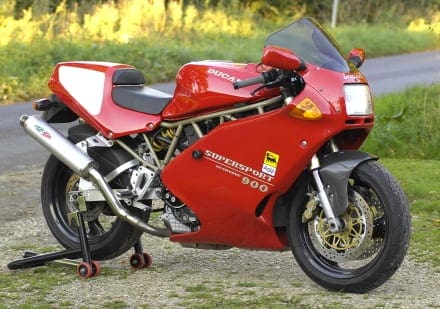 The last time I rode the SS (which I have to admit with no small amount of embarrassment was in December last year!), it was running like shit. It kept backfiring, coughing and spluttering, wouldn't idle smoothly and felt like it was going to conk out at any moment. I was so fed up with it that I just chucked it in the garage and haven't looked at is since.
I was seriously considering selling it, so I dug it out last week and thumbed the starter, to be rewarded with a lot of glorious noise and a very healthy sounding bike. I couldn't believe it. I didn't have time to go out on it there and then, so buried back in the garage, promising that I'd take it out at the next opportunity.
That opportunity came yesterday when the wife had dragged the kids off to another kid's birthday party – leaving me with a free day to fill. I mowed the lawn as quick as I could so that I had some extra brownie points in the bag, then dug the SS out. I thumbed the starter, and got to listen to the battery slowly draining as it refused to fire. BOLLOCKS!
The old Brembo stoppers are still incredibly strong, and with the new Metal Gear discs and some Brembo RC pads, they haul the SS down with shocking efficiency – proving that radial stoppers aren't always better, or necessary
I couldn't believe it – a free pass and the bloody thing wasn't working again. I whipped the rear plug out and earthed it on the motor while cranking her over – no spark. Same on the front cylinder. At this point my head was running through all the possible options, and wondering how expensive it was going to be to fix.
Luckily I had a pair of new plugs on the shelf, and popped them in to find two perfect sparks. With everything back in the right holes and the leads attached the SS fired without any effort at all. It was running perfectly. 60 miles later I overtook the wife and kids as I pulled back into my road, and treated them to my best smiling face.
The ride was glorious. Clear blue skies and warm Autumnal sunshine, almost clear roads, and the SS on song. When everything is right with the Duke, everything is right with the world. The grunty VeeTwo tuned engine had me going as fast as I could have wished for, and the accompanying soundtrack cleared cars away better than a set of blue lights ever could. The noise on the overrun is utterly addictive, too.
I'm not going to be selling it now….
Moby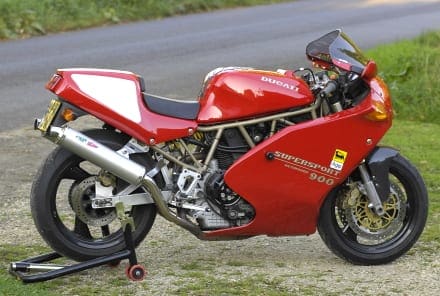 Cooling down after the ride

Enjoy more Fast Bikes reading in the monthly magazine.
Click here
to subscribe.