Within team "Fast Bikes" I like to make myself as useful as possible. By day I run the commercial side of the magazine, by night and weekends I run my own staff and project bikes learning all I can about motorcycles, both by riding and building them.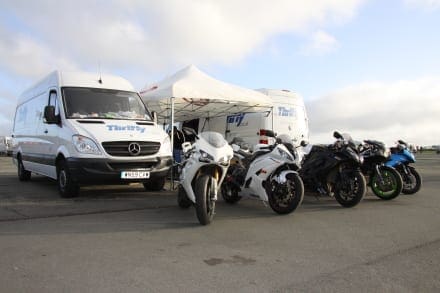 Our NO Budget Cup bike actually began with me delivering my cherished Z750 to my old mate Fluff, thus making room for my ZX-6R. On opening his garage I saw two things of beauty – the ZXR400 that I have stripped and am currently rebuilding and the ZXR750 which was to become our No Budget Cup race bike. I knocked some cash off of the Z750 and returned to the west with the 400 for me the 750 for Moby, and the promise of a new lease of life for these beautiful, though knackered Kawasaki's.
My own project is moving along slowly but productively – whereas the 750 had a deadline that galloped closer at great speed to meet the demands of Anglesey, and three hours non stop racing on the 12th September. I needn't go into detail on the build up, those of you buying the magazine will have seen the 750 in Project Bikes and of course the No Budget Cup write up in our current issue. However, the discovery that the 750 could not gear up the day before we travelled to Anglesey prompted one of the most fantastic examples of team work I think I have ever seen and certainly been involved in.
We travelled up to our digs in Holyhead the day before the big race, two long wheelbase vans stuffed full of bikes, tools, riding gear and junk food. I was in the van as an imposter in what could be termed the "
Officers Mess" Moby and Rootsy my companions for the 500 mile round trip. Following an hour behind came the front line of our No Budget attack – Beej and Beaky getting their race heads on and Fagan at the helm, passing on useful tips and advice when not devouring various snacks and sundries acquired in petrol stations. In the back of their van was the replacement for the gear challenged Kwakker, an SV650 that had kept a space in JHS Racing's garage full for no particular reason, but was now to save our No Budget meet.
Article continues below...
Advert

Enjoy more Fast Bikes reading in the monthly magazine.
Click here
to subscribe.