I didn't go out again after that, I was heading out when the fuel light came on to tell me that there were other jobs to be done. Andy and Beej had both given my six a real beating scouting out the circuit, Andy's ZX-10R had lost its battery to the Scalpel thus rendering it powerless and the Ducati and R6 were keeping Rootsy and Al busy – thus the ZX-6R came in handy.
Race time approached, Beej, Rootsy and Andy were ready to race, Moby had waved his wand and the bike was fully prepped to NBC standard and each rider had had a lap or two. Time to go, and go they did.
To finish 33rd from a start on the back of the grid is much less impressive than actually finishing, which again was less impressive than actually starting. The boys were a joy to watch, much of it through the lens of my camera documenting the day. Not wishing to blow smoke up anybodies arse but each member of the Fast Bikes team worked their bollocks off to get us racing that day. Moby was so diligent with bike prep, Al was constantly attentive helping with his vast racing knowledge and on track, well. I have watched Al on numerous occasions at BSB and even the Worlds, I have a limited experience watching Beej test but seeing Rootsy, Beaky and Beej out on track was awesome. The buggers flew round displaying 100% commitment and real awesome talent.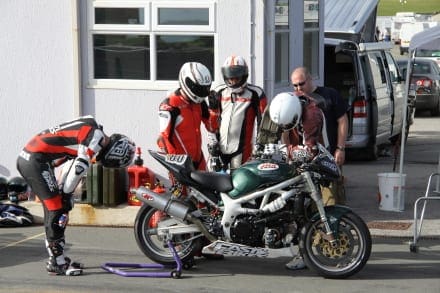 As the day drew to a close, the pit wall emptied and the vans were packed up I reflected on the day. The result was not important, we could have won it without doubt with a slightly less budget inhibited machine, but that's not what it is all about. It's a brilliant experience to share, to work towards and can be achieved, as we demonstrated on No Budget. If you have the money then spend it, but if you don't still do it – its such exciting racing and in reach of a financially challenged status, and whatever level you are its for you.
So next year Fast Bikes may have a couple of teams in, Ginge is looking at his CBR600's potential and I quite fancy giving my 400 a run. It and I won't compete against many of the awesome machines that enter but who cares, for me the No Budget Cup comes down to this – Its not the winning – its definitely the taking part!
Article continues below...
Advert

Enjoy more Fast Bikes reading in the monthly magazine.
Click here
to subscribe.