Just as you all think that I have given up on the ZXR400 project here I am again to tell you what I have been up to. Having been stripped, powder coated and re bolted together, wheels, suspension and engine dropped in the ZXR is slowly coming back to life. In fact I have a constant reminder at what it should look like as the Mrs bought me a Kwak garage carpet – thank you honey – or was this a dig to get on with it?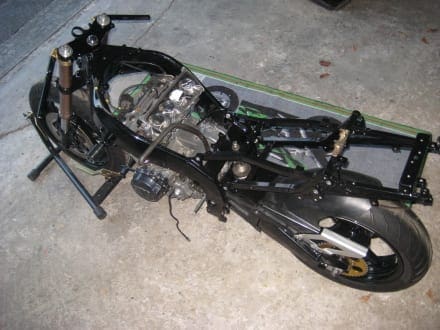 After I looked around the bike a few problems became very apparent… The hoses looked like they have never been changed, and were dry and crispy – so  I had to replace them. This is not something I have done before and did my research, the hoses that were coming out on top were from Samco, promising longer life and extra durability under pretty extreme temperatures – in fact the temperature that MSS Kawasaki and HM Plant Honda run at – no problem then for my liddle four hundred.
On ordering from Samco I had to choose the colour, now I am a Kawasaki nut but never been partial to the green. I have almost decided that the 400 will be black, white of red – not green though, so the hoses can be just to keep true to the brand – and they could not be any more Kawasaki green if they tried.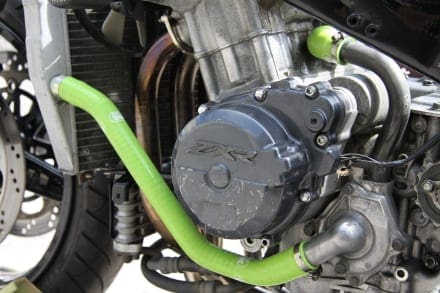 Other areas needed attention, too. The leads basically came away in my hands as I tried to check the sparks, so they will need replacing. The shock  is screwed so I will be needing another of those in time but for the time being I put the old one back in to build around.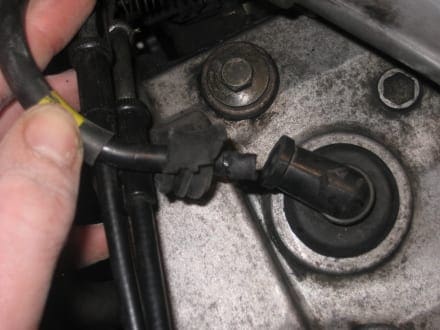 Then there is the general wear and tear of the radiator grills and oil cooler brackets. They have been scrubbed thoroughly, any rust spots removed and are currently sitting on a cardboard shelter awaiting my skills with a rattle can. Lets face it – I have spent a fortune on the powder coating, time for me to do a few touch up bits myself.
More soon… Honest!
Contacts:
R&G Racing
Samco Sport
HPS
Wemoto
M/C Recycle
JHS Racing
Skidmarx
eBay
Initial Impact         01722 744461
Charlie

Enjoy more Fast Bikes reading in the monthly magazine.
Click here
to subscribe.