I have had some work to do on additional parts of the frame. Armed with two rattle cans the grills for both the radiator and oil cooler have been sprayed, attached and fitted. I am delighted with the results, considering I was going to bin both of them, it's great that my perseverance has restored them to almost new – right down to 'Kawasaki' being written on the front of the rad.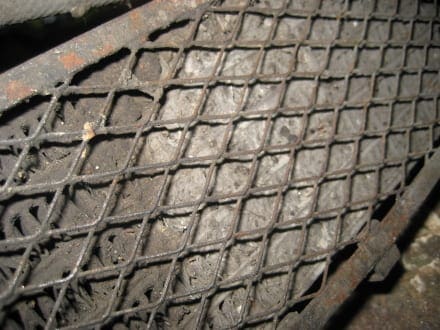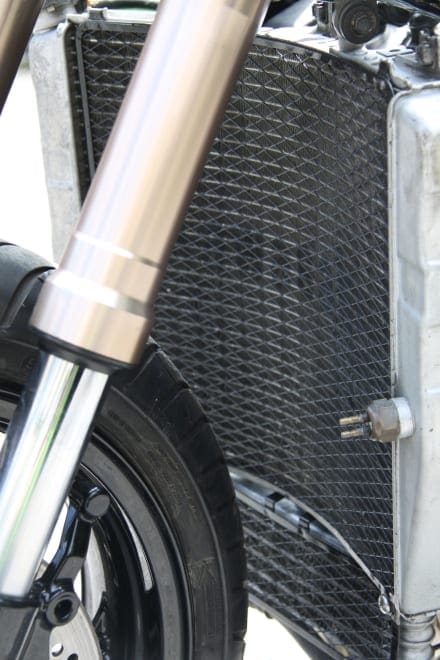 In addition the frame for the clocks needed a spruce up and the Peugeot black from Halfords did the job nicely, it's a rough finish but you have to pick your battles. One that I would definitely have lost was the top yoke. This had had a kicking and the surround for the ignition was bent and buckled and not worth putting back on the bike. So eBay bought a new yoke to me for a tenner and then a further £20 had it powder coated by Initial Impact in Salisbury who had done the frame. I could have sprayed this but it will eventually be in my constant eye line and I don't want to be knee down around Druids thinking – I wish I hadn't painted that myself……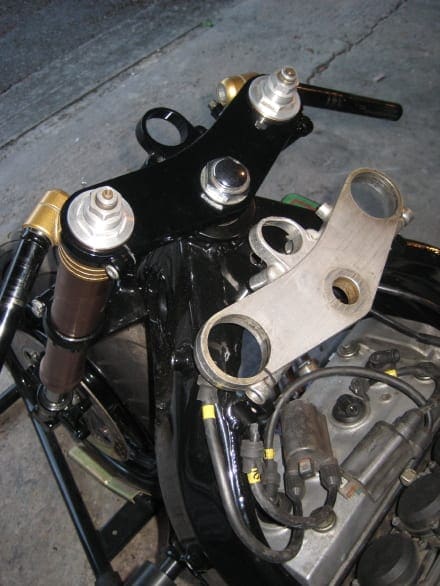 The result is stunning and its like new, the only problem I had was with the thickness of the powdercoat and squeezing the yoke over the forks. Again careful perseverance with a squeeze here and a gentle knock with a rubber hammer there and she went on.
With the rads and coolers ready to role I needed to get the system on. Like so many parts of this '91 bomb parts needed to be replaced, no more so that the exhaust system. It's knackered. Fortunately though the ZXR400 that my Mrs blew up is sitting happily, patiently awaiting my attention – thus I whipped of the brand new system that had come with this bike and donated it to my own. This went on a charm and allowed my just like knew rads to slip in front.
Now we are talking, I am getting very excitable as I have this false optimism that she will soon be done. It's a stage where you stop working and start admiring patting yourself on the back – it's a dangerous time this as reality will I am sure wake me up with a violent shove. In the end these parts are not to tricky to do – I have wire loom to tackle next, god help me…. Moby?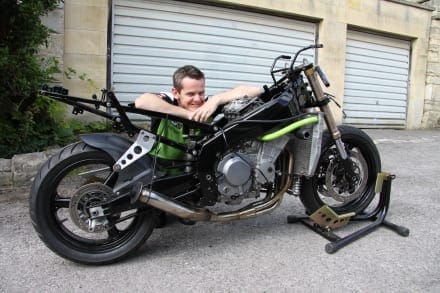 Contacts:
R&G Racing
Samco Sport
HPS
Wemoto
M/C Recycle
JHS Racing
Skidmarx
eBay
Initial Impact         01722 744461
Charlie

Enjoy more Fast Bikes reading in the monthly magazine.
Click here
to subscribe.