Hi folks, you may remember me posting a video of a chap blatting around my old home-town of Jersey a couple of months back. I also hoped that said chap may conjure up a video of the route none of us ever used, at all, ever, of our own version of the Cannonball Run.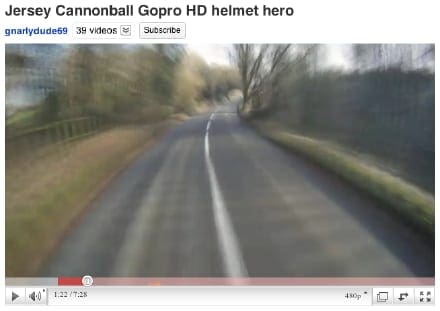 This run, which of course never happened, would be from one phonebox on one side of the island, to another at the opposing end. It would have, ideally, been run in the early hours at night to avoid the rozzers. And the most used route took these imaginary contestants along the north side, seeing as the south is far too built up as it passes through the major towns. That's not to say a few, crazy, fellas never tried it though. Big, huge imaginary balls on those guys I can tell you!
A good time would have been around the twelve-minute mark, had this ever taken place.
And I've found a vid of just such a route, coincidentally, which is amusingly sped-up for our viewing pleasure. You can see it HERE.
Though remember, folks, that unsanctioned time-trials on the road are illegal and very, very naughty, so don't!
As for me, that was long, long ago, but I seem to remember a set of fairy-tale numbers from my past, something like 11:51 sticks in my mind, but to this day I have no clue why, or what they mean. Ahem…
Article continues below...
Advert
Beej

Enjoy more Fast Bikes reading in the monthly magazine.
Click here
to subscribe.