This week there's a 99.99% possibility that when our Chaz goes to Portimao to test, he'll be riding a Yamaha, rather than a Triumph.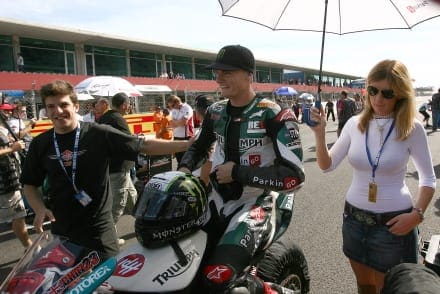 This news is both bad, and also good.
It's bad because you really would not believe the amount of work the BE1 team has been doing over the winter; the money, time and resources they've poured into Triumph's 675. This is something Chaz has been saying over and over to us since the season ended. If a change of manufacturer is on the cards, we imagine there'll be a few drooping heads over all the wasted effort. It's also a poor show because with this hard work, and Chaz at the helm, Triumph have the chance to win its first major world title for about a billion years in World Supersport next season. And in the BE1 team, they have found an outfit that believes passionately in the product, who are willing to give everything they have to be successful. One of Triumph's biggest markets is Italy, so the whole deal makes a lot of sense.
So, why has the potential switch come about? Paddock wags say that Triumph have not fulfilled part of their agreement, or at the very least will not yet commit to whatever deal had been thrashed out last year. The truth is we'll probably never find out exactly why this may occur, though in the current financial climate, we may not have to guess too hard. Considering this, if it is about money, the world is tightening it's belt and you just have to pretty much accept it and keep on trucking.
Or maybe it's about technical support? The 675 is the best Supersport bike money can buy for you and me, but in racing it leaves its riders a little short in some areas. Don't forget it's essentially a six year-old machine now, and well due a brand new replacement. That it still rules the roost is an amazing statement of how good Triumph now are at making road bikes. Which, is their primary business, they've never been too bothered about racing since their rebirth. Racing is useless to a manufacturer unless it sells bikes, Triumph make sure their bikes sell first on their own merit, which is fair enough. But if you are racing one at world level you need that little extra, that exact thing that Chaz was missing last year, and what the team has spent the winter working so hard to find. Maybe the 675 has reached its limit in terms of development, and we'll have to wait until next winter to see if they come up with a brand new machine to counter MV's electronics-loaded F3.
Article continues below...
Advert
Yamaha, on the other hand, want back into Supersport, and like the cut of BE1's jib. They want the crown back again and also need something to help sell their bikes, which are unbelievably pricey these days. Almost £10k for an R6? Ouch…
So, this is the potential good part. They could pull Cal Crutchlow's R6 out of the garage and that bike would instantly be nigh on good enough to win the world title. It was miles ahead of the rest in 2009, and Cal even now says it's like a mini MotoGP bike. The electronics were even more advanced than the R1 he rode a year later was graced with. It would, in theory, be a far better prospect for Chaz's title hopes so if it does happen it could be really good for him. There's also the fact that Yamaha are not looking at the lower ranks of MotoGP any more for their future stars, and that if he could lift the title for them, the variables of where his career could go next is clear to us all.
However, there is a small chance this move may stall. If Triumph and BE1 can come to a last minute agreement and sort out their differences, all their hard work will not be in vain, and the patriotic side of us would really like to see that happen. If not, then our Chaz has an even better chance of taking honours. So it's win-win, but with a slightly bitter taste in the mouth on one side.
Article continues below...
Advert
Beej

Enjoy more Fast Bikes reading in the monthly magazine.
Click here
to subscribe.