Forget MotoGP, get Valentino Rossi on a world superbike if he's going to look anything like this. Rossi was riding at a very sunny Misano, trying to gauge his fitness after his pre-Christmas operation. Due to fly out to Malaysia for the first 2011 test of the season, Ducati and Rossi wanted to see if his injury was going to hold up.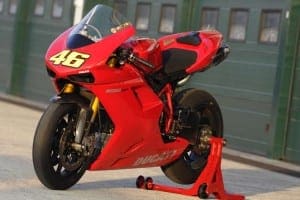 The press release below suggests it could be touch and go when it's time to get serious. Either way, we're not gay or owt, but this looks lush. Here's the blurb and check out www.ducati.com for more.
VALENTINO ROSSI TESTS AT MISANO WITH DUCATI 1198 SUPERBIKE
Misano Circuit: Seventy-three days after an operation to his right shoulder, Valentino Rossi returned to the track at Misano Adriatico aboard a Ducati 1198 Superbike. On November 14 at Cattolica's Cervesi hospital, the Italian had undergone surgery on the supraspinatus tendon and the long head of biceps tendon, as well as cartilage in the Glenoid Labrum.
The day was sunny but chilly, with a maximum air temperature of 10º Centigrade (50º Fahrenheit) and a maximum track temperature of 15º C (59º F). Valentino arrived at the circuit at around 1:20 and met a team of Ducati technicians that included his own crew's two engineers, Matteo Flamigni and Gabriele Conti, as well as Ducati Marlboro Team Manager Vittoriano Guareschi. A half-hour later, he turned the first laps aboard the 1198 to test the status of his shoulder which, though recovering nicely, is still quite painful, just a few days ahead of the first test in Malaysia with the Desmosedici GP11.
Article continues below...
Advert
"First of all, thanks to Filippo (Preziosi) and to Ducati, who organized this test," said Valentino Rossi. "Misano Circuit let us use the track on a day when Mattia (Pasini) was planning to ride in order to confirm his own condition. The track more or less confirmed what we expected: the shoulder is painful—especially under braking, when the front area hurts, where they stitched the tendon. Movement is stable enough, and we're also doing not so bad with endurance, but apart from that, it hurts a lot and isn't very strong. Let's hope it gets a little better in these next few days before the test in Malaysia. Once we're there, we'll work with the riding position in an effort to make the most of the situation and collect important information with the Desmosedici, even though I'm not in top form. Today I did a total of 25 laps on the 1198 Superbike, which is sort of a 'historic' motorcycle for Ducati: beautiful and fast. I liked it!"

Enjoy more Fast Bikes reading in the monthly magazine.
Click here
to subscribe.