I am getting into the technical end of the ZXR400 now. With all fitting nicely into place I can no longer avoid the spaghetti maze of wires which has waited patiently for attention.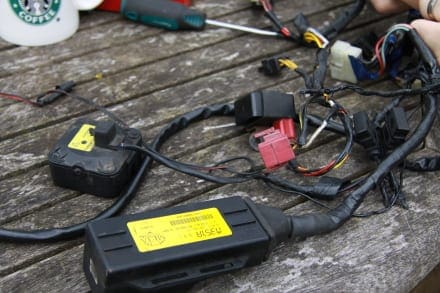 In truth I was hoping to get a brand new loom from Kawasaki but it just isn't available, there was almost one in Belgium but that was not to be. I therefore had to hunt through the crap that had culminated in the corner of my garage to save the loom that I honestly thought would never have power pass through it again.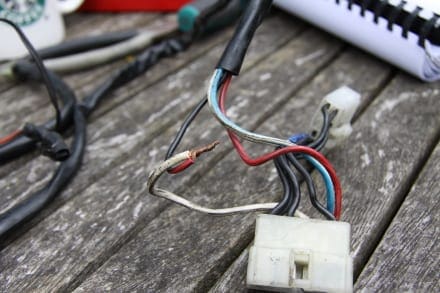 I have tried to replace it, nothing from the OE source but plenty of sites to hunt around and offers from contacts. I have had a lot of success with ebay so far but there is no guarantee that my loom would be any worse than those to bid for. I was offered a new loom built from scratch by Tubbs (of Buell fame) at Moore Speed Racing but again thought it best to work on what I had, bit of patching up by the Guvnor should do it and thus grabbed the phone and headed over to Moby's country retreat for help, advice and for him to do it.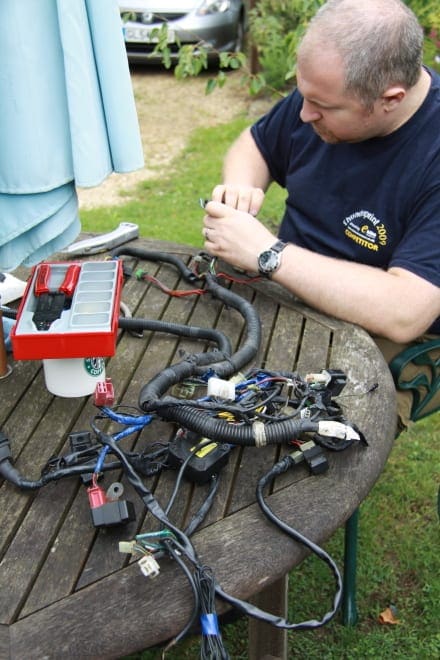 Article continues below...
Advert
Armed with roll after roll of black electrical tape, new connectors, diagrams and very sharp knives we delved into the maze of wires. This loom tells a story about it's previous owner. Firstly the alarm weaved into the loom was not cheap when fitted and was fitted well, however as the years rolled on the out going cash on this bike dried up – and a few jobs were done by the then owner. Badly.
Moby and I stripped the loom back from the alarm that was woven into the loom and detached it before taping it back again, we then taped the entire loom back up so that it now looked passable with a few additional patches done en route.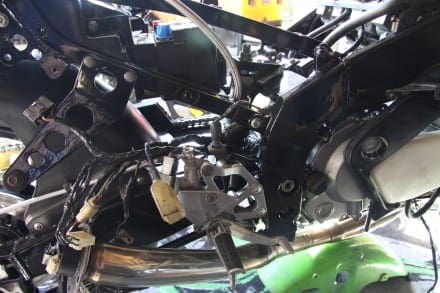 Article continues below...
Advert
Then it was the mere case of getting it all woven back into the ZXR400, and brilliantly I had another 400 right next to me to use as a map. So all connected and awaiting a battery, then we will see if our electrical skills have done the job!

Enjoy more Fast Bikes reading in the monthly magazine.
Click here
to subscribe.