I love best intensions, I love them so much that I now have quit a collection of them. Over the Christmas period the Mrs was working for the majority of the break leaving just me and the 400's to while away the Christmas period. I was going to get her finished.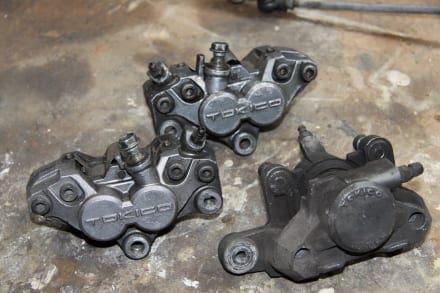 It didn't quite work out that way; my avoidance of the cold in the garage demoted me to the smaller workings of the shed to continue to prep the performance parts to go onto my beloved 400 project.
I had cleaned up the callipers sometime ago and was happy enough with the amount of gunk I got off of them, the pistons would do and a new set of Brembo pads from HPS completed the job. That was until I saw how effective a little bit of paint had on inspecting the No Budget Cup H2. I had to get my callipers painted too and it was a wonderful tactic to avoid Turkey Soup and crap TV.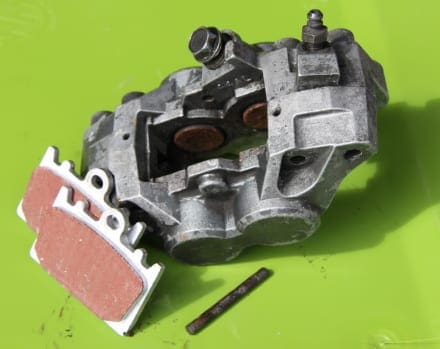 Therefore a visit to a hardware store and the Hammerite Smooth Black metal paint came to hand. It was pretty tricky painting but in the end it's like anything really, patience and care culminated in a pretty good job even if I do say so myself. I gave each calliper three coats, making sure to avoid any areas that would seat the all important lines.
Article continues below...
Advert
Once done I thought I would have a crack at the exhaust hangar too, once again a great job – from about 15 metres distance, the smooth surface made this more of a chore, it will do but when I am "re detailing" I may be replacing this one.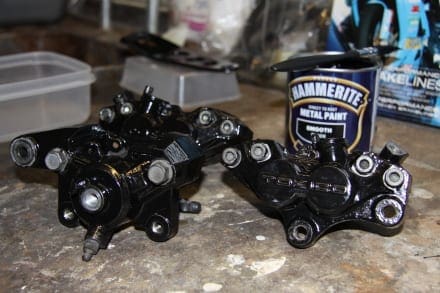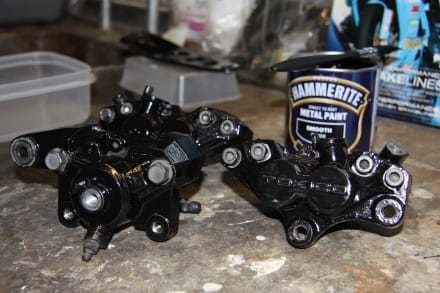 All in all though I have the callipers ready to put on the 400 and can then fit my Goodridge brake lines that arrived two days ago. I am getting there for sure…
Article continues below...
Advert

Enjoy more Fast Bikes reading in the monthly magazine.
Click here
to subscribe.