I have managed to put a few more pieces together recently, a front mudguard arrived via a speculative £5 bid I had on eBay and ended up being the highest bid – 'I thank yaow'. Despite it being OE Kawasaki Green I decided to put it on so that I could put the brake lines on – and something wonderful happened…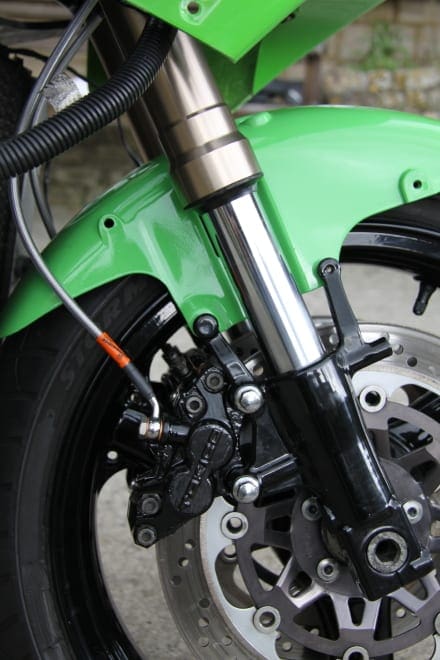 I liked it. No, I loved it – the green against the fresh sparkling black was brilliant and I began to think about more green on the four hundred. I immediately had to order more replacement plastics because frankly the faring the 400 arrived with was smashed to absolute shit.
And low there was a company called Skidmarx and there was much rejoicing!
There is little these guys do not supply and I was delighted to see Kawasaki Green for the 400 front and side farings. They took no time to arrive and as soon as the box arrived I checked the sizing against the damaged originals and so far so good.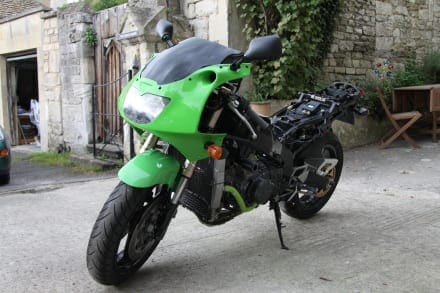 While waiting for this delivery I set up the brake lines ready to bleed when I got my kit through from Motrax, freshly painted callipers look the business, I am so pleased with the overall aesthetic of the black callipers against the powder coated wheels, silver braided Goodridge lines and green mudguard. Its coming together it really is!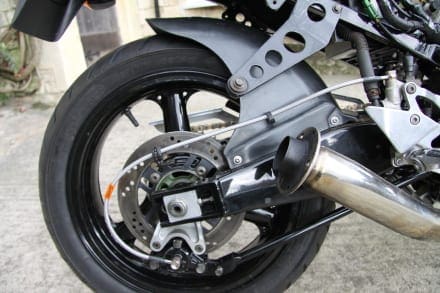 The headlight went into the front faring and absolute treat, the original indicators slid back beautifully and the black screen from my Mrs 400 finished off the job nicely.
So now just a few electrical queries, a bit of fluid here and there and the tank back on all done huh?
Yeah right….

Enjoy more Fast Bikes reading in the monthly magazine.
Click here
to subscribe.