Have you always fantasized about owning a dream garage? Us too, rather a lot as it goes and if you've got a bit of wedge or an on-side bank manager you can certainly do no worse than check out the guys at Dura, the home of fitted garages. That's right folks, fully customized garages are on offer here if that's your thang.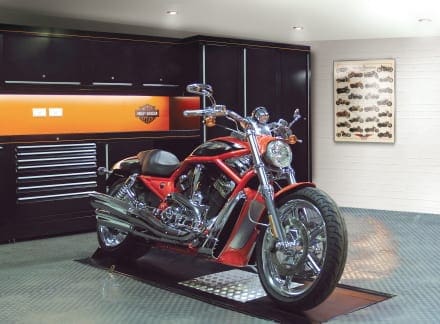 Don't worry, you don't have to own a V-Rod
Just take a look at some of the pictures and tell us that, no, you really don't want one. You can't, can you? Fact is you'd probably live in there if you had a full conversion!
Dura take care of the garages of car marques such as Aston Martin, Bugatti and even in the motorcyling world with Harley Davidson. But they're also an outfit that does private work too, as can be seen in some of the other pictures. They can even turn your garage into a bespoke gym if you're a loaded fitness freak.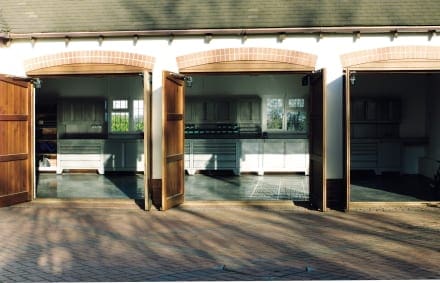 And, the Dura fitted garage is all about style, practicality and not just storage. To ensure the garage is finished to the highest standards Dura provides an extensive range of flooring solutions to ensure that your garage floor is well protected and made safe in the instance of spillages. From Porcelain or PVC tiles to Resin or Aluminium coverings, Dura can provide suitable flooring for any garage, any lifestyle or any use.
Just think about what's likely your family dumping ground right now, and imagine what could be!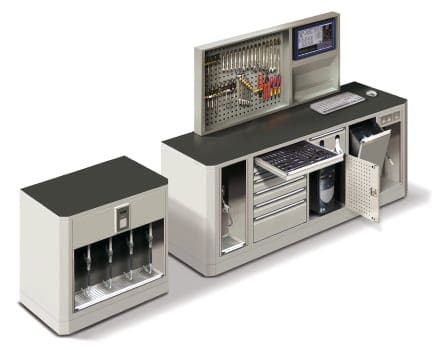 Of even more interest is the Service-Pod, also pictured. At the moment it's mostly for proper garages but we hear there should be another version on the way meant for us mere mortals, hopefully. As you can see it has everything from a computer to the proverbial kitchen sink, packing in all of Dura's slick style and functionality into a much smaller unit. As soon as we have more info on them, we'll get one in and give it a good old workout in the FB workshop, and pass on the verdict to you guys.
In the meantime, head to their website for some serious garage-related porn.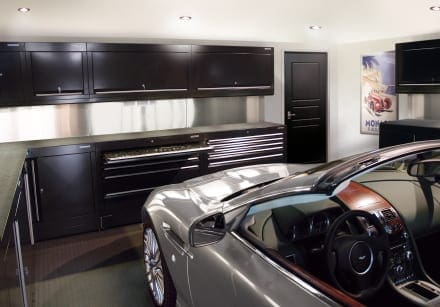 Enjoy more Fast Bikes reading in the monthly magazine.
Click here
to subscribe.