Bonhams are to sell a truly unique motorcycle which has spectacularly covered over 1million kilometres at the hands of one careful owner. It will be auctioned at the International Motorcycle Show in Staffordshire on April 24th 2011 and has attracted a pre-sale estimate of £35,000 – £40,000.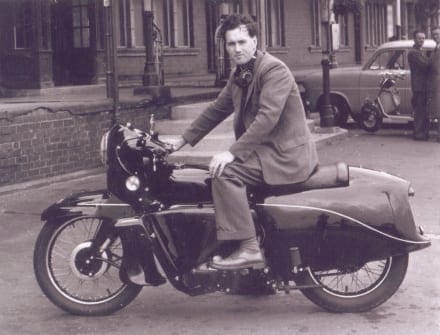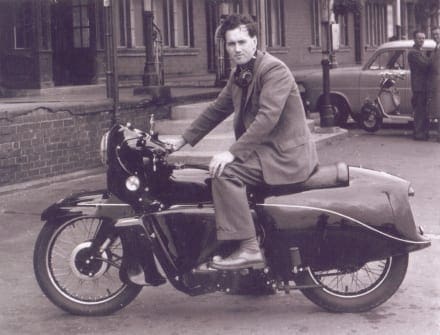 Stuart Jenkinson with his his new 998cc Black Prince in 1955

Fondly nicknamed Vinnylonglegs, this 1955 Vincent Black Prince is probably one of the most travelled motorcycles in existence, having regularly toured Europe to notch up its staggering 721,703 miles.
Northumbrian born Vincent enthusiast Stuart Jenkinson bought his new 998cc Black Prince from St. Andrew's Motors in Newcastle-upon-Tyne in 1955. Since then he is the only person who has ever ridden it.
For 25 years Stuart used Vinnylonglegs for riding to work and long distance touring holidays. In 1980 it became the lead motorcycle in his new business running guided motorcycle tours in Europe. The machine has been rebuilt three times and progressively developed to cope with challenging European tours through countries including Germany, Belgium, Austria, Slovenia, Serbia, Croatia, Bosnia, Albania, Macedonia, Czechoslovakia, Montenegro, France, Italy, Spain, Portugal, Norway, Finland, Sweden, Hungary and Greece. There have been more than 40 Greece tours of over 3,000 miles each, since 1962. On continental roads the machine has the ability to cruise all day at 100mph with a top speed in excess of 120mph.
It's got one or two mods to help the miles drift by…
Article continues below...
Advert
Modifications have included a re-designed front fairing, incorporating twin headlamps, and replacing the original upper frame with a stiffer box section Series C frame, while a four gallon Series C fuel tank now caters for the longer distance tour. Electrical equipment has been modified to provide greater safety and reliability, while disc brakes and Koni dampers provide both safety and riding comfort. The pannier frames carry two five gallon boxes while the shelf above normally carries a large army kit bag with full camping gear.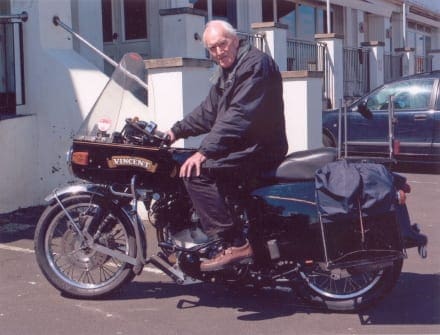 Stuart and Vinnylonglegs in 2010

So – can anyone beat this? Have you got a 722,000 miler in your garage? We'd love to hear of anything with more knotches on its bedpost.
Article continues below...
Advert

Enjoy more Fast Bikes reading in the monthly magazine.
Click here
to subscribe.