So electric bikes really can wheelie. You may have seen Chip Yates and his amazing electric bike scoring podiums at a club race not so long ago. Well, now he's trying to qualify for an AMA Daytona superbike race on his beast.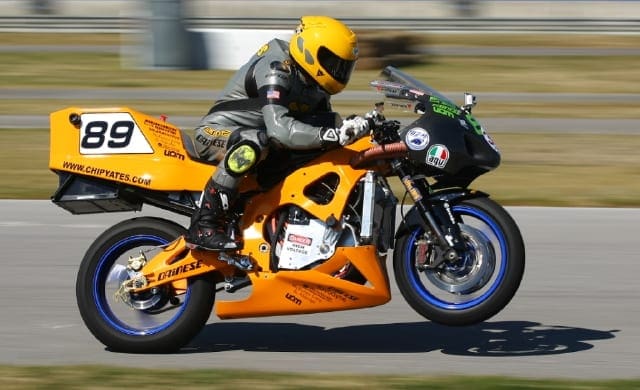 Yates is trying to get into the AMA Pro Daytona Sportbike race, meaning he'd need to set a laptime of 1:35.88. After two days on track and a fair bit of fiddling, he managed to get down to a 1:37.308, meaning he's just 1.4 seconds of qualifying. Yates reported a few stability issues on his battery, sorry, I mean bike. Not surprising when it hits the scales at 585lbs. That's a massive 265kg – plus Chip on top.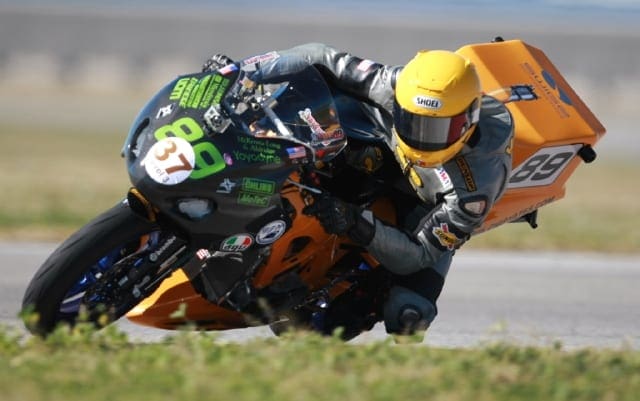 The motor pumps out 240bhp and hit 163.7mph during testing. If it ever comes to the Isle of Man TTX GP race then it could do some serious damage. It may not be the prettiest bike we've ever seen, but it is certainly effective.
For more on the program, check out this YouTube clip. Meanwhile, here's what Chip has to say.
Today we wrapped up a fun and productive 2-day test at Auto Club Speedway.
We overcame some technical and handling challenges to end the weekend on a very high note by improving our laptime by 2-1/2 seconds from the WERA race weekend and raised our top speed at the end of the front straight!
– This was our first test of the new 240 horsepower UQM Motor!
– Our best laptime today was 1:37.308!
– Our top speed today was 163.7 mph!

Notes:
– We were primarily working to get more experience and laps and to try our new wheelie control software as well as our new UQM Technologies motor and controller
– As a fun challenge, I was also attempting to set a laptime of 1:35.88 to prove that our bike could qualify for the AMA Pro Daytona Sportbike Race that was held at Auto Club Speedway in 2010
– I came up 1.428 seconds shy of my AMA goal due to some high speed instability we were intermittantly experiencing on the front and back straights.  We focused on the suspension settings and ride height as well as tire pressures, and the bike handled well in the 1:00pm session, when I set my fastest lap of 1:37.308, but later in the 4:00pm session the wind had picked up and the instability at high speeds got worse and after the first lap of that session, I abandoned the AMA laptime goal and focused on trying to understand the vehicle dynamics issue / buffeting.  We are heading to the wind tunnel to isolate the issue!
– Despite this aerodynamic buffeting stopping me from opening the throttle very far, it was an incredible weekend – we got lots of data and info from being on track with 1,000cc superbikes and were able to easily pass most of them on the track at will.
– I started carrying much more lean angle and was amazed by how well the bike is handling through the slower corners – in fact, it's doing great in the tight sections, with my laptimes being hampered by the wheeling and high speed buffeting on the straightaways, which is the opposite you would expect from a 585lb bike.
– I'm confident that after we complete our wheelie software and solve the buffeting, there is a TON more laptime improvement to be had and this has me VERY excited by the path we are on.
– We made alot of friends in folks who couldn't believe we were out there running such quick laptimes in the fastest group on an all-electric bike
In summary, we are 1.4 seconds away from qualifying this electric bike for an AMA Pro Daytona SportBike race…can anyone believe that??!!

Enjoy more Fast Bikes reading in the monthly magazine.
Click here
to subscribe.