Lincolnshire's finest and most committed tea drinker, and occasional road racer, Guy Martin, is to feature in his own TV series on BBC1. And it's not going to be tucked away at some ungodly hour, Martin's show kick off  at 7.30pm on Wednesday.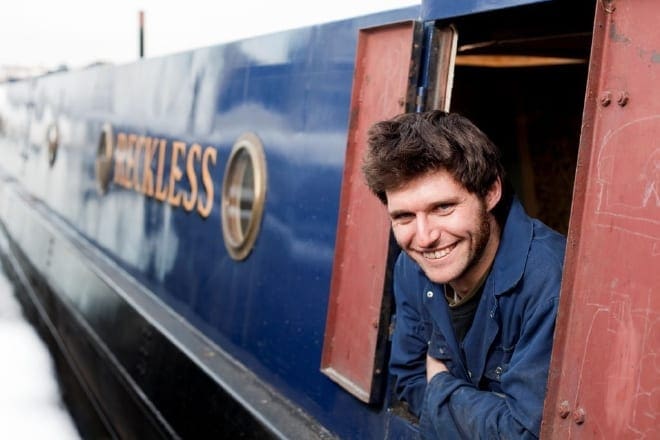 So what's it all about, Alfie? Well, 'The Boat That Guy Built' is a six-part series that follows Guy and his mate fitting out a narrow boat using the best of British innovations of our time. We've just seen him in a preview of the new TT 3D movie and we dare say that there was a lot of editing the feffing and jeffing…
Here's the press release for it.
Isle of Man TT Races Star Guy Martin to Appear in BBC One Primetime Show With New TV Series
Ever-popular Isle of Man TT star Guy Martin is about to become a primetime celebrity on BBC One television.
With just weeks to go before the start of the 2011 Isle of Man TT fuelled by Monster Energy – which gets under way on May 30 – one of the event's best-known names is to be presented to a whole new audience.
Already famous among TT fans for his fast-talking Lincolnshire brogue, passion for tinkering with anything mechanical and dedication to racing, as well as a love of a good brew, Guy's unique personality is set to be unleashed on primetime BBC TV.
The Kirmington ace has been working on the series with North One Television – which produces the coverage of the TT. It has now been confirmed that the first programme in the series will be broadcast on BBC One at 7.30pm on Wednesday March 2nd.
'The Boat That Guy Built' is a six-part series that follows Guy and his best mate Mark 'Mave' Davies as they attempt to fit out a narrow boat using the best British innovations from the Industrial Revolution.
Each half-hour episode will see the 29-year-old trying to complete a mission using only his homemade version of historical gadgets, from blast furnaces to steam engines. Along the way we see how he copes with using only historical methods to carry out everyday tasks, from taking a shower to making beans on toast – and, inevitably, brewing up the perfect mug of tea!
Guy is one of the TT's most popular riders, his easy-going style, maverick character and passionate determination to win on the Mountain course has earned him thousands of fans around the world.
Despite his best efforts, Guy is still yet to take his maiden win at the TT – but 2011 could finally be his year. He has signed to one of the event's most successful teams – Relentless Suzuki by TAS Racing – and he must start as a favourite for victory in at least one of the five solo races.
After several strong races, Guy's 2010 TT ended with a fiery 170mph crash during the blue-riband Senior Race. Fortunately, he suffered relatively minor injuries – in fact he was back road racing by the Ulster Grand Prix just weeks later – and wasn't put off his chief aim of finally taking to the top step of the podium at the TT.
North One Television's CEO Neil Duncanson commented:
"We first met Guy in 2009 when we became involved with the TT Races and quickly realised that we had someone that was a real character. We had loads of fun filming with Guy and I'm sure that the show will appeal to a wide range of people and he'll attract a whole new group of fans."
Hon Allan Bell, MHK, Minister for Department of Economic Development commented:
"This series will give the TT Races a real boost in terms of profile and is a great opportunity for us to further grow the event's appeal and generate more visitors to the Isle of Man and the TT Races."

Enjoy more Fast Bikes reading in the monthly magazine.
Click here
to subscribe.