My RMX250 project was not coming on particularly well, I had given the carb a bloody good clean, polished up the wheels and ordered in new hoops for the old girl when all of a sudden – it was February. March 6th – the date of my first enduro – was beginning to loom heavily on the horizon, and I knew I didn't have a hope in hell of being ready.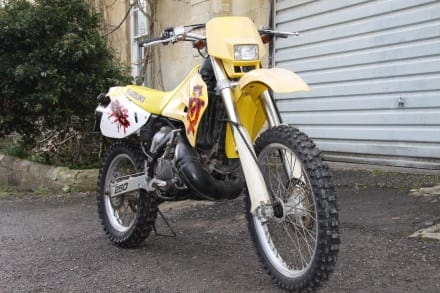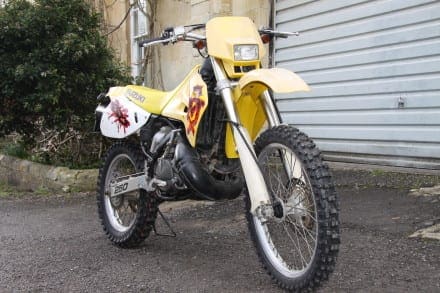 With my February calendar full of client visits, moving house and bike commitments including putting my FZ1 back to standard, I had to admit defeat – I was never going to get this bike ready. Thus I wheeled her into the back of a van, strapped her down added the box of parts and got her to Graham Ward at Midwest Racing in Melksham. She would be his problem now and all I need worry about is the bill.
Hindsight is wonderful thing and all I can say now is this is the best move I have made so far. Firstly the rebuilding of the carb that was causing me most concern continued to raise eyebrows at Midwest – this RMX is a rare import and thus the carb needed to be sent away.
I dropped off a set of Dunlop's Geomax MX51's whilst the carb was away and they were duly fitted. The MX51 is apparently the replacement for the D756, an extremely versatile tyre which is exactly what I will be needing – I have little idea of what terrain changes I will be facing. The wider tread profile will undoubtedly help my traction and looking at the explanation in Dunlop's 'tread catalogue' a lot of work has been done on this rubber. Time will tell.
With the work being done for me I have had more time to look around for riding kit, and get all of the necessary paperwork sorted – joining Midwest Racing and banking the 10% discount I get on product through their retail outlet, bagging my race number (434) and of course the all important ORPA License (Off Road Promoters Association). All I needed then was the bike back – and finally last week the call came, she was ready.
I picked her up on Saturday, and within an hour of getting her home she had a new air filter soaked in oil fitted and it was time to get her started, kick, kick, kick, choke, kick, kick, kick, choke….. And that's how it went for about ten minutes. But then she sparked into action, that fantastic tinny two stroke screech was music to my ears and I tell you what – she sounds fantastic.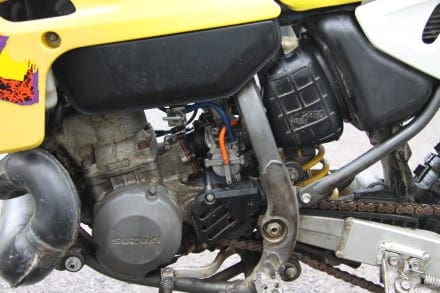 So I now have a week to try and smooth over any problems and get her race ready with numbers and a few extra's that my over estimated budgeting of the Midwest bill has allowed me to afford. I race on Sunday – wish me luck, I'll let you know how I get on!
Charlie

Enjoy more Fast Bikes reading in the monthly magazine.
Click here
to subscribe.