I have been an out and out misery since I acquired a DNS in the first round of the Midwest Enduro. The most disappointing thing was not getting the satisfaction of a good blat off-road. However all the planets aligned last Thursday with the Mrs at work on Saturday, an amazing weather forecast, and a small gathering of mates attending and an extremely rare spare slot for a day at Wheeldon Farm, in Devon.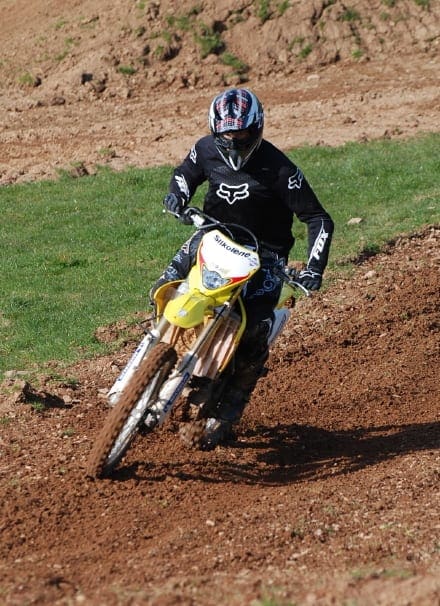 Its a fair trek for me to get to what is becoming somewhat of a spiritual home, but heading to Wheeldon Farm which is used as Suzuki's official off-road centre, is never a chore, even with a 5.30am start for me.
On arrival I was greeted by the usual well rested, well fed and excited participants of the Farms excellent accommodation. The fact my friends had stayed the night before was slightly upsetting as they described a full fry up that frankly my Ginsters Breakfast Bar on the M5 could not hold a candle too.
The morning caters for all and once fully kitted up, non riders and those out of practice were taken away by Andrew Savery for tuition and confidence building, leaving us with brother Jim to talk us though the vast indoor track. I have been on this a fair few times but still find it a challenge, its as technical as you want to make it with your lines your speed and the kind of cornering you are wanting to do. My plan was to work on the berm's which I was sure I had mastered last time before going arse over on my first attempt – running before I could walk methinks.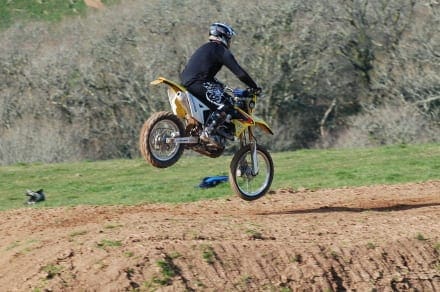 I was riding the RMX 450Z indoor, a slight restriction with baffles in the pipe but this is due to noise pollution more than anything else. They do have a fully restricted 450, to step up too, a 400 and 125s for the less well versed. If you are well established they also have a gutsy 250 which was very tempting especially on the outdoor track.
If you have been lucky enough to go to Wheeldon and even luckier to ride the outdoor track you will know how good it used to be. You can forget that now though – its all change as you are now heading clockwise round the course which has made it faster (if you want it to be), longer with another table top added and a properly tricky uphill hair pin that had me foxed a couple of times, with every Ying there's a Yang though with alternatives to the more tricky bits.
The track is much improved and as the sessions came and went my riding seemed to get better and better. My confidence in turns, body position and ability to read where I should give the bike a squirt and when I should control the power with the clutch all gradually came. At the end I felt like I was riding smoother with more control with less physical excursion. Came a cropper a couple of time too, at the start via hesitation, in the middle falling foul to sportsbike style braking and at the end just fatigue.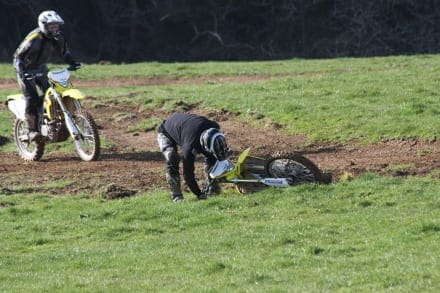 Its a full on day, I was exhausted at the end but with the satisfaction that I had learnt a huge amount that I will take with me into my next Enduro. In the meantime though I look forward to my next visit, there are plans to extend the course even more with a potential wooded section and Enduro loop. Watch this space for news on that – however be warned, if you have ever had that drunken conversation with your mates that you should all get together and run a pub so you could be together forever well, Wheeldon may just have that same all inspiring effect.
Bring on April 17th.
Charlie

Enjoy more Fast Bikes reading in the monthly magazine.
Click here
to subscribe.