Now, don't get too excited, this isn't exactly Cracking One-Off material we're talking about here – but is it is a hugely amusing and entertaining little track hack – and it's CHEAP!
We bought it a couple of years ago as a budget project (to build a road-legal track hack for under £1,000) – and this is how it ended up. It's all together and running, starts off the button, and all the right gears are in the 'box, and even select in the right order. Bonus.
The paintjob is, shall we say, basic. It's a rattle-can job done by Art Ed Andy, and he never quite got round lacquering the tank, which is looking decidedly worse than the rest of the bike (which is good going).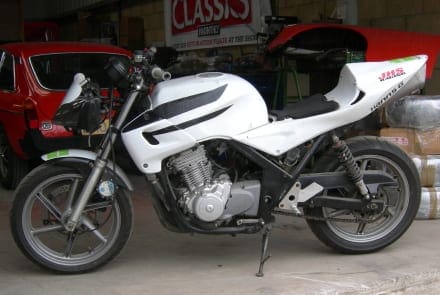 It's got a one-off underseat exhaust made by JHS (it's insanely loud!), a GSX-R tail unit, track rearsets, R1 headlights, and uprated rear shocks (god knows what they're off), and new Renthals. The master cylinder is off an old GSX-R750. Ignoring the general wrongness of it – there's not really anything actually wrong with it, bar a decent bit of clutch rattle when it's not engaged, and a flat spot in the mid-range. The tyres have only done about 40 miles too…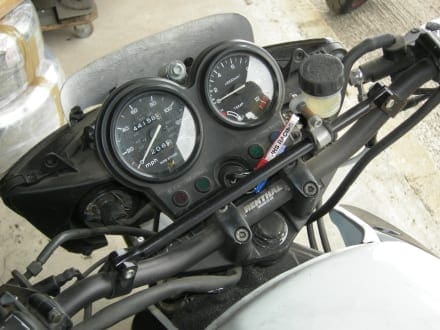 All-in-all it's a fun little bike. You could slap a numberplate and rear light on it for a MOT and tear up the neighbourhood, or you could take the headlights off and trackday it to death. Either way, for £500, you can't have much more fun (or very high expectations). The inch of dust covering it is completely free of charge, and offers instant weight-loss opportunities for the new owner.
So – fancy it? Contact Moby if you do. The price is £500, and there are a couple of original spares to go with it.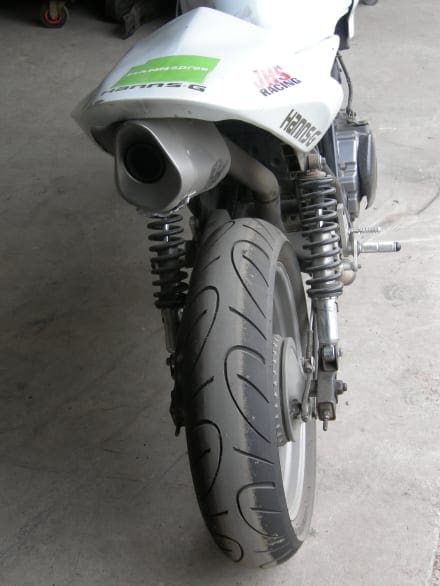 Enjoy more Fast Bikes reading in the monthly magazine.
Click here
to subscribe.