Quick, ban John Hopkins. Did you see that move Hopper put on Shane Byrne? Oh wait a minute, we're fortunate enough to live in England, home of the Bulldog, bravado and common sense it seems. The ever-increasing debate over 'rubbing's racing' and the contact/aggressiveness aspect of the sport rages on, and this weekend's skulduggery added fuel to the frenzy.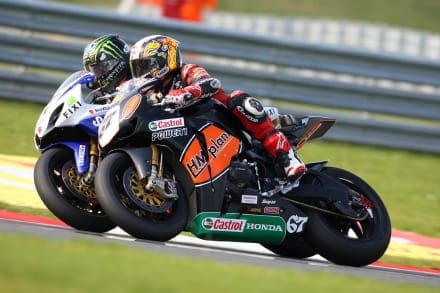 So how refreshing it was to see Stuart Higgs (British Superbike boss) and his BSB crew take no action against Hopkins for his over-enthusiastic move. Sure, it was harsh, but we're not out there to rub each other's willies. On the contrary, racing isn't a contact sport and the racer's injury list is already comprehensive (as Roots blogged last week) but we all know the risks. Take up croquet if you're scared.
Britain aside, and World Superbikes to an extent, it's MotoGP that's suffering from over-militant policing. Marco Simoncelli seems to be the epicentre of the rage, with his overtaking and cold tyre misdemeanours angering fellow riders.
But what vexes me is Dani Pedrosa's comments regarding Simoncelli. Remember 2006, when Dani flung himself and his RC211V at champion elect, and team-mate, Nicky Hayden? Pot. Kettle. That was a move of complete nob-head stature and could have wrecked Hayden's championship. Unfortunately for wee Ped, he sneezes and breaks a bone, so I can understand his frustration to point. And then there's Lorenzo who keeps whining about Simoncelli's dangerous activity. Gorgeous Jorge spent most of his rookie season in NASA territory, highsiding his arse with disturbing regularity. And they were big…Ironically, Ben Spies was the only man to even remotely stand up to Marco, and Spies has come from big boy's school – WSB.
It appears race direction at MotoGP now has a problem with riders using their elbows to protect themselves. Did you see the 125s? Sandro Cortese flung his arm out over the line at Mugello to fend off Sergio Gadea, and consequently got busted with a 20 second penalty. WTF? The majority of Moto2 riders now run enduro-style lever guards, and they're not to protect from the odd stray tree.
Article continues below...
Advert
There's no doubt Simoncelli suffered from fear-of-reprimand during the race at Mugello. He looked like a sheepish prepubescent who'd had a Saturday detention handed out. Let's hope the sport and its riders don't become too wrapped up in cotton wool – and taking Super Sic out of MotoGP would be like chopping Charlie Dimmock's nipples off.
Fagan
Article continues below...
Advert

Enjoy more Fast Bikes reading in the monthly magazine.
Click here
to subscribe.