While the Fast Bikes team were busy in North Wales at the No Budget Cup, the Sky+ boxes were set to record the weekend's hectic racing schedule. The British Superbike circus rolled up to Oulton Park and had a visit from Noah, while MotoGP spectators in Germany got treated to some of the best (and closest) racing for a while – in all classes.
But 'close' doesn't even come close to describing the 125's finish, with Johan Zarco and Hector Faubel confusing the timing screens by flashing up with 0.000 difference as they crossed the line. The later was awarded the win by virtue of the fastest lap. Poor Zarco.
Although slightly spread out, Moto2 still produced a decent spectacle. Marc Marquez continued his run of race wins and beat the only other bloke seemingly capable of winning the championship this year – Mr Charisma himself, Stefan Bradl. Scott Redding finished 7th after a crap qualifying and showed why people are talking about him being in MotoGP next year along with Bradl. Bradley Smith had a shocker, running off the track on the first lap and, later on, crashing out proper.
The real racing at the Ball-Sach-Ring was MotoGP. Yes, MotoGP. Although there was a hint of a possible bore-fest and the usual mid-race sleep when Casey Stoner hit the front and looked as if he was going to bolt, it actually turned out to be quite interesting, with overtaking and everything – sometimes two genuine overtakes on the same lap. Unbelievable.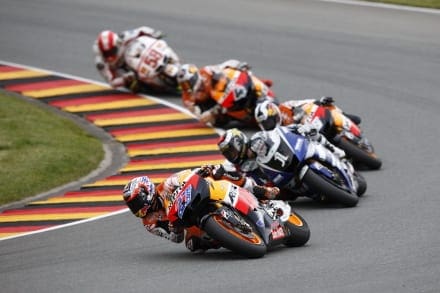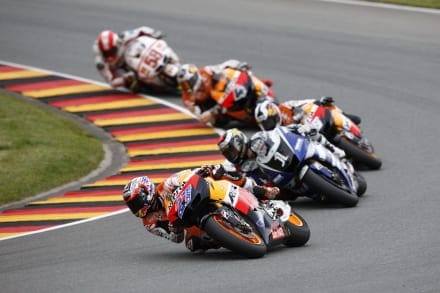 Dani Pedrosa stunned all of us by taking the win. Fresh from surgery and yet more Meccano in his collarbones, the wafer-thin Spaniard never sneezed over the 30 laps, and therefore didn't break any bones. Lorenzo was second (even with arm pump), beating a grumpy looking Casey Stoner who got mugged for the second race in a row.
The significant findings from Germany confirm you can have a podium covered by less than a minute. And the second group down to sixth place (Dovi, Super Sic and Spies) were only a few seconds off the leaders. The rest? Cal Crutchlow had another mare and gambled with a set-up that didn't work, and Valentino Rossi continues to mimic Stephen Hawking trying to ride a Segway.
Possible reasons are:
–      The Ducati is poo
–      Uccio's involvement in Moto2 has distracted his best mate
–      Rossi, in the words of BJ, has been found out and isn't very good
Meanwhile back in Britain, the usual home of edge-of-the-seat racing and entertainment, things didn't go to plan. The weather, and various fluids to diminish adhesion, eventually brought a premature end to racing at Oulton. Highlights included the return of World Supersport's James Ellison and the out-of-favour Karl Harris, who were both quick until the sodden race day. Swan Yamaha's Tommy Hill won the first and only race, managing to stay onboard in tricky/treacherous/darn slippery conditions, while ex-MotoGP  Anglo-American, John Hopkins, crashed out on 'some oil'. Aussie Josh Brookes and his Relentless by TAS Suzuki have found some form and finished second, just in front of old boy Michael Rutter who made his feelings on the track condition well known on TV. There was much murmuring in the paddock about unburnt fuel reacting with the water… dunno.
Ciao
Fagan

Enjoy more Fast Bikes reading in the monthly magazine.
Click here
to subscribe.