The FIM World Supers are always a key date for my diary, but having seen the package that my Kawasaki Riders Club membership was offering for Silverstone last  weekend, joining the Kawasaki brethren for the day was a must.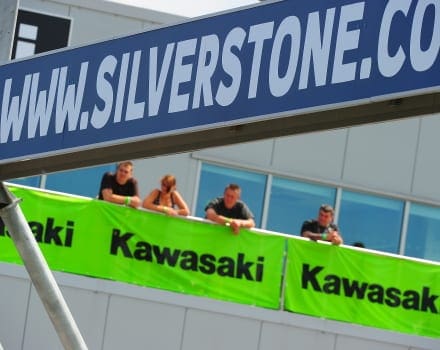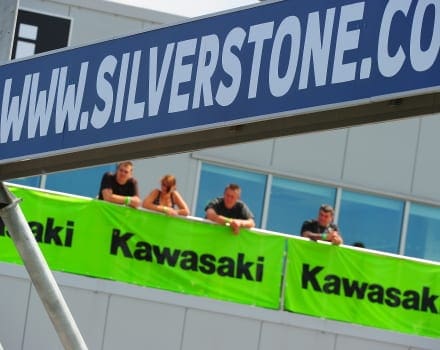 On arrival to Silverstone I merely had to point at the 'Kawasaki Riders Club' pass stuck to my screen to be removed from the plethora of queuing bikes at general parking and directed straight to the main gate, hooked a right and rode slowly down to Stowe. The Pirelli Bridge was the entrance to what had become a 'Green Island', the mixture of subtle branding and rows of all types of Kwakkers in the secure parking meant I already felt part of something before I had even turned off my ignition.
I went into the Stowe complex and registered, here I got my green band denoting free tea, coffee and snacks all day – what was to be an excellent lunch and the 'goody bag'. Inside the itinerary for the racing, the many VIP opportunities as part of KRC and £7 worth of official programme, absolutely free.
My first experience was a few laps of Stowe on my ZX-6R, there were other 6's available to use but I wanted to run what I had brung. Focused events were running the track and road elements of the day and they had Chris 'Stalker' Walker on track with us which was pretty humbling, he was out with every group giving hints and tips and on occasion opening it up, showing how it's really done. Each session was 15 minutes and when I came in I signed up for a second session immediately, and was not the only one. Though having been round again I had to stop myself signing up for a third, there was racing to be watched and more – though a couple of my fellow members could not get enough of it and if that's all they did all day, then fair play to them.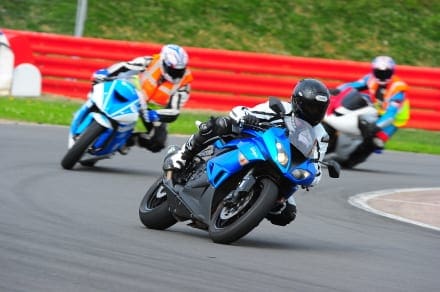 The first race was the Superstock 1000's which I watched from one of two grandstands offered to Club members. Between this and the first WSBK race I managed my 2nd track session before making my way once more to one of the exclusive grandstands. Lunch followed and then Kawasaki's stunt rider Craig Jones appears and just blew the crowd away with what he can do with Kawasaki's range of bikes.
As Craig finished Tom Sykes arrived, a scheduled Q&A which was able to run on a little due to him not racing via an accident the day before in qualifying. We would all have preferred to see him race but as it was he made himself available to club members for most of the afternoon.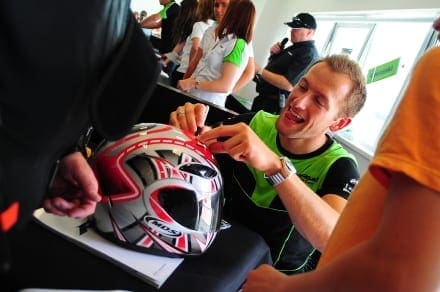 The only thing I didn't fit in was to go on one of the rideouts. The choice of ZX-10R, ER6-F&N, Z750-R, Z1000 SX, ZX-6R among others was taken up by most of the attendees, a steady line of bikes streamed in and out all day. I really wanted to get on the ZX-10R but will have to tap Moby up for his staff bike for an afternoon when he is distracted enough to say yes. (Good luck with that wait – Moby)
As Checa took the top step of the podium for the second time the day was drawing to a close, with enough time to go and pick up photographs from Alex James, who had been documenting the day. This was a great memento of the day, and reasonably priced – in the end it was all you had to pay for.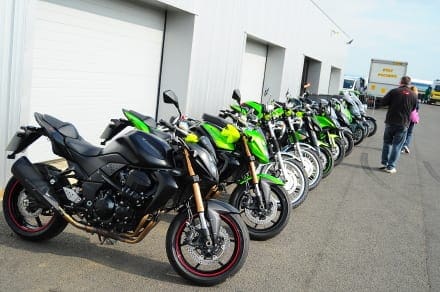 There were no negatives – you got a prime location to watch the racing (Best race was World Supersport –  Chaz 'you're the man' by the way), some great entertainment, incredible opportunities and really welcoming and friendly Silverstone, Focussed Events and Kawasaki staff on hand for you all day.
The cost for all this to members was just £30. Consider that to get through the gate on race day was £50 and that was before your programme (supplied), refreshments (supplied), grandstand seating (supplied) its just brilliant value. Don't just take my word for it though check out the club site, the benefits are all year round, but even it was for just this one day – it just has to be worth it.
Charlie
All images – ALEX JAMES PHOTOGRAPHY

Enjoy more Fast Bikes reading in the monthly magazine.
Click here
to subscribe.