If you liken Motorcycling to being a drug then the California Superbike School is a kind of Betty Ford Clinic. You are not going to be cured, in fact quite the opposite, but you do learn how to control your addiction and get the ultimate, safe but unbeatable high! If I wanted to be an Actor I would go to Rada, a flash in the pan celebrity, then I would go on Big Brother, but to be a far more capable and proficient rider, then CSS is the place to be.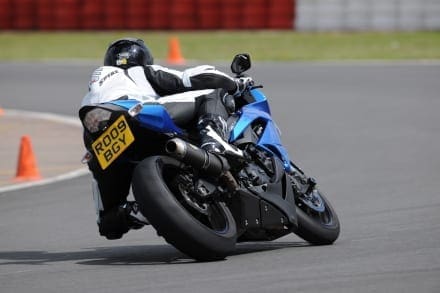 The past two training Levels have been invaluable, over the past couple years my riding has come on dramatically and I owe so much of it to the two days I had spent with the coaches at the school and Andy Ibbotts words of wisdom in Fast Bikes Masterclass. On arrival at Stowe circuit (Silverstone) it was like a family reunion, everyone is so friendly and you are immediately put at ease. In the end each CSS instructor has been a student of the school so they can recognise any potential nerves which are alleviated immediately. Looking around my fellow students came from a huge variety of riding disciplines, Josh Harland BSS Racer was getting the advice that has made Leon Camier so successful. MotoGP commentator Matt Roberts was doing Levels 1 and 2 over a two day period to aid his skills for a charity ride down to Valencia's GP, and a whole host of other students with bikes ranging from sports to tourers to classics – The school is not for wannabee racers, though it will help you if that's what you want to be, it is genuinely for everyone that wants to be a better rider.
I researched my Level prior to my arrival, I knew it was going to be physical as the majority is about body positioning and how to use this to greater effect. It really is amazing the difference that a few moves make to your ability to corner the bike. The first drill is the Hook Turn where you tighten the your angle whilst cornering with one very simple but extremely effective body movement, I took to this straight away and was loving the OK from my instructor Spidey. As the day progressed I got a few of these and a few chats too, if you're not getting it right then you come into the pits and they advise you on what you need to do.
This was my second visit to Stowe in eight days as I had been on track with the Kawasaki Riders Club the Sunday before as part of their WSB package. This gave me fresh knowledge of the track which was a benefit and I could tell how much my riding was improving under tuition throughout the day. I was faster, smoother and more confident as the day progressed and in the final session I was able to combine all the things I had learnt in the classroom, on the static bike and indeed on track and had one of the best experiences I have ever had on a motorcycle.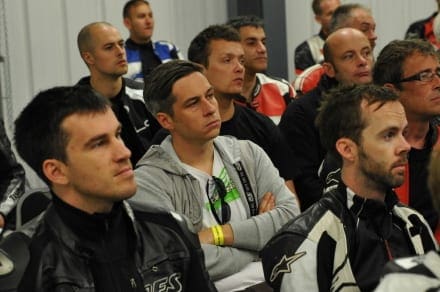 The absolute finale for me was the slide bike, specially modified so that you could put the bike in a front wheel skid and learn to control it without danger of the bike going over. This you have got to try, 30mph jamming the front brake on and completely losing the front. Then following Cookie's advice doing it all over again and seeing that it can be saved safely and effectively.
If you are yet to go on the school I cannot recommend it enough, to have this amount of fun whilst learning so much is almost criminal. Nobody left the circuit on Monday without a smile on their face, or indeed without being able to ride the bikes they love the most, much, much better.
Thanks to all at CSS, especially Donna, Spidey, Cookie and Glen.
Charlie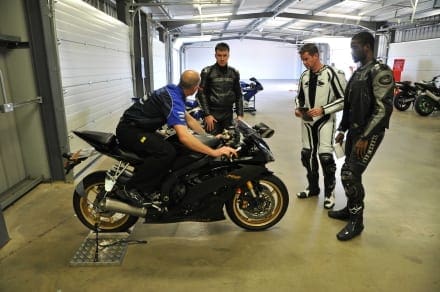 IMAGES COURTESY OF Gary and Maria, www.picman.co.uk

Enjoy more Fast Bikes reading in the monthly magazine.
Click here
to subscribe.