Like most readers of Fast Bikes, I ride all year round. There's no shame in looking out at the driving rain and thinking, hmmmmm think I will take the car, but for me this is not an option – I haven't got a car. Last winter my seven mile commute has seen my hands go from toasty warm to sub zero to agonising pain as they warm up again in the office, it has to be one of the most painful experiences I have ever had. With this in mind I was handed a pair of the new Rukka Argosaurus gloves to try and have been waiting for the appropriate weather to really test them.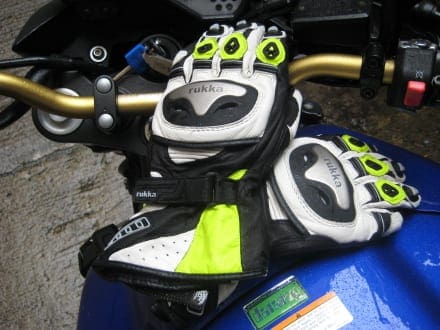 This opportunity came on my ride back from The No Budget Cup in Angelsey, having stood in the pouring rain all day I had a 270 mile trip home to navigate on my FZ8 which was to take me late into a cold and unforgiving night.
It did not take long for water to navigate its way through all of my gear with the only exception being the Argosaurus gloves. At each fuel stop I took them off and my hands were perfectly dry, having also benefitted from the ventilation – without that nasty leathery smell you get having had your hands cooped up for a while.
With a lot of winter / adverse weather gloves on the market you can feel and look like your going skiing – the added padding coming at the cost of your ability to feel the controls. Again not so with Rukka's new garment – the Gore Tex X-TRAFIT technology meaning that you have the feel of a race glove without compromising the protection from the elements.
Styling is excellent, the Titanium knuckle plate and adequate palm protection make the Argosaurus look like a race glove and they are well ahead on the comfort stakes.  My only criticism is the Visor wiper on the left thumb, this could be better positioned, and a little wider as you need to swipe twice for the best effect but that's really being picky.
Article continues below...
Advert
At an RRP of £220 this seems expensive when you are standing in the shop looking to purchase. However, they do carry a 2-year guarantee, and when you are on the M5, soaked to the skin with the wind battering the hell out of you, cold and miserable yet – have warm, dry hands that give you the confidence of being in complete control, it's a purchase that you will be delighted you made.

Enjoy more Fast Bikes reading in the monthly magazine.
Click here
to subscribe.