It wasn't just the racing that was interesting over the weekend, there was plenty of moving and shaking going on in the MotoGP paddock – so here's a catch up helpfully illustrated by some kick ass pictures.
Firstly, we should be thankful to Jorge Lorenzo for prolonging the agony that is Casey Stoner's 2011 march to the championship. Lorenzo has had some inspired rides this season – and this was one of them. Hard work in practice and qualifying proved that Lorenzo had the race pace to keep with Stoner, and when the Australian 'got a bit tired' that was all Lorenzo needed to finish the job off. Wayne Rainey was in the pit box all weekend, and this result was a fitting tribute to Yamaha's most loyal servant. It was great to see Rainey back on a podium again – although you couldn't help but feel he was being patronised a fair bit…
Stoner's comments on tiredness were interesting given his illness two years ago. That had been put down to a lactose intolerance, so maybe this could be rearing its ugly head again. Or maybe he's crapping himself about being a Dad. He's been quoted as saying that fatherhood will finally bring meaning to his life – like being world champion elect is just messing about a bit. I'm sure Honda, after the Motegi affair, are overjoyed at the comments…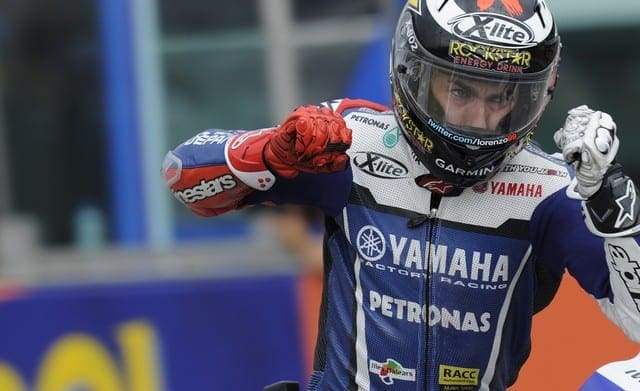 Alvaro Bautista should get a mention for a sterling ride to finish in eighth, but the best bit of the weekend was the new Suzuki paintjob. We're praying that it stays for the rest of the season because it's the best livery we've seen in years.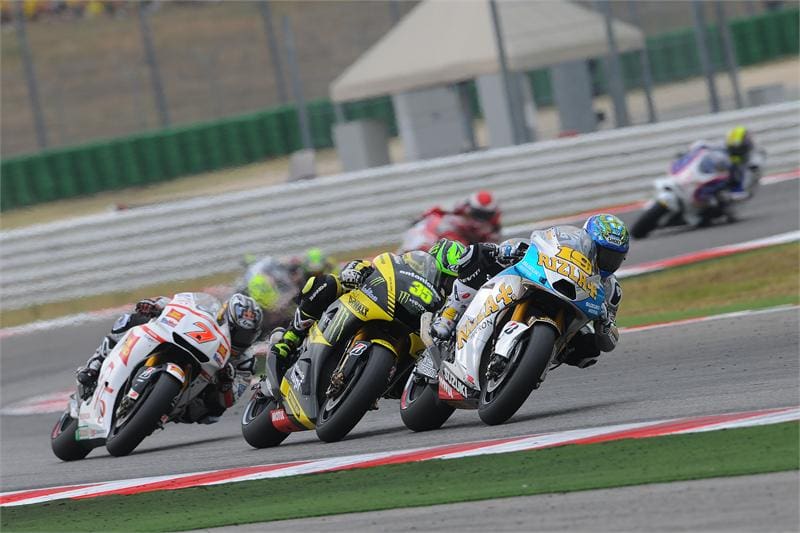 At least Rossi had a race, rather than a few parade laps. Genuinely up with the second group for the early part of the race, Rossi certainly put everything on the line for the massed ranks of home fans. But we don't think this is a corner turned – just a happier blip in a season's worth of damaging blips. Being a home round, Fillipo Preziosi was on hand to allude to some changes to the Ducati frame. He committed to nothing of any substance, but hinted that the drawing board had been revisited…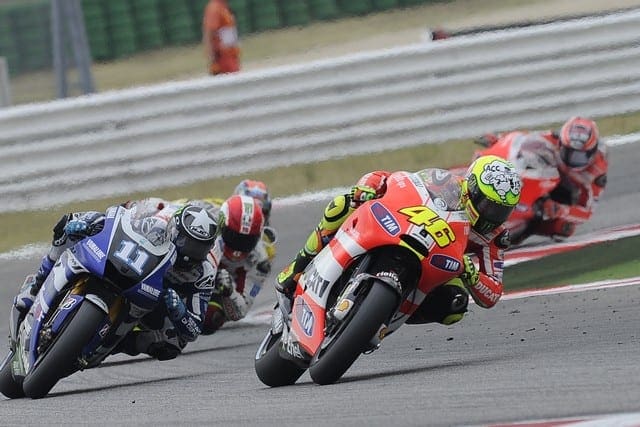 It's still amazing to see Toni Elias look as if he's trying his nuts off, only to finish at the back of the pack. Every photo we've seen of him suggests that he should be up at the front – like we know he can be – so it's a mystery why he can't match pace to this aggression. Where he'll end up next year is anyone's guess – and we're surprised that he's still with us in MotoGP.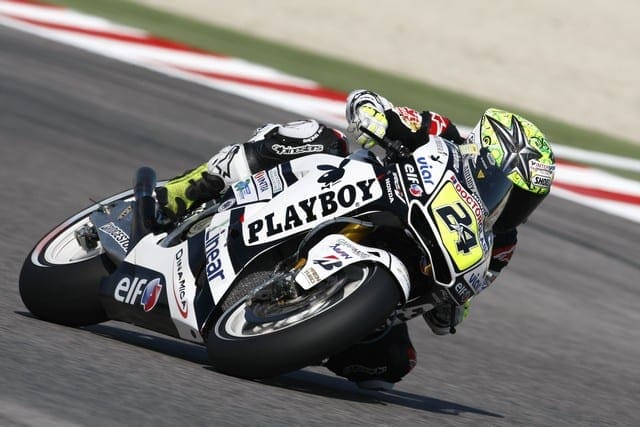 Moto2 is getting interesting with Stefan Bradl dealing with the massive pressure that Marc Marquez is putting on him. One mistake from either of them will probably seal the 2011 championship, and both are deserving of rides in the bigger class. Whether Marquez will go to MotoGP is debatable given his early reason recklessness, so even if he wins there is no promise to bigger and better things. Scott Redding seams to have got to grips with his Suter chassis better and has now strung two fifth places together, with a good showing at the front. A win by the end of the season will rescue a rotten 2011.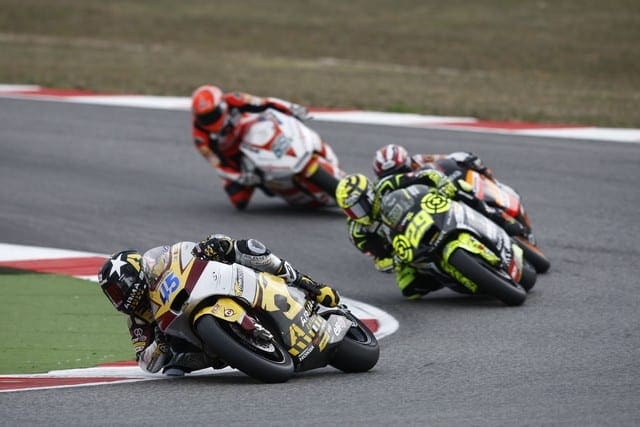 Elsewhere, Loris Capirossi ducked out of his home GP, not even getting his chain/sprockets fixed so he could have a wave about at the back. Colin Edwards is set to ride a WSB R1 engined CRT bike, that he hopes Tech3 will build a chassis for. Nothing like leaving it untill the last minute…
We also read that Indianapolis has been given an extension to their contract – so we'll go back to the Brickyard in 2012 and 2013. The rest of the calendar has yet to be sorted, so we don't know whether the massive trek forward and back from the States will happen again. We'll have to wait…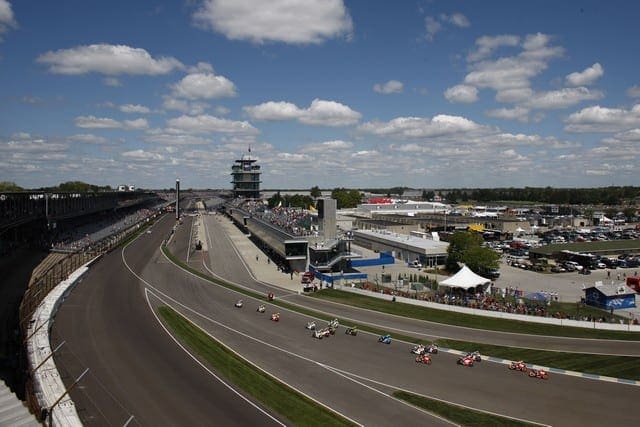 Oh yes, and if you've not seen the end of the 125s race, head to bbc.co.uk/iplayer and search for the race. Forward it to the last three laps and enjoy…

Enjoy more Fast Bikes reading in the monthly magazine.
Click here
to subscribe.