Marco Simoncelli tragically passed away today as a result of injuries sustained in an accident at the Sepang round of the MotoGP championship.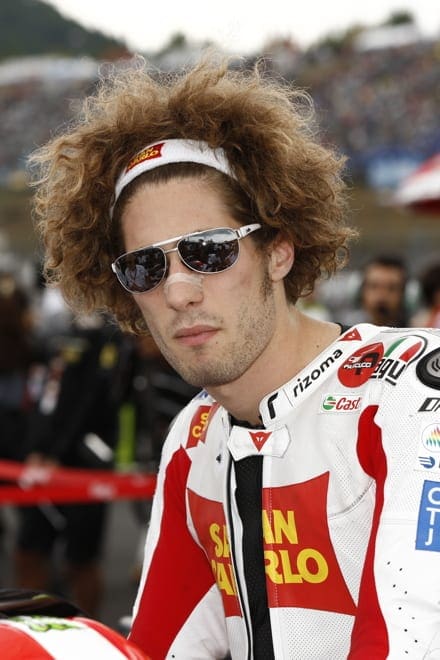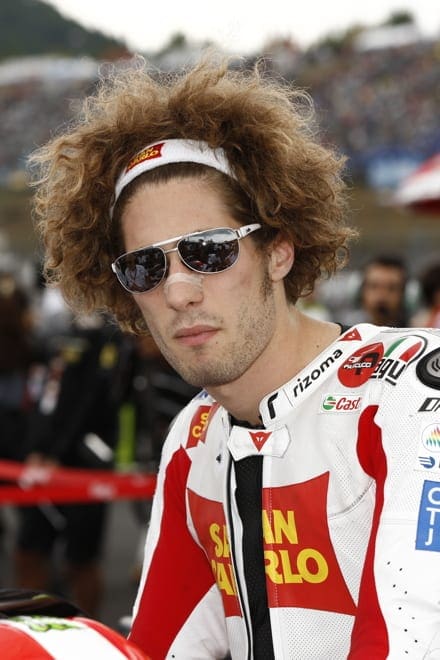 A seemingly innocuous lowside swiftly turned into one of the most horrendous accidents we've seen in MotoGP, as Marco and his bike swung back across the track into the path of Colin Edwards and Valentino Rossi. Neither rider had any chance of avoiding a collision with Marco, whose helmet also came off during the accident.
Michele Macchiagodena, Medical Director for MotoGP explains the circumstances of his passing: "I'm very sad to be here to report about the death of Marco Simoncelli, a friend. Because of the crash he had during the race, in which he was hit by other riders, he suffered a very serious trauma to the head, to the neck and the chest. When our medical staff got to him he was unconscious. In the ambulance because there was a cardiac arrest they started CPR (cardiac pulmonary resuscitation). Immediately in the Medical Centre, with the help also of the Doctor of our staff at the Clinica Mobile and local Doctors, he was intubated and it was possible to take off some blood from the thorax. The CPR was continued for 45 minutes because we tried to help him for as long as we thought it was possible. Unfortunately it was not possible to help him and at 16:56 (local time) we had to declare he was dead."
You can watch the press conference here.
Shuhei Nakamoto, HRC Executive Vice President: "I just don't know what to say; words escape me. Marco was a very nice guy and a very talented rider. Sometimes I was a little harsh with him, for example after his first MotoGP podium in Brno when I told him, 'Lucky podium!' and he was so angry, but I wanted to motivate him as I knew he was able to do even more. I was thinking that when he won his first race we would have been able to celebrate together. Now I just want to say thank you to Marco, for what you gave me, and pass my sincere condolences to his family at this very sad time."
Repsol Honda rider Dani Pedrosa says: "In a tragedy like this there is not much to say. I just want to give my condolences to his family and all the people who love him. I've been with his father and all we could do was to hug, nothing else matters. It was a fatal accident and everybody in the paddock remains in shock. Many times we ourselves forget how dangerous this sport can be and when you lose people on the way nothing has any meaning. It's clear that we all do what we like, what we love, but on days like today nothing matters."
Repsol Honda rider Andrea Dovizioso: "In these circumstances, words don't seem to be appropriate. I think of Marco's family and all the people dear to him, in particular his father and mother. I also have a child and what happened today is the hardest situation you can imagine. I watched the images and I'm shocked. In a race you fight and push hard and disaster is often around the corner. Marco was a strong rider and he always pushed hard. We raced together since we were kids. I saw him always pushing to the maximum, he crashed many times, but without major injuries, he was seemed invincible. What happened today seems impossible."
Repsol Honda rider Casey Stoner: "I'm so shocked and saddened by the loss of Marco. When things like this happen it reminds you how precious life is, it makes me feel sick inside. All I can say is how sorry I am for Marco's whole family I can't imagine what they are all going through and our thoughts and wishes are with them at this time. I hope they all stay close and pull through this tragedy together."
We can only extend our deepest sympathies to Marco's family, friends and team at this terrible time. Rest in peace Marco, we will not forget you.
If you'd like to leave a tribute to Marco, you can do so here.

Enjoy more Fast Bikes reading in the monthly magazine.
Click here
to subscribe.