As we reported a few weeks ago on our Fast Bike Facebook page, Bridgestone is strengthening its motorcycle tyre line-up with the launch of a new premium sport tyre: the Battlax Hyper Sport S20 –  for riders of 600 to 1300cc sportsbikes. Using the "S" (= Sport) symbol for the first time on a Battlax tyre, the S20 is the full road tyre to complement the track-focussed R10s which debuted this year to great acclaim.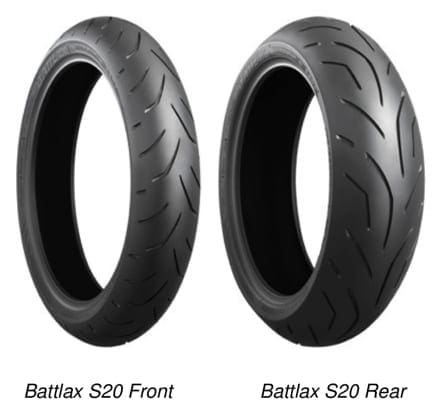 The development target for the S20 was to meet the demands of European sport riders for the highest handling performance in wet and dry on all types of roads and riding conditions:  highway touring, winding country roads, city streets and track circuits.
Larger contact area at all angles

Compared to the BT-016 Pro, the S20 has superior handling on wet and dry, while maintaining excellent wear life performance. Bridgestone's proven construction with Mono-Spiral Belt (MSB) and High Tensile Super Penetrated Cord (HTSPC) has been optimized to produce a larger ground contact patch at all riding angles, providing more grip in all conditions. At lower camber angles, this larger contact area improves the contact feel and adds ride comfort; at medium and higher angles, riders enjoy more cornering stability.
The S20 tread pattern is designed with grooves that straighten out in the centre of the tread, improving cornering performance when the angle is low, particularly at turn-in. On the front, the side grooves run up to the shoulder, providing better contact feels at high angles and stronger grip on wet and dry. On the rear, the wider grooves give confident grip in the wet.
Immediate grip
The new compound with Silica Rich and Bridgestone's proprietary NanoPro-TechTM polymer, which reduces heat build-up during tyre rotation, provides improved grip in the wet and at low temperatures. This gives confident grip right from the start during warm-up, without sacrificing mileage performance on front or rear. The triple-layer compound (3LC) with an optimized segmentation of soft and harder compound has been applied on front and rear, improving dry grip as well as giving high stability in cornering and good mileage.
New wet grip benchmark

Test results versus Bridgestone's BT-016 Pro tyre show that the new S20 delivers improved grip on dry roads, giving more confidence for cornering, and high-level sporty handling. On the track, riders can expect high cornering stability and faster lap times through better and more balanced grip on front and rear. Bridgestone tests show that the S20 wet grip is even better than the BT-016 Pro, already the established standard in the wet. Results also show the high stability that comes from improved grip, with easy control in heavy rain conditions. This high-level grip has been achieved without sacrificing mileage performance. Bridgestone tests confirm that the new S20 compound has excellent wear resistance, providing high mileage on front and rear tyres.
The new premium Battlax Hyper Sport S20 is available from January 2012 in 4 front sizes and 7 rear sizes – we'll bring you a full riding test as soon as we get our hands on a set.
Article continues below...
Advert
Front:
110/70 ZR17 S20F (54W) TL
120/60 ZR17 S20F (55W) TL
120/70 ZR17 S20F (58W) TL
130/70 ZR16 S20F (61W) TL
Rear:
150/60 ZR17 S20R (66W) TL
160/60 ZR17 S20R (69W) TL
170/60 ZR17 S20R (72W) TL
180/55 ZR17 S20R (73W) TL
190/50 ZR17 S20R (73W) TL
190/55 ZR17 S20R (75W) TL
200/50 ZR17 S20R (75W) TL
Article continues below...
Advert

Enjoy more Fast Bikes reading in the monthly magazine.
Click here
to subscribe.