The 2012 MCE Insurance BSB calendar has been announced by series promoters MSVR. A field of 32 riders and 16 Elite teams representing six manufacturers conforming to brand new, ground breaking technical regulations will contest a new look 12 round, 26 race championship which features eight major UK circuits plus, for the first time, the famous Assen Circuit in the Netherlands on 21-23 September.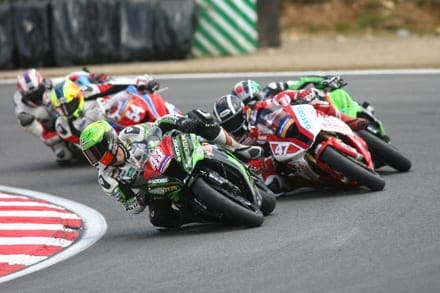 The TT Circuit Assen is considered the most historic motorcycle racing circuit in the world, having hosted the premier class World Championship every year since 1949 and it is acknowledged as "The Cathedral" of motorcycling. With the appeal of the MCE Insurance BSB Championship expanding beyond the UK with International riders, worldwide television coverage and World Championship pedigree teams, this is a natural progression for the championship to have visibility in Continental Europe yet remaining accessible to the legions of British BSB fans.
The 2012 season commences at Brands Hatch on its traditional Easter weekend slot in April before heading to Thruxton one week later and Oulton Park in May. BSB then returns to the Snetterton 300 circuit, following a record attendance at last year's debut event on the new 3-mile layout, before visiting Knockhill for the annual Scottish round in June and Oulton Park for the second time in early July. The summer Brands Hatch round on the Grand Prix circuit has been brought forward to 20-22 July to avoid a clash with the London Olympic Games.
Two weeks after the August Bank Holiday 'Party in the Park' at Cadwell Park, Donington Park in Leicestershire will now host the critical final round of the Main Season on 7-9 September, where the 32 riders will home in on the critical top six positions in advance of the Showdown phase.
The Showdown will take place at two current MotoGP venues with the Silverstone Arena GP circuit following Assen on 28-30 September, before concluding at the hallowed Brands Hatch Grand Prix circuit, scene of the epic title decider between Tommy Hill and John Hopkins last month, with a triple header finale on 12-14 October.
Jonathan Palmer, Chief Executive, MotorSport Vision said:  "The 2012 BSB calendar is the strongest ever and this is a tribute to the extraordinary health of BSB amidst tough economic conditions that are a major challenge to many other series. It has always been a priority for MSVR to drive down the costs of competing in BSB with sport-leading technical regulations whilst driving up the quality of the show.  As a result BSB is becoming ever more attractive to manufacturers, teams, riders, sponsors, circuits and fans, which means 2012 is likely to be BSB's best year yet."
2012 MCE Insurance BSB Calendar:
| | | |
| --- | --- | --- |
| 1 | 6.7.8.9 April | Brands Hatch Indy |
| 2 | 13.14.15 April | Thruxton |
| 3 | 5.6.7 May | Oulton Park International |
| 4 | 25.26.27 May | Snetterton 300 |
| 5 | 22.23.24 June | Knockhill |
| 6 | 6.7.8 July | Oulton Park International |
| 7 | 20.21.22 July | Brands Hatch GP |
| 8 | 25.26.27 August | Cadwell Park |
| 9 | 7.8.9 September | Donington Park GP |
| 10 | 21.22.23 September | TT Circuit Assen (NL) |
| 11 | 28.29.30 September | Silverstone GP |
| 12 | 12.13.14 October | Brands Hatch GP |
Comments
comments