James Hillier is a British Superbike racer, campaigning a ZX-10R for Pr1mo Bournemouth Kawasaki. He's a good old boy. The BSB paddock is full of rock stars avec le flip-flops and sunglasses, but Hillier is a straight-talking Southerner without the front. He's making a big impact on the pure roads scene after nailing a 125mph of the TT. He's also braved the streets of Macau, so we asked James for a rider's diary and an insight into his trip to the 2011 Macau GP – the maddest and baddest race on the planet. Over to James.
So it all begins at Heathrow airport on a Friday evening, meeting up with the Riders Ducati boys at the bar in departures for a few swifties as we had two hours to kill before take off. During this time, Gary Johnson tried giving it the big-spuds to a pair of foreign birds sat on the table next to us. Using his French lingo learnt from school, Gary did sound pretty clever but the girls looked quite confused. They were actually German!
The 11-hour flight was pretty chilled out. Once in Hong Kong, we had an hour bus journey then onto the jet ferry for a further hour to Macau itself, followed by another bus trip to the Hotel Rio who I'm sure were very excited about our presence for 10 days. Not. With the time difference in Macau, it was now about 7pm, so after a brief freshen up me and my room mate Gary 'Sushi" Johnson headed back down to meet the Ducati boys, and we set out for some grub, then some darts and Guinness at the Irish bar before a well needed sleep.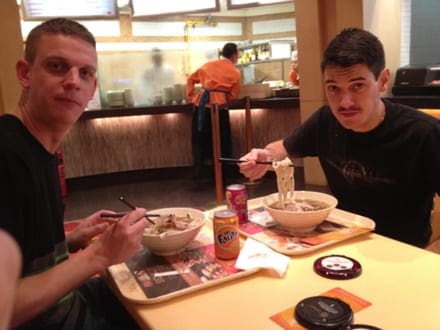 24 hours after our arrival a second crowd from the paddock arrived including my team companions from Bournemouth Kawasaki – who where Macau virgins. So, another night of noodles, beer and darts followed which now took us into Monday, with the first day on track being Thursday. The bikes were unpacked from the crate and we sorted the garage. We were sharing with Paul Bird's team and, with four bikes in the box, it was cozy but a good atmosphere.
The next three days consisted of getting the bike ready and scrutineered, a few PR events, and a bit of sight seeing around the spectacular casinos, which are unbelievably busy every hour of every day. But these few days pass pretty quickly and we are due out on track at 7.30 Thursday morning. The day starts at about 5am for some brekky then down to the track. It's a mixed atmosphere of excitement and anticipation. You know the track is going to be greasy and dusty, so it's about getting back into the feel of things and used to the barriers again.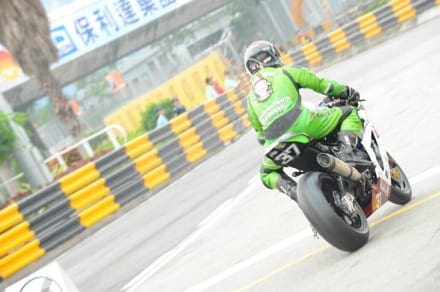 First practice went pretty well for us. I think we ended up 8th and the bike felt pretty good, just some issues with gearing. The bike had some new Brembo calipers fitted, kindly lent to us by Mark Hannah at Road and Race Performance which worked really well. We were supposed to qualify that afternoon but it began raining and it was cancelled, so all to be done was eat noodles and sleep really. The rain stayed for the following day moving us to qualifying Saturday for a single session and the race on Sunday.
Saturday morning, Gary and me were heading for breakfast when the lift door opened. We were greeted by two full-on blatant lady boys who looked to be beginning their trip home from a night of twisted passion with some dirt box on a floor above us. Gaz was straight in there with "alright fellas, how's it hanging". All they were saying was "hey baby, hey baby" and trying to link arms! I was like, fuck that, this lift had best hurry up. Looking back it was very funny.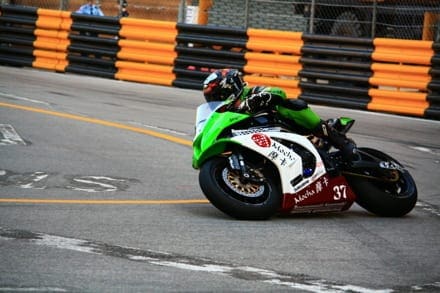 Qualifying for me began badly. I got out with the likes of Mikey Rutter and American Jeremy Toye, but starting my first flying lap the clutch was slipping so had to pit. After adjustments I returned out on track riding round on my own like Billy-no-mates, struggling to produce a good time. That session was really hard work as the air is heavy there and it felt like I had a plastic bag over my head. We ended up 11th and I was disappointed as I was three seconds off what I did there last year.
So Sunday was race day and warm-up went well. We made some changes to the bike, mainly gearing to help me through the middle sector, basically to reduce the amount of gear changes per lap. This meant we sacrificed a bit of top speed I but knocked 1.5 seconds off the time from qualifying.
Next was the race. Over the weekend we had been sharing the track with cars, and the race before ours was the GT class which involved a few crashes on the second corner – on a bike, this requires some big testicles as it's a 5th gear knee down job at about 150mph. Anyway these cars spunked oil going into and around this normally fun bend which now made it even more crazy. Everyone was a bit reluctant to race on it but Rutter went out and took a look at it and the race went ahead but that section was under yellow flag.
Sat on the grid I have to admit I did wonder what the hell I was doing. This place is mental enough without an added issue of oil but having traveled to the other side of the world, I thought I ain't going home with out a result. My plan was to finish the race in one piece and I'll say now that I was being a bit of a pussy. I should have just got on with the job, but racing around the streets of Macau, you are constantly reminded of how close to the edge you are. The lights went out really quickly and I think I caught a few people out, but we all headed off riding pretty respectfully. It's important that you trust the riders around you as well as yourself, as a mistake made by anyone there will bring others down because everything bounces of the barriers and back into the track.
Everything settled down and I was watching my pit board countdown the 10 laps, reduced down from the original 15. It doesn't sound a lot but a track like Macau takes a lot more attention for every corner than any other in the world. Making a mistake is not an option. I was battling with Steve Mercer and he came past me after I hit a false neutral running into a hairpin, nearly crashing which made me shit my pants a bit. You kind of ignore the dangers there until anything goes a bit wrong, then you're like, what are you doing? Calm down! You have to respect any racetrack but Macau is very unique in the way you are so close to the edge all the time. There is one corner out of the 18 you can afford to out-brake yourself. Any others and you will be meeting Armco barriers or concrete walls in a big way.
Anyway, after that close call I pulled myself together and was soon on the back of Steve but could not pass him. We started drawing in the pack ahead of us but not enough to catch them before the end. I finished 11th and after passing the flag I was like, fuck yeah! This is why you do it. I finished. Alright, it wasn't where I wanted to but I had just raced a 200hp superbike through the streets of Macau at a very respectable pace and was in one piece. I, along with all the other riders in that race, just lived more in those 30 minutes than many will ever live in 30 years.
Words can't describe the emotion road racing creates. I just know that when I'm racing, there is not a single thing in this entire world that I would rather be doing and you're doing it with a bunch of guys with the same logic. It's an elite club, a bit like fight club. It shouldn't make sense but just does!
JH
Thanks to James, Pete Extance and Martin Jessopp for the pics

Enjoy more Fast Bikes reading in the monthly magazine.
Click here
to subscribe.