As some of you witnessed, Fagan's racing season got underway (ish) this weekend at Brands Hatch. You can read all about his adventures in the next issue of the magazine, but in the meantime, here's the weekend's race report from Thundersport GB's race director, Dave Stewart. Plus, some awesome pics courtesy of Racing Line Photography
The 2012 Thundersport GB season got off to a start that encompassed 4 seasons in three days. We arrived on Thursday afternoon in blazing sunshine and warm weather, were greeted on Friday for testing by dense fog, had a slowly drying spring day on Saturday and got hit with a cross between Siberian winds and monsoon rains on Sunday.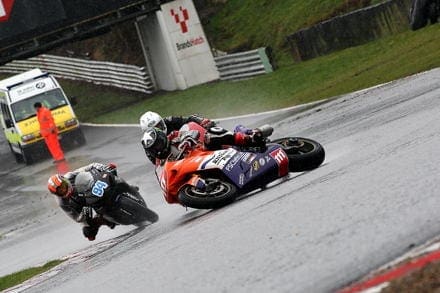 Despite all of that, there were some absolutely cracking races and notable personal performances from a number of riders who are going to entertain us all season long. Adam Palfreman must be the busiest rider in the paddock, contesting no fewer than four championships on four completely different machines. His weekend got underway with his first outing on a Supertwin Suzuki, which he took to 2nd place sandwiched by the Aprilia RRVs of David Allingham and Will Hodgson. In the very next race he jumped onto his Honda CB500 and went one better in the Thundersport 500 class, winning by an impressive 17 seconds. Adam then had a whole two-race gap before he was back out on his Honda SP1 in the inaugural running of the Golden Era Superbikes, before hopping onto his Streetfighter Suzuki to grab yet another 2nd place. He did that little lot four times over the course of the weekend and must have felt like he'd done an Iron Man triathlon by Sunday evening.
The Morello Thundersport GP1 race on Saturday took place with a dry line just appearing before the race. As the race got underway it was just possible to stay on that dry line all the way around and remarkably Honda mounted Steve Mercer not only did so, but set a new lap record on lap 12 of the race on his way to a lights to flag win. Pete Baker squeezed ahead of Mike Dickinson and Dan Kneen early on and chased Dan Hegarty all the way to the line, but couldn't quite catch him. South African, Dickinson ended up in a fine 6th place just ahead of Jenny Tinmouth, who is still looking for a place on the BSB grid. She brought her Honda home in 7th place just ahead of reigning Superstock champion Ian Mackman who is Kawasaki mounted for his 2012 TT assault.
On Sunday Phil Crowe traded his BMW in for a more suitable Ark, built by Noah – or so it seemed, as he charged through the field to win both races. Peter Baker was again 2nd in the first encounter, but unloaded in spectacular fashion at Clearways in the final outing of the weekend in a melee that included Mike Dickinson and Dan Hegarty. Without doubt the rider who spent most of the weekend crossed up and sideways was Adrian Clark, who put on a superb display of spectacular riding and was rewarded in the last race with a well deserved 2nd place.
In the RLR Motorsports 600 Sportsman Elite class Tom McHale had a maiden win that's long overdue. He started on row five after a poor qualifying session, but absolutely nailed the start and bravely held it wide around Paddock Hill for the first of sixteen times to grab third spot by the end of lap one. James East had gone off at the front like a scalded cat on super-soft tyres but Tom and a hard charging Dan Hegarty settled in to hunt him down and by lap seven they'd caught him and spat him out of the back door. By this time they'd been joined by Andy Lawson on his Kawasaki and Sam Hornsey was also working his way through the pack.
Tom hit the front on lap eight and tried to break away, but Hegarty was having absolutely none of that. Dan tried everything he knew to get past, but on the last lap at Druids Tom squeezed up the inside of a lapped rider and Dan was forced to tuck in behind for a vital 50 yards and Tom was gone. A first win and in a real quality field that included no less than 10 BSB registered riders. Dan made up for it in the other two encounters after Tom had thrown away an early lead by crashing out on the approach to Graham Hill Bend, fortunately without injury. Other really noteworthy rides came from a returning Ricky Simmonds in his first race for three years and young Sam Thompson who really proved that he has what it takes despite being at a machine disadvantage on his seven year old bike.
The RST Clothing Golden Era Superbike championship got off to a good start with 23 riders lining up on the grid. Lee Reveley looked to have his name in the history books with a textbook first eleven laps, but as he eased off on the last lap he was unaware that Nick Williamson and Darren Clarke had been having a tooth & nail dogfight that was dragging them up to him at over a second a lap. As our reigning Sound of Thunder champion approached the line with one arm aloft, the SP1 of Williamson flashed by on his left with the ZX7R of Clarke doing the same on the right. It was so close that we had to wait for the official decision from the timekeepers box, which gave the win to Nick from Darren by less than a wheel-rim and Lee just nine hundredths of a second behind him.
Lee made up for this bitter disappointment in race two with a 15 second winning margin. Nick came in just ahead of Darren to complete the podium. A superb double win for Aprilia mounted Paul Willis on Sunday combined with Williamson unloading at Clarke Curve on the last lap whilst dicing for the lead, leaves #77 Reveley leading the championship on 77 points (could that be an omen?). This is going to be a great championship with a superb atmosphere between the riders already growing. RC45 mounted Ian Simpson will also be joining the fray from Donington Park onwards and the Ducati of John Dieterman also in the line up.
The HMT Pre-National Sport 600 races were another new addition to the Thundersport programme and the wins were split between Matthew Jones and Michael Golden. Sundays races were arguably run in the more difficult conditions and Michaels smooth style really paid off as he reeled off each lap cleanly whilst others made the mistakes around him. Jamie Morris also did very well in his first ride on a four cylinder machine, but the stand out rider of the weekend in the class was Matt Parker who after an incredibly high speed crash on Saturday worked overnight to completely rebuild the bike. He was rewarded with a fine 4th place, less than half a second off the podium on Sunday morning. A second fall in the last race of the weekend whilst challenging for 4th place shouldn't take the shine off what was actually a fine overall performance over the weekend.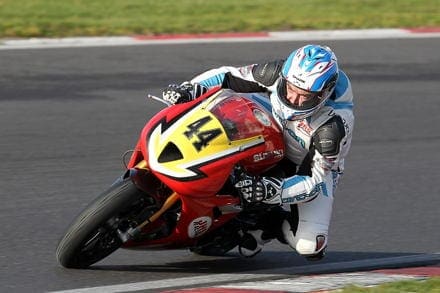 Enjoy more Fast Bikes reading in the monthly magazine.
Click here
to subscribe.